Debt Ceiling 2023: Could Social Security be At Risk If Biden Doesn't Agree to McCarthy Spending Cuts?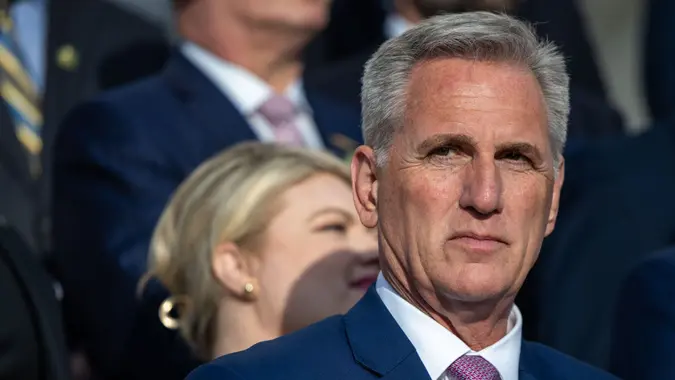 Nathan Posner/Shutterstock / Nathan Posner/Shutterstock
U.S. House Speaker Kevin McCarthy ratcheted up the debt-ceiling rhetoric this week, saying that President Joe Biden "continues to hide" from a resolution and urging him to "stop playing partisan games." McCarthy also drove home the point that he and other Republicans aim to protect Social Security rather than cut it, though some still fear the GOP's plan will put the program at risk.
In a tweet on Monday, April 17, McCarthy said that "in the coming weeks the House will vote on a plan to lift the debt ceiling into the next year, save taxpayers trillions of dollars, make us less dependent on China, curb our high inflation — all without touching Social Security and Medicare." The tweet also said that "because the president continues to hide, House Republicans will take action."
A later tweet took another shot at Biden: "Our national debt is too high. Far too high. And the problem is getting worse, not better. Mr. President, enough is enough — stop playing partisan games. Defaulting on our debt is not an option."
Are You Retirement Ready?
There wasn't much in the way of detail on the Republican plan. Presumably that will come over the next few weeks.
Although the U.S. government reached its debt limit in January, Republicans and Democrats have still yet to reach an agreement on how to deal with it. Failure to raise the ceiling could lead to a partial government shutdown, which typically means temporary furloughs for certain government workers until a new spending bill is passed. It could also lead to certain services being cut or shut down altogether.
Although most lawmakers say Social Security will not be affected — partly because the program has built-in protections in the event of a shutdown — many still worry that Social Security could be vulnerable to cuts.
As previously reported by GOBankingRates, during last year's Congressional election key Republicans said they would demand cuts to Social Security and Medicare in return for raising the debt limit. For now, there's no official plan to do so.
However, a January column in The Hill written by Max Richtman, president and CEO of the National Committee to Preserve Social Security and Medicare, noted that one of McCarthy's "most dangerous concessions was agreeing to tie the lifting of the federal debt ceiling to spending cuts."
Are You Retirement Ready?
"That could include Social Security and Medicare," Richtman added.
Republicans have a history of making tough demands when the country hits a debt-ceiling crisis. As Business Insider noted, in 2011 some GOP House members — mainly those aligned with the Tea Party movement — almost took the country into default so they could extract spending concessions from former President Barack Obama and congressional Democrats.
A similar game of hardball is being played now.
Biden has said he will not use raising the debt ceiling as a bargaining chip, according to Business Insider. Meanwhile, McCarthy has pressed forward the idea that no debt ceiling agreement will be reached without spending cuts.
Take Our Poll: Would You Put All of Your Savings in an Apple Savings Account?
Social Security: 20% Cuts to Your Payments May Come Sooner Than Expected
"The longer President Biden waits to be sensible to find an agreement, the more likely it becomes that this administration will bumble into the first default in our nation's history," McCarthy said in a Monday speech at the New York Stock Exchange. "Let me be clear: Defaulting on our debt is not an option. But neither is a future of higher taxes, higher interest rates… A no-strings-attached debt limit increase will not pass."
Are You Retirement Ready?
White House deputy press secretary Andrew Bates countered that McCarthy's conditions represent a "MAGA wish list that will increase costs for hard-working families," the AP reported.
More From GOBankingRates
Are You Retirement Ready?