The Guide To Working While on Social Security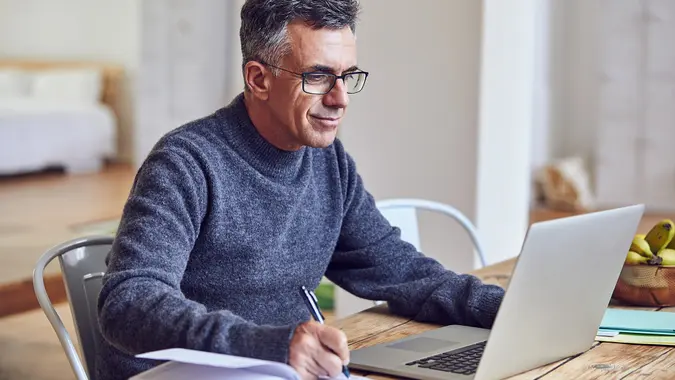 kupicoo / iStock.com
Most Americans don't really want to work after retirement. After all, isn't the point of retirement to leave your work life behind? But the truth is that if you're trying to live on Social Security, you're not likely to get very far in America like many of the Americans who come up a bit short when it comes to the size of their retirement nest egg. For some, taking on outside work in retirement is not a luxury, but rather a necessity. But the double-edged sword of Social Security is that if you earn too much outside income, your benefits may become taxable. If you think you might need to work after you start drawing Social Security benefits, here is what you'll need to know about how and when those benefits become taxable. 
Find Out: 10 Reasons You Should Claim Social Security Early
Good To Know: 20 Best Places To Live on Only a Social Security Check
When Is Social Security Nontaxable?
For many Americans, Social Security benefits aren't actually taxable. Currently, if your combined income is less than $25,000 as a single filer or less than $32,000 for joint filers, benefits are nontaxable.
The Social Security Administration defines "combined" income as:
Your adjusted gross income, plus
Nontaxable interest, plus
One-half of your Social Security benefit
Since the average Social Security retirement benefit as of January 2022 is $1,657 — or $19,884 per year — this means that if you live off your Social Security check alone, your benefits won't be taxable. However, a significant rise in your outside earnings could trigger taxes. 
When Is Social Security 50% Taxable?
Single filers earning between $25,000 and $34,000 face a 50% tax on their Social Security benefits. For joint filers, the range is from $32,000 to $44,000 in combined income, as defined above.
POLL: Do You Think States Should Suspend Their Gas Taxes?
When Is Social Security 85% Taxable?
Once you cross $34,000 in combined income as a single filer, you'll owe taxes on 85% of your Social Security benefits. The same is true for joint filers with combined income exceeding $44,000.
Is Spousal Income Included?
For purposes of calculating the taxability of Social Security benefits, spousal income is indeed included if you are a joint filer. In other words, even if you are fully retired and don't work at all, you'll have to add your spouse's income into the "combined income" calculation. This only makes sense, because as a joint filer, your adjusted gross income, which is part of the combined income calculation, includes your spouse's income. 
Ways To Avoid Social Security Taxation While Still Earning Money
Trying to avoid taxation on Social Security benefits while still earning enough to live on can be a delicate balancing act. On the one hand, it makes sense to keep your combined income down so that you don't have to pay tax on your benefits. On the other hand, the average Social Security benefit of $1,657 per month won't go very far in most American cities. 
One strategy is to take on small side gigs that keep you under the threshold of taxability. Imagine, for example, that you are a single filer and you earn $20,000 per year in Social Security benefits. Under SSA rules, you can earn up to $25,000 per year in "combined income" before you face taxation. Since combined income only takes into account one-half of your Social Security benefits, this means you can safely earn $14,999 per year in outside income and still avoid taxes on your benefits. This would bring your total income for the year up to $34,999, and you still wouldn't have to pay taxes on your Social Security.
What Types of Side Gigs Could You Work?
Being retired gives you the freedom to work flexible side gigs that you can fit into your schedule. In many cases, you can work a side gig that you actually enjoy and pick up a few bucks without affecting the taxability of your Social Security benefits. Common retirement-age side gigs include the following:
Craft or tradesperson
Reseller
Virtual assistant
Ride-share driver
Online tutor
Community college lecturer
Bookkeeper
Consultant
House or pet sitter
If you can find a side gig that is more like a hobby to you than a job, it can help contribute to a successful and enjoyable retirement, not just financially but also emotionally. 
More From GOBankingRates