How Big is Bernie Sanders' Social Security Check?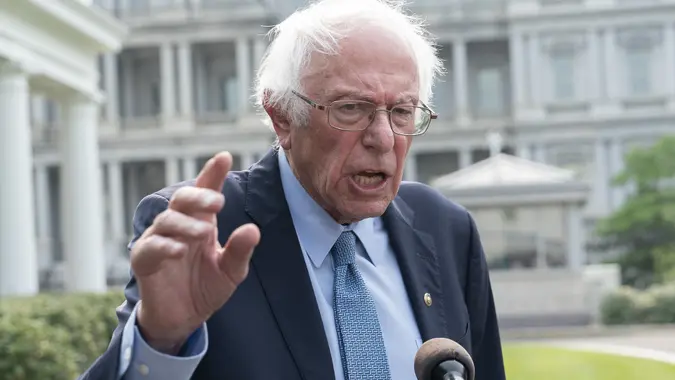 ©Shutterstock.com
Ever since the Social Security Board of Trustees first announced, the combined assets of the Old-Age, Survivors, and Disability Insurance (OASDI) Trust Funds are expected to be depleted in over a decade. Lawmakers have been struggling to fix the insolvency dilemma, while opponents are calling for annual program renewals or reauthorization. 
Talk of broad Social Security reform raises the hackles of most politicians because the program is seen as popular and effective, but flawed. Across-the-board policy changes, cutting benefits and taxing higher-bracket earners will affect an enormous number of retirees.
Bernie Sanders, the senior senator from Vermont, has long been a critic of pay disparities and corporate subsidies, fighting for the average American and targeting the ultra-rich. For the past year, he has campaigned for Social Security reform and reintroduced his Social Security Expansion Act in February. The bill pushes to enhance benefits and ensure the program's long-term solvency.
Sanders' opinions on the usefulness of Social Security to Americans and the need to expand the program are palpable. But, one only needs to search his site to find out if he has claimed benefits.
Are You Retirement Ready?
Like the vast majority of U.S. workers, members of Congress pay Social Security taxes and receive benefits when they retire. This wasn't always the case. Prior to 1984, employees of the United States government were exempt from drawing a national retirement benefit.
When Congress overhauled the Social Security system in 1984, members of Congress became automatically covered under the Federal Employees' Retirement System (FERS), which includes three programs: Basic Benefit, Thrift Savings Plan (TSP) and Social Security.
During his 2016 campaign, Sen. Sanders released his most recent tax return, for the 2014 tax year, and promised to release additional years if he were the nominee. According to Celebrity Net Worth, that 2014 return included a combined unadjusted gross income of $205,617 for Saunders and his wife, Jane O'Meara Sanders.
As The New York Times reported, Sanders' household income primarily came from his Senate salary of $174,000 and Social Security benefits. Celebrity Net Worth claims the latter totaled approximately $46,000.
In April 2019, Saunders kept his previous campaign promise by disclosing ten years of tax returns. In his 2018 tax return, the Sanders' joint filed $51,771 in Social Security benefits. The couple claimed Social Security incomes of $52,044, $51,145 and $50,818 in 2017, 2016 and 2015, respectively. One can assume that his 2023 return will include the maximum yearly benefit of $54,660.  
In the interim between his two presential runs, he became a millionaire. He is worth $3 million, per Celebrity Net Worth, primarily due to the success of his books, including 2016's "Our Revolution: A Future to Believe In" and 2018's "Where We Go from Here." His latest book, "It's OK to Be Angry About Capitalism," was published by Crown Publishing Group in February, 2023.
Are You Retirement Ready?
More From GOBankingRates