How Big Is Nancy Pelosi's Social Security Check?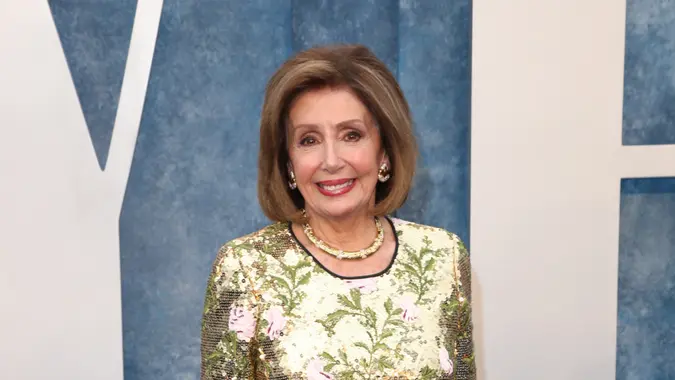 Matt Baron/BEI/Shutterstock / Matt Baron/BEI/Shutterstock
Being a member of Congress comes with a slew of financial perks. In addition to a rewarding salary, U.S. representatives and senators receive lifetime pensions and a taxpayer-matched savings plan with contributions of up to 5% of salary, per Forbes.
They are also eligible for Social Security benefits, intended to provide a safety net for all retirees. The benefit amount is determined by the individual's work history and the amount they have contributed to the Social Security system through payroll taxes. Social Security is available to individuals who have paid enough into the system to be eligible, regardless of their wealth or income level.
Although the amount of Social Security one receives is a private matter dependent on personal financial information and may not be publicly disclosed, one can assume that many high-ranking politicians max out when they choose to receive it.
At 83, Nancy Pelosi has represented San Francisco in Congress for more that 36 years and is the first and only woman in U.S. history to hold the position of Speaker of the United States House of Representatives, serving from 2007 to 2011 and again from 2019 to 2023.
Are You Retirement Ready?
Pelosi, once the most highly compensated member of Congress with an annual salary of $223,500 while House speaker, will reap a substantial public pension and potentially $1 million when she cashes out money from her federal saving account.
She is also entitled to collect Social Security. Assuming a maximum benefit of $4,555 if she begins collecting in 2023, she'll receive $54,660 each year.
Before 1984, federal civil service employees and members of Congress didn't pay into Social Security and were ineligible for benefits. However, members first elected in 1984 or later are covered automatically under the Federal Employees' Retirement System (FERS) and also are entitled to collect Social Security benefits. Pelosi was elected in 1987.
All members of Congress serving prior to September 30, 2003, may decline FERS coverage, but representatives who entered office on or after September 30, 2003, cannot opt out of making employee contributions, although they don't have to collect their benefits, according to the Congressional Research Service. 
Ultimately, the decision to collect Social Security benefits is a personal one. For some wealthy people, other sources of income are so considerable that they forego drawing Social Security.
Are You Retirement Ready?
And Pelosi and her husband, Paul, certainly have other sources of income. While Open Secrets had her estimated net worth at over $114 million in 2018, Celebrity Net Worth estimates her net worth to be $120 million now.
More From GOBankingRates