How Coming Out of Retirement Affects Social Security, Medicare, Savings and More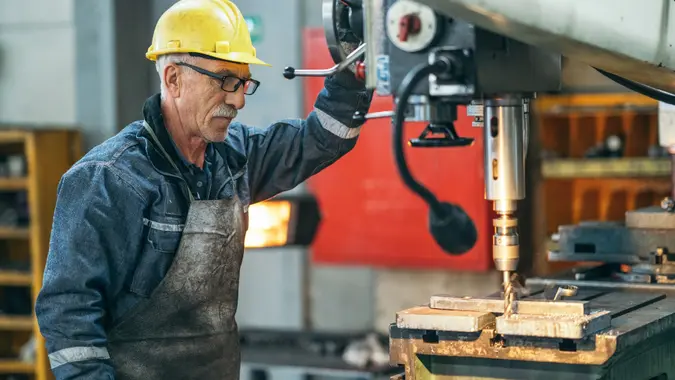 RainStar / iStock.com
Going back to work after a vacation is a regular affair for most American workers, but going back to work after retiring is starting to set a whole new precedent.
According to Forbes' Chris Carosa, "It may sound strange, but people are returning to work after retirement. This is especially true now as inflation has created an urgency to increase post-retirement income." This development also comes as many say that retirement benefits are just not enough to get by on as inflation continues to hamper the economy.
As GOBankingRates has reported, more than half of retirees say that the 8.7% COLA (cost of living adjustment) to Social Security that went into effect in January is still not enough to make ends meet. Nearly 75% of those polled by the Motley Fool said they rely heavily on these benefits to pay for necessities.
Given these new financial strains, many who previously packed up and left their job are now heading back out into the workforce. AARP reported that adults aged 65 and older are twice as likely to be working today as compared to in 1985. It's a statistic that dovetails with current conversations around raising the full retirement age (FRA) from 67 to 70 in America, or the age at which workers can receive full retirement benefits such as Social Security and Medicare.
Are You Retirement Ready?
Going Back To Work After Retirement: Social Security Benefits, Medicare Coverage
For anyone planning to go back to work post-retirement, there are some things to keep in mind as it relates to Social Security, Medicare and personal savings.
One of the benefits of going back to work after full retirement age is that you can still continue to collect your same Social Security benefits without penalty or deductions. "You can get Social Security retirement benefits and work if you are past the full retirement age," Robert Reilly, a faculty member at the Providence College School of Business and a financial advisor, told Forbes. "However, if you are younger than full retirement age and make more than the yearly limit, your benefits will be reduced." This could directly impact your ability to save, depending on your benefits situation and living expenses.
According to Charles Schwab, however, "working could mean temporarily giving up $1 in benefits for every $2 you earn above the annual limit ($21,240 in 2023)" if you have not yet reached the FRA.
When it comes to Medicare coverage, if you go back to work and your employer has qualifying health care coverage, you can drop your current Medicare plan and re-enroll later without penalty, per CNBC. However, you'll only want to do so if you don't work for a smaller company (20 employees or fewer) where Medicare would still be the dominant option. If you choose to keep your current Medicare option, then you might also have to pay more in premiums if your income goes up. It's best to talk with your employer and a financial advisor in order to determine the most advantageous path forward.
Are You Retirement Ready?
More From GOBankingRates