How Far Social Security Goes in These 6 States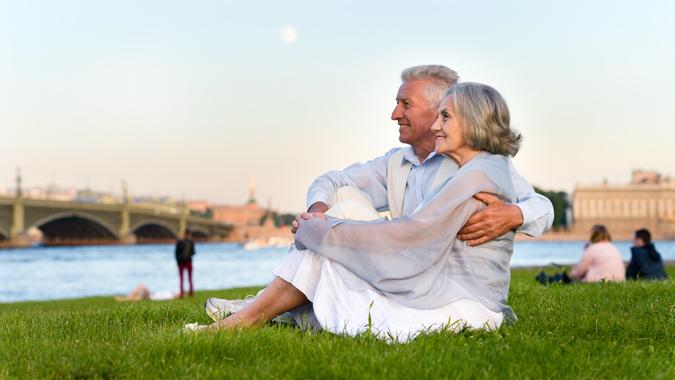 Ruslan Guzov / Shutterstock.com
Social Security is a crucial benefit for Americans. In 2019, 69.1 million Americans received Social Security benefits, according to the Social Security Administration (SSA). In other words, around one-fifth of the country received regular checks from the SSA.
Social Security: How to Boost Your Benefit by $800
Find Out: Social Security 2022 — How the COLA Will Increase Benefits for the Average Senior Couple
While millions of Americans rely on Social Security post-retirement, those benefits alone won't cover the entirety of people's living expenses. And with pensions disappearing, especially in the private sector, people are wondering how they can stretch their Social Security benefits the furthest.
One thing to consider is where you live. While Social Security benefits don't cover 100% of living expenses in any state, there is a big disparity in the percentage of living expenses these benefits cover.
See: Social Security Eligibility — What It Takes to Receive Max Monthly $3,895
If your Social Security benefits won't be enough, it can also help to delay payments, said Mark J. Pinto, president of Harbourfront Wealth Management. "An important consideration for those just entering retirement is that it may be more beneficial to hold off on cashing in these checks until reaching 70 years of age – if this is possible to do so. This is said to be the 'golden age' when it comes to receiving social security checks because you'll likely gain the biggest payout."
However, the biggest difference may come from where you live. This article will take a look at how far Social Security benefits go in a few different states.
Important: What You Need To Know About Social Security If You Plan To Retire Early
How Far Does Social Security Go?
Social Security typically goes the furthest in the Midwest and the South. In order to paint a more complete picture, we will take a look at states in different parts of the U.S. and see how far it goes in different areas.
To do so, we'll take a look at the cost of monthly necessities in each state as well as the percentage of those necessities Social Security covers each month. Other details will be added, such as the monthly cost of groceries and utilities.
Check Out: All the States That Don't Tax Social Security
West Virginia
West Virginia is first on the list because Social Security stretches the furthest in the Mountain State. The average monthly cost of necessities here is $2,176.41, and Social Security covers 69.60% of those expenses. That leaves Social Security recipients with an additional $661.67 in expenses to cover on their own.
One of the reasons West Virginia has the lowest cost is because it has the lowest rent: $776. Other costs rank farther down, however. For instance, it has the No. 22 monthly cost of groceries at $344.73, and an annual grocery bill of $4,136.74 on average. For utilities, it is seventh-cheapest for both annual and monthly costs, at $3,366.87 and $280.57, respectively. Lastly, it has the fourth-lowest cost of healthcare, at $5,874.51 annually and $489.54 monthly.
Find Out: Americans Don't Understand These Facts About Social Security
Mississippi
Lowest for: groceries, transportation
Social Security will cover 66.13% of necessities here. You'll need to get $775.73 together to cover the rest of your necessities after Social Security.
While some maps place both West Virginia and Mississippi in the South, there are some notable differences between the two. While Mississippi has the fourth-lowest cost overall, it has the lowest cost in the nation in some categories.
Our analysis finds that the average rent in Mississippi is $924, which is the 10th-lowest in the country. However, its grocery prices and transportation costs are both the lowest in the country. The annual and monthly grocery costs there are $3,821.44 and $318.45, respectively. Transportation costs an average of $2,999.32 annually and $249.94 monthly. 
Avoid These: 11 Social Security Mistakes That Can Cost You a Fortune

South Dakota
Next on the list is South Dakota, which has the third-lowest cost of monthly necessities in the country. While it doesn't top the list in any particular category, its overall affordability puts it high on the list. Social Security would cover 66.16% of necessities here, so you just need another $774.62 to cover necessities.
The category in which South Dakota has the lowest costs is transportation, where it has the fourth-lowest average cost. The average annual cost is $3,261.54, while the monthly cost is $271.79. But as mentioned, other costs are higher compared to other states. Its grocery cost is in the middle of the pack at No. 26, with an average annual cost of $4,225.02. The monthly cost is $352.09. It fares better for utilities, where it ranks No. 10. The average annual cost there is  $3,408.48, while the monthly cost is $284.04. 
New Mexico
New Mexico doesn't rank at the top for any categories, but the Southwestern state ranks well in several categories. It ranks No. 11 for its utilities cost, which is $3,412.27 annually and $284.36 monthly. For transportation, it ranks No. 13, with an annual cost of $3,419.58 and a monthly cost of $284.97.
However, overall, it ranks No. 18, with Social Security covering 61.94% of your necessities. That means you'll need an additional $930.18 to cover necessities.
Maryland
To put it mildly, Maryland isn't a state most would consider affordable. Our analysis confirms this, showing it ranks No. 42 in the country overall. Social Security will only cover 48.69% of your necessities, meaning you'll need $1,596.54 to cover the rest.
Rents are the fourth-highest in the country at $1,595, on average. Only New Jersey, California and Hawaii have higher averages for rent. Other categories aren't much better: groceries are the eighth-most expensive there, at $4,628.60 annually and $385.72 monthly.
Despite all this, Maryland actually has the lowest healthcare costs in the country, at $5,607.79 annually and $467.32 monthly. Thus, if healthcare costs are your biggest concern, Maryland could be worth a look.
Idaho
Idaho's overall cost of monthly necessities is around the middle of the pack; it ranks No. 21 overall in our analysis. Social Security will cover 60.38% of your necessities as you'll need an additional $993.98 to cover the rest.
Despite this, it has low costs in multiple categories. Its lowest-ranking area is transportation, where it ranks No. 36 with an annual cost of $3,839.85 and a monthly cost of $319.99.
But Idaho has the lowest cost in the country for utilities, with an average cost of $3,136.11 annually and $261.34 monthly. It ranks seventh for grocery costs with a cost of $3,888.70 annually and a monthly cost of $324.06. Finally, it ranks No. 11 for healthcare, with an average annual cost of $6,367.94 and a monthly cost of $530.66.
More From GOBankingRates
Methodology: GOBankingRates determined the states where your Social Security check will go furthest based on the average monthly benefit for all types of Social Security beneficiary, $1,514.75, sourced from Social Security Administration September 2021 data; and the overall cost of living in the state, sourced from the Missouri Department of Economic Development. Median monthly rent for a single-family residence was sourced from ApartmentList, and represents the average monthly rent through september 2021. All data was collected and is up to date as of Oct. 26, 2021.