4 Tips To Make Ends Meet When Social Security Isn't Enough To Beat Inflation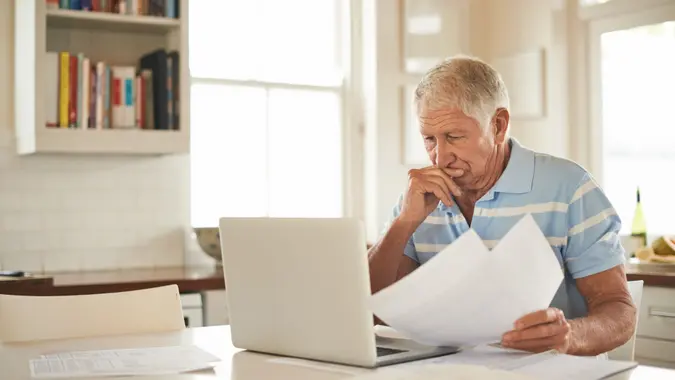 AJ_Watt / Getty Images
Those who recently retired may feel some financial pinching from the current high inflation rates and rising cost of living expenses. Even those with moderate savings and diversified portfolios may come to a realization their retirement benefits aren't enough.
Don't panic. Despite challenging financial fluctuations in the economy, retirees have several options available to help them stay afloat. Try making the following changes if you find retirement benefits aren't enough to cover your needs.
Delay Claiming Social Security 
Retirees do not need to retire from work and collect Social Security benefits at the same time. Carefully decide when you want to start claiming Social Security. Retirees may work alongside a financial advisor to determine, based on their financial situation and existing needs, if it's better to start claiming these benefits early or to delay it until the full retirement age.
Those who feel they made a mistake and started drawing Social Security too soon can reverse the decision. From the time retirees originally filed for benefits, they have 12 months to redo their Social Security election.
Are You Retirement Ready?
Consider Part-Time Employment
The general rule of Social Security is that it isn't supposed to be a retiree's primary source of income in retirement. Retirees are not advised to rely on one income source. Those who do lean heavily on Social Security might consider getting a part-time job to boost savings and help make ends meet.
Before you start applying for openings, retirees need to know about a certain employment condition. Levon L. Galstyan, CPA at Oak View Law Group, said if you work while receiving Social Security and are under the full retirement age (70) when you do it, a retirement earnings test (RET) is applicable.
"If you earn more than the limit set by the RET, you have lost benefits equal to $1 for every $2 in salary beyond $18,240 in 2020 or $18,960 in 2021 if you were under full retirement age for the entire year. You might have lost $1 in benefits if you reach full retirement age during the year for every $3 you earn beyond a higher threshold of $48,600 in 2020 or $50,520 in 2021," said Galstyan.
What does the RET look like in 2022? If you're under full retirement age, the annual earnings limit is $19,560. If you reach full retirement age in 2022, the limit on your earnings for the months before full retirement age is $51,960.
Are You Retirement Ready?
The RET may sound horrible for retirees depending on receiving both their Social Security benefits and paycheck to pay the bills. But there may be an advantage to giving up some of your checks now. 
"Your benefit will be recalculated at full retirement age to reflect the money which wasn't paid, resulting in higher future Social Security benefits," said Galstyan.
Apply For Food Benefits
Food aid programs, like SNAP benefits, are available to many older adults. However, they are not always utilized in retirement due to a combination of stigma and misinformation about these programs. If you're living on a fixed income and meet eligibility requirements, elderly and disabled individuals may be able to apply for and receive SNAP. 
Other programs to explore include the Commodity Supplemental Food Program (CSFP). This program is run by the U.S. Department of Agriculture. It provides low-income, eligible seniors over age 60 with a monthly food package including cheese, fruits and vegetables.
Another food program for those covered by a Medicaid health plan benefit is Mom's Meals. Free meals — including Salisbury steak, pasta and meatballs, and sweet and sour chicken — are served to eligible recipients every two to three weeks. Plus, meals may be personalized for vegetarians and those with allergies, dietary restrictions or on special diets. Seniors who believe they may be eligible for this program are recommended to contact a Medicaid or Medicare representative. 
Are You Retirement Ready?
Seek Assistance for Health Insurance and Medication Costs
Healthcare is the single greatest expense in retirement. Those struggling to make ends meet may qualify for financial assistance through the Medicare Savings Program. 
"Your premiums, deductibles, and copays will be paid if you are eligible, which is a huge financial relief for many," said Galstyan.
Another healthcare program available to retirees is Extra Help for Medicare Part D beneficiaries with prescription drug coverage. Eligible retirees may lower the price of their prescription medications through this program, worth over $5,000 annually.
It's also a good idea to explore nonprofit groups which help seniors with medical expenses. Copays.org, for example, allows eligible individuals to apply for money to pay for copays, premiums, deductibles and over-the-counter prescriptions. To find local assistance on anything from dental care to end-of-life services, review the financial resource database maintained by the National Patient Advocate Foundation.
More From GOBankingRates
Are You Retirement Ready?