Manchin Calls Debt Ceiling Crisis a 'Dangerous Game,' Biden Warns of Catastrophe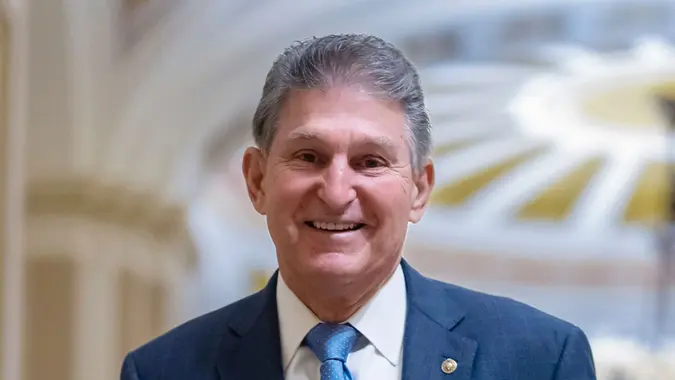 J Scott Applewhite/AP/Shutterstock / J Scott Applewhite/AP/Shutterstock
On Jan. 19, the U.S. officially hit its debt ceiling, having spent all of the $31.4 trillion available for expenditures as allocated by the Treasury. In intervening days, heated discussions and public debates have emerged concerning how the country will move forward to avoid a total spending freeze and a financial catastrophe.
More recently, on Feb. 7, Sen. Joe Manchin (D-W.Va.) penned an op-ed for The Washington Post in which he expressed his frustration over the two parties refusing to make concessions thus far.
"From a once-in-a-century pandemic and inflation not seen in decades to a global energy crisis, it is fair to say the American people are 'crisis-ed out.' Given all that anxiety, one would presume that leaders of both parties would seek out compromise to avert an unnecessary, entirely avoidable financial crisis and act soon to raise the debt ceiling. Instead, we are again witnessing a dangerous game of unnecessary brinkmanship that puts our global credit rating at risk and could cost American families and businesses much more if our leaders fail."
Are You Retirement Ready?
One week later, on Feb. 14, both President Joe Biden and Treasury Secretary Janet Yellen expressed their concern over continued sparring regarding the debt ceiling crisis. According to PBS, Biden pointed the finger at the GOP in his speech, saying: "Some in Congress are putting that progress at risk by threatening to have America default on its debt, which would be catastrophic for counties and the country. Even coming close to default would raise borrowing costs, making it harder to finance key projects in your communities."
For her part, Yellen signaled toward potential economic consequences, saying, "In the longer term, a default would raise the cost of borrowing into perpetuity. Future investments, including public investments, would become substantially more costly." She added that Social Security, among other programs, could be put at risk.
House Speaker Kevin McCarthy remained brief in his remarks over the current state of affairs, having met with the president earlier in February and remarking, "No agreement, no promises except we will continue this conversation," of the discussion when asked afterwards. Senate Republican leader Mitch McConnell has stated that there will be no GOP-advanced cuts to either Social Security or Medicare during these negotiations, per PBS.
Are You Retirement Ready?
On the other hand, Manchin wants to change the way in which Social Security is funded, notably raising the cap on payroll taxes in order to make the highest earners contribute more to the program's reserves.
As Manchin told CNN during a recent appearance on the network's "State of the Union" program, he believes that providing more money for the program in this manner will ensure beneficiaries continue to get payments. This new revenue would also ease government overspending on this major line item, thus — at least partially — alleviating the debt ceiling crisis.
Take Our Poll: Are You Concerned the U.S. Debt Ceiling Issue Will Endanger Social Security?
Manchin Proposes Raising FICA Income Cap
Per the Social Security Administration, every American worker and their employer offers 6.2% of their pay towards the program, up to $160,200 in 2023, while self-employed workers pay a more substantial 12.4% of their wages (since no employer co-pays). However, if you're a millionaire, you will have met the $160,200 cap around February of every year, per The Hill. When considering the combined Federal Insurance Contribution Act (FICA), which combines Social Security payroll taxes and Medicare payroll taxes, regular employees pay 7.65% and self-employed persons pay 15.3%.
Are You Retirement Ready?
Manchin's plan seems to dovetail with Biden's own pledge to ensure the health and longevity of Social Security, which is poised to become exhausted by 2035 unless something is done to provide more funding. "The Biden Plan will put the program on a path to long-term solvency by asking Americans with especially high wages to pay the same taxes on those earnings that middle-class families pay," a statement on the president's official website declared, outlining his four-part Older Americans program to preserve Social Security.
By contrast, as CNBC indicated, the GOP has proposed increasing the retirement age for when benefits can be received, adjusting how cost-of-living adjustments are calculated and "changing rules for ancillary benefits." CNBC noted that such alterations would be unlikely to receive Biden's support.
More From GOBankingRates
Are You Retirement Ready?
Are You Retirement Ready?