McCarthy Vows GOP 'Won't Touch' Social Security Amid Debt Ceiling Feud — Could Seniors Still Lose?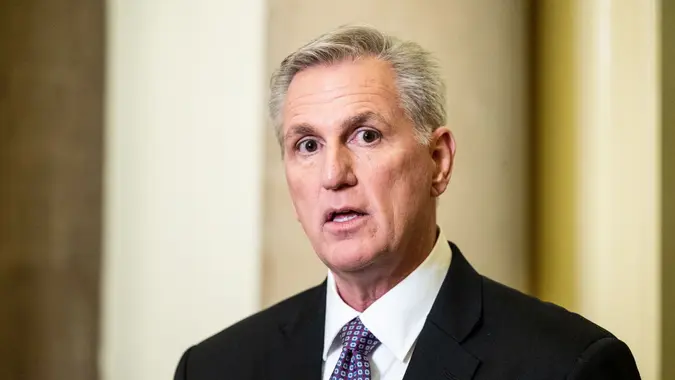 Michael Brochstein/SOPA Images/Shutterstock / Michael Brochstein/SOPA Images/Shutterstock
Among the narratives that have taken hold during the current debt-ceiling negotiations is that the Republican-led House wants to cut Social Security funding in exchange for an increase in the debt limit. U.S. House Speaker Kevin McCarthy (R-Calif.) aimed to quell those fears last week.
In a Jan. 26 podcast interview with Donald Trump, Jr., McCarthy said the GOP "won't touch Medicare or Social Security" in negotiations over the debt ceiling, The Hill reported.
McCarthy's comments come amid chatter that Republicans want to curb federal spending on Social Security and other entitlements — and see the debt ceiling talks as the perfect opportunity to force the Democrats' hands.
The U.S. hit its debt ceiling of $31.4 trillion on Jan. 19, prompting Treasury Secretary Janet Yellen to tell Congress that "extraordinary measures" are needed to prevent a fiscal emergency.
So far, neither President Joe Biden nor congressional Democrats have offered to negotiate on the debt ceiling. Instead, they've called for an increase to the debt limit with no strings attached, setting up a potential showdown with fiscal hawks.
Republicans themselves are divided on which steps to take. In addition to McCarthy, former President Donald Trump has said that the GOP should not cut either Social Security or Medicare.
That doesn't mean certain lawmakers will suddenly stop targeting Social Security, however. Some congressional Republicans want to create special panels that could recommend changes to Social Security and Medicare, the Washington Post reported.
Are You Retirement Ready?
Meanwhile, a plan released last summer by the Republican Study Committee would realign the Social Security full retirement age to account for increases in life expectancy. Under this plan, the FRA would increase to 70 from the current 66 or 67 years old, depending on your birth year. Doing so would theoretically bolster Social Security funds.
There's no question that Social Security faces pressing problems. A recent analysis from the Congressional Budget Office projects that the Old-Age and Survivors Insurance Trust Fund will be depleted by 2033. The OASI is used to partly fund retirement benefits, with the rest coming from payroll taxes.
GOP lawmakers who are targeting Social Security cuts won't have an easy time of it, however. They not only face pushback from some of their fellow Republicans but will run into a united front of opposition from Democrats.
As the WaPo reported, Biden has maintained that he won't negotiate a deal to cut spending with Republicans. He believes the debt ceiling should be addressed "without conditions," White House press secretary Karine Jean-Pierre said.
More From GOBankingRates