How To Protect Yourself Against Common Social Security Scams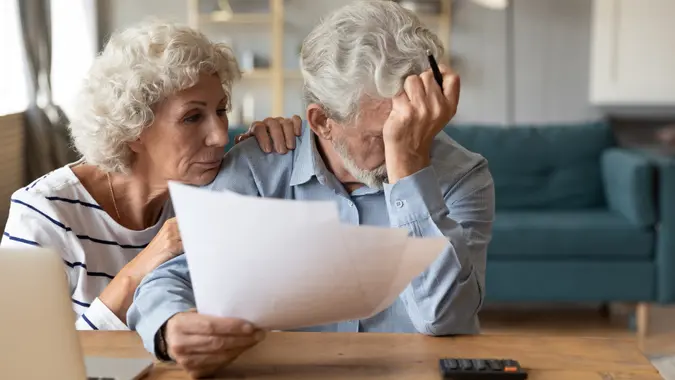 fizkes / Getty Images/iStockphoto
No one is immune from becoming a victim of a scheme if you don't know what to look for. Social Security scams are especially common, because they often take advantage of the elderly and other vulnerable groups.
Beware: Pandemic-Related Scams Have Cost Consumers Over Half a Billion So Far
Social Security Scams: 3 Common Requests and How To Report Them
The harsh truth is, as pointed out by Certified Information Security Manager David Wurst, founder of WebCitz — wherever there is money and opportunity, criminals will find a way to exploit it. The good news is you can stay one step ahead of scammers if you know what to be aware of.
Be Wary of These
Here are several things to keep an eye out for, followed by some strategies to protect yourself.
Misspelled Emails and Suspicious Links
Social Security scams often take the form of "phishing" email schemes, according to Adam Wood, co-founder of RevenueGeeks. The goal is to get you to either unknowingly click on a dangerous link or disclose sensitive information such as your Social Security number. "It can do so by enticing you with a discount, scaring you with a threat, or acting as a trusted website or service to request personal information," Wood said.
Things to keep an eye out for include misspelled emails and untrustworthy links, emails seemingly from reputable companies with email addresses that don't match, pop-up windows and more. Some tips to protect yourself include setting up firewalls on your computer and device networks and adding a VPN to eliminate pop-up ads.
Related: Crypto Scammers Are Using Robocalls to Steal Funds, Wipe Out Accounts
Dubious Phone Calls, Texts or Emails
Most of the time, any legitimate concern or request regarding your Social Security information will come by mail, Francis Locknear, founder and CEO of TheCostGuys.com, said.
"You should not continue a call with someone who informs you regarding a 'problem' with your Social Security account or number; respond to texts, calls, or emails that ask you to pay a debt or fine using gift cards, prepaid debit cards, cryptocurrency, or transfers; talk to anyone who threatens you with an arrest and other legal actions; or return any unknown texts, calls, or emails."
If any of those things occur, report these to oig.ssa.gov and change your passwords on a regular basis.
Read: How to Prevent Fraud With Your Bank Account
Threats and People Posing as Government Employees
Another common tactic to scam unwitting people out of their funds is to pose as a government employee and make threats, said Chris Muller, director of Audience Growth at DoughRoller.
 
"Scammers may threaten you and demand quick payment in order to prevent being arrested or subjected to other legal consequences. Do not be taken in by this ruse," he said.
"The Social Security Administration advises that callers may employ 'spoofing' tactics to cause the legitimate Social Security hotline number to appear on the caller ID screen of the receiver. The caller may potentially identify themselves by using the name of a legitimate Social Security Administration officer."
While scams are less common by mail, they do still occur. "The most common type of fraud is a direct mail scam that predominantly targets senior citizens," Muller explained. "A letter arrives in the mail with an offer of an additional check, as well as a form requesting personal information and payment of a filing fee. This letter requests information such as a Social Security number, money, and/or bank account details to assist the fraudster with the application."
Warning: Don't Get Caught in These Fake Check Scams
Best Ways To Thwart Scammers
There are some very basic strategies to keep scammers at bay, but they can be easier said that done. Scammers are tricky, so keep these helpful tips in mind to protect yourself — and tell your friends and family too.
Think Before You Click
"Hackers want you to act before you think," according to cybersecurity expert Nick Santora, founder of Curricula.com.  
Santora recommends you always check the source before you click. Also, slow down. "A scammer will often try and convince their victim that they have their information already, then ask them to quickly verify it. Slow down and do not give out sensitive information," he said.
Lastly, Santora suggested, "Use strong passwords, make them unique for each account, and don't reuse them. Also, turn on two-factor/multi-factor authentication (2FA/MFA) and use a password manager (vault) to add a layer of encryption."
Beware: 5 Everyday Things You Do That Can Trigger a Bank Fraud Alert
Never Give Personal Details
Stay ahead of scammers by keeping your information private, said Connor Brown, founder of After School Finance. "Remember that no matter how convincing the person may be, never ever give your personal details. These details can help them login into your accounts without you knowing. What's worse is you may not be able to access it again, which is a tremendous headache."
Do Your Research
The internet is your best resource to educate yourself, Brown said. "Spending your day reading about scamming can save you from being a victim. Know their strategies so you can familiarize yourself with what they do."
Also See: Venmo Is Riddled with Scams – Is Zelle Any Safer?
Update Software on Your Computer and Phone
"The most effective protection against viruses, malware and other online dangers is to install the most up-to-date security software, web browser, and operating system available," said Jeff Mains, CEO of Champion Leadership Group LLC. He recommends you enable automatic updates to obtain new fixes as soon as they are released.
Shop With Caution 

Lastly, shop carefully by checking to see if the website uses secure technologies before making a purchase online, Mains encouraged. "Make sure the site URL starts with HTTPS at the checkout before submitting your payment information. Aside from that, look for the presence of a tiny, locked padlock icon on the website."
More From GOBankingRates