Social Security 2023: 80% of Americans Are Concerned About Social Security and Medicaid — 6 Tips To Protect Yourself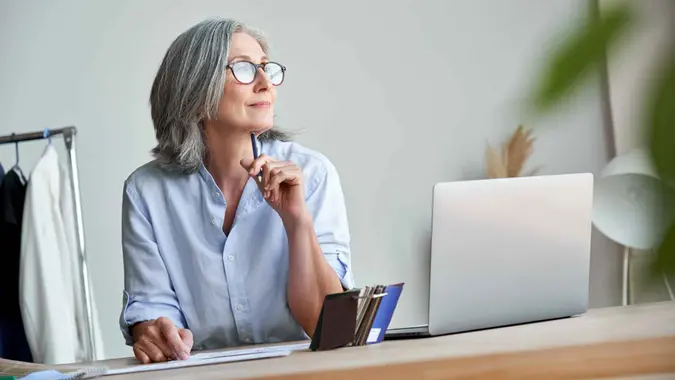 insta_photos / Getty Images/iStockphoto
The long-term solvency of Social Security and Medicaid has become hot political discourse in recent years, and Americans are duly concerned. According to a new study by Allianz, 80% of Americans worry about the future of Medicare and Social Security. What can those fretting about these once-guaranteed programs do to protect themselves and, hopefully, stop worrying? Here are 6 tips.
For Medicaid: Explore the Health Insurance Marketplace
Should you lose Medicaid or CHIP coverage, the state you live in will securely send your contact information to the Health Insurance Marketplace, which will then follow up with you by phone, text or email — if you gave that contact information to your state (you should). But you needn't wait for the Marketplace to contact you. You can apply for coverage on its site.
Marketplace plans cover things like prescription drugs, doctor visits, urgent care, hospital visits and more. You can apply and enroll in a Marketplace plan as early as 60 days before your Medicaid or CHIP coverage ends to protect yourself against a gap in coverage.
According to Healthcare.gov, 4 in 5 customers are able to find health coverage for $10 or less a month this way.
For Medicaid: Invest in An HSA
A healthcare savings account (HSA) is offered by many employers, as well as by banks, insurance companies and other financial institutions. An HSA allows you to put money in a fund for a number of medical expenses and withdraw it tax-free. You can use an HSA to cover deductibles and copayments — and often many other health-related things.  
Are You Retirement Ready?
Unlike Flexible Savings Accounts (FSAs), HSAs do not expire, so you can tap into them at any point.
For Social Security: Work Longer
Social Security benefits, as of now, aren't in danger of being totally wiped out… but they are projected to be reduced due to lack of reserved funds. Americans — many of whom are banking on retiring early — should consider waiting to claim Social Security for as long as they can. This, unfortunately, means staying employed for longer, perhaps into their golden years.
For Social Security: Double Down on Your 401(k) Plan
If you have access to a 401(k) plan, increase your contributions. This is especially prudent if your employer matches your contributions. Either way, it's the smartest move to make.
For Social Security: Build Your Nest Egg
Saving is particularly tough right now for many Americans, who are struggling with the impacts of inflation. Though cash is definitely not inflation-proof, and hardly the best way to plan for the future, building a savings nest egg for retirement is still critical. Consider a balanced investment portfolio, with a decent cash reserve for emergencies.
For Social Security: Work More Now
One way to potentially avoid working more when you're nearing or of retirement age is to create a robust income flow now. That may mean taking on a side hustle in order to increase your earnings.
Are You Retirement Ready?
More From GOBankingRates