Social Security: Despite Easing Inflation, More Than Half of Seniors Say 8.7% COLA Won't Keep Pace with Rising Costs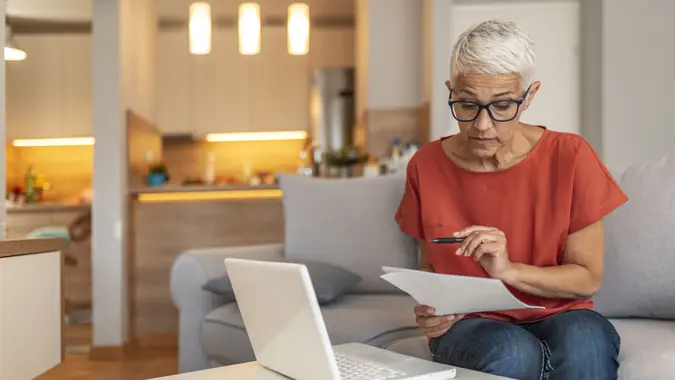 ljubaphoto / Getty Images
Inflation continued to decline on an annual basis in January, as the Consumer Price Index for January 2023 rose only 6.4% — well off the 9.1% peak set in June 2022. That should be cheery news to Social Security recipients who received an 8.7% cost-of-living adjustment (COLA) in 2023.
But not all seniors are convinced this year's COLA will be effective at battling high prices.
A new survey from The Senior Citizens League found that more than half (54%) of older consumers "remain unconvinced" that the 8.7% COLA will keep pace with rising costs in 2023, the group announced in a press release on Feb. 14. Roughly the same number of survey respondents reported that their household costs in 2022 rose by more than the current COLA.
Inflation proved to be a major financial stress for Social Security recipients last year, when the COLA was 5.9%. That boost was almost immediately negated early in 2022 when the inflation rate soared above 7% and stayed there for nearly the whole year.
Even with this year's 8.7% COLA — the biggest in more than four decades — seniors remain uneasy about whether they will be able to afford to pay prices that are still historically high. Nearly all of those polled — 96% — don't think 2023 will be the year they catch up on all the financial hits they took from high inflation in recent years.
Are You Retirement Ready?
From the start of the COVID-19 pandemic in 2020 through December 2022, Social Security benefits fell short of COLAs by an average of about $1,054, according to a new analysis by Mary Johnson, the league's Social Security and Medicare policy analyst. That figure was based on a calculation of how much benefits would have needed to increase each month from January 2020 to December 2022 to keep pace with actual inflation. The resulting figure was then compared to the amount of the average COLA. It did not include the deduction for Medicare Part B premiums.
The easing annual inflation rate will help shrink the shortfall, but only slightly. The Senior Citizens League figures the shortfall will be reduced by $40.34 per month for January and February — before the $164.90 deduction for the monthly Medicare Part B premium. 
Meanwhile, high COLAs will push some Social Security recipients into a higher tax bracket, which could also lead to higher taxes. Social Security recipients might owe taxes on a portion of their Social Security benefits when their "combined income" is greater than $25,000 for single filers or $32,000 for couples filing jointly.
Are You Retirement Ready?
Combined income, also known as provisional income, is the total of half of your Social Security benefits, your tax-exempt interest and other non-Social Security items (such as jobs or investments) that make up your adjusted gross income.
"A growing percentage of older taxpayers are hit with the tax on Social Security every year because the income thresholds subjecting benefits to taxation are fixed, unlike tax brackets, which are adjusted for inflation," The Senior Citizens League noted. "Had these income thresholds been adjusted since the tax on Social Security benefits became effective in 1984, the $25,000 level today would be about $73,000 and the $32,000 level would be about $93,200."
About half of survey respondents worry they will pay more in taxes this year due to the 5.9% COLA they received last year. About one in five worry they might be subject to a tax on their Social Security benefits for the first time this tax season.
More From GOBankingRates
Are You Retirement Ready?