Social Security Expert Claims Program 'Faces Big Trouble' — 60% of Americans Are Very Concerned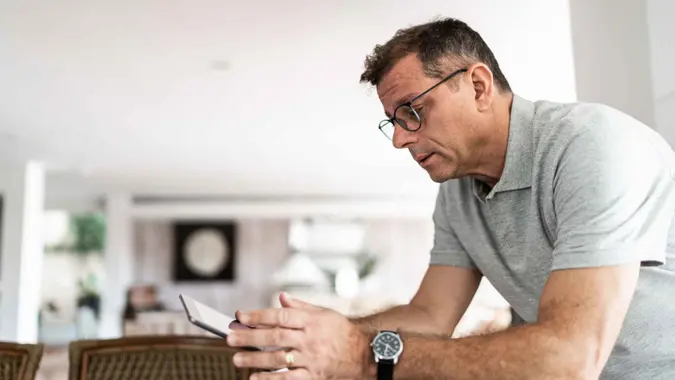 FG Trade / Getty Images
Social Security's looming funding shortfall has been well documented — so much so that a majority of Americans are "very" concerned that their payments will be reduced before they retire, according to a new survey conducted on behalf of Newsweek.

Find: 3 Ways To Recession-roof Your Retirement
The survey of 1,500 eligible voters, conducted on May 31 and released June 29, found that 88% of Americans are counting on Social Security to help see them through retirement. These respondents describe Social Security payments as either "extremely" or "reasonably" important to them.
At the same time, 60% said they are "very" concerned that payments will be reduced in the future, and another 36% said they are "fairly" or "slightly" concerned. Only 4% said they are not worried about lower payments.
The reason so many Americans fret over the future of Social Security has to do with the program's Old Age and Survivors Insurance (OASI) Trust Fund, which is expected to run out of money as early as 2032 or 2033. When that happens, the program will be solely reliant on payroll taxes for funding — and those taxes only cover about 77% of current benefits.
This isn't a new problem, but it has gotten a lot more attention in recent years as the funding shortfall moves closer.
"As many Americans now understand, the program's budget has run short since 2010, when program costs first exceeded payroll tax revenue. This gap continues to grow at a rapid rate," Olivia S. Mitchell, an economics professor at University of Pennsylvania's Wharton School of Business and director of the Pension Research Council, told Newsweek.
Are You Retirement Ready?
The Social Security program "faces big trouble," she added.
How To Fix Social Security Funding Shortfall
As Newsweek reported, fixing the program has become a major talking point ahead of the 2024 election. While some lawmakers have proposed either cutting Social Security benefits or raising the full retirement age, President Joe Biden favors bolstering the program through higher payroll taxes. However, he has still not offered specific proposals on how to deal with the trust fund depletion.
"The President is focused on the immediate threat to Social Security: Congressional Republican attempts to cut benefits," White House spokesperson Robyn Patterson told Newsweek. "He welcomes proposals from members of Congress on how to extend Social Security's solvency without cutting benefits or increasing taxes on anyone making less than $400,000."
For their part, Republicans haven't specifically proposed bills to cut benefits, though U.S. House Majority Leader Kevin McCarthy (R-Calif.) recently hinted that the GOP might target Social Security for cuts as part of a broader effort to rein in government spending.
The one thing everyone seems to agree on is that something must be done to fix Social Security — and sooner rather than later.
"Today's workers, persons with disabilities, retirees, and our children simply cannot plan ahead without knowing what will happen to Social Security in the future," Mitchell said.
She estimated that the program needs an additional $20.4 trillion to keep it stable for the next 75 years. Beyond that, another $61.8 trillion is needed to keep Social Security solvent for future generations, Mitchell said.
Are You Retirement Ready?
But others caution against pressing the panic button — mainly because payroll taxes are still sufficient to fund more than three-quarters of Social Security benefits well into the future.
A March blog by the Center on Budget and Policy Priorities (CBPP) pointed out that in 2022 alone, the Social Security system collected more than $1 trillion in revenue and paid out "about the same" in benefits.
"Claims of Social Security's impending 'bankruptcy' are highly misleading and demonstrate misunderstanding, or deliberate misrepresentation, of Social Security's finances," the CBPP's Kathleen Romig and Luis Nuñez wrote. "Because Social Security faces no imminent crisis, policymakers have time to carefully craft a financing package that minimizes cuts to the program's modest but critical benefits."
More From GOBankingRates