I'm a Social Security Expert: This Is What Your Benefit Should Be in 5 Years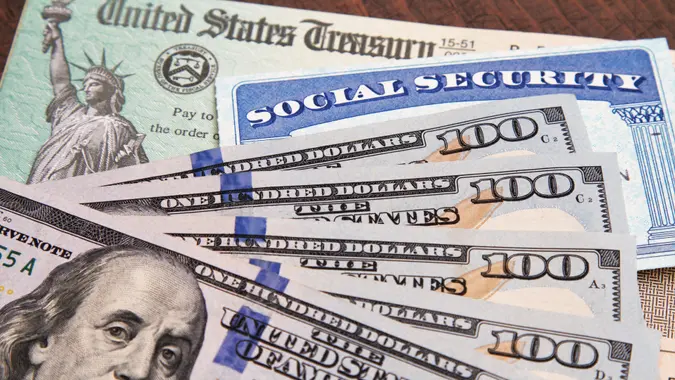 NoDerog / Getty Images/iStockphoto
Anyone planning to rely on Social Security in retirement probably knows the program is on thin financial ice.
While your benefits are safe for now, they won't be for long without action. A simmering crisis will boil over in the 2030s if Congress doesn't shore up the program before then, but what's in store for your benefits in the nearer term over the next half-decade?
GOBankingRates asked the experts.
There's Not Much To Fear in the Next Five Years
Barring something unforeseen, Social Security will exist as we know it throughout the 2020s. There will be tweaks and modifications, but those are built into the program's existing legal framework. For example, the law has required annual cost-of-living adjustments (COLAs) since 1975 to ensure that benefits keep pace with inflation. But there's no reason to expect a radical change this decade.
"Social Security is very much safe in the near term," said Nicholas B. Creel, Ph.D., assistant professor of business law and director of the Center for Innovation at Georgia College and State University. "It's going to be paying out promised benefits in full until at least the early to mid-2030s, even if the government doesn't do anything to shore it up in the meantime."
The average monthly benefit in 2023 is around $1,780 — an amount that varies based on retirement age and Social Security contributions during work life. The benefit changes each year based on cost of living. The 2024 average will be 3.2% higher. The typical COLA bump is no more than 2% though, so in five years the average benefit is likely to be between $1,900 and $2,000.
Are You Retirement Ready?
In 10 Years, Something's Got To Give
Although it currently feels far off in the distance, an unavoidable crisis is on the horizon; without action, Social Security in its current form will not endure beyond the next decade.
"According to the Trustees of the Social Security trust fund, Social Security's reserved funds will be depleted by the end of 2033, at which point the SSA will only cover 77% of scheduled benefits," said Lindsey Crossmier, a financial researcher and writer for RetireGuide.com.
The SSA's 2023 Status of the Social Security and Medicare Programs report backs up Crossmier's assertion. In 10 years, the program's reserve trusts will run out, and beneficiaries will rely solely on incoming payroll taxes to fund their payments. That will be enough to cover only a little more than three-quarters of promised benefits.
10 Years Might Be Wishful Thinking
While the program is almost certainly safe for the next five years, there's no guarantee that the 2033 depletion timeline will hold. In fact, it likely will shorten — it has already in the recent past.
"Unfortunately, the estimated year for Social Security's reserve depletion keeps being pushed up," Crossmier said. "Last year, 2034 was the predicted depletion year. Now, as of 2023, the director of the Congressional Budget Office expects Social Security funding depletion to start in 2032."
The Bipartisan Policy Center confirms Crossmier's numbers. When inflation hit a 40-year high last year, beneficiaries received an equally historic 8.7% COLA to account for the rapidly rising prices that beneficiaries were experiencing. While the largest COLA in four decades was welcome and necessary, it depleted the program's coffers even further and accelerated the date of insolvency — and the next economic crisis could add even more fuel to the fire.
Are You Retirement Ready?
"If the predicted year of depleted reserved funds for Social Security benefits keeps being pushed sooner," Crossmier said, "retirees could face a reduction of benefits sooner than originally planned."
Congress Will Act, but Not Until the House Is on Fire
In 2010, when benefits were still expected to be payable in full until 2037 — five years longer than today — the SSA wrote, "Since the inception of the Social Security program in 1935, scheduled benefits have always been paid on a timely basis through a series of modifications in the law that will continue."
The most recent major overhaul was in 1983, when President Reagan signed bipartisan legislation to prevent a crisis that had become immediate after looming for decades.
Historically, that's par for the course.
When it comes to Social Security, Congress plays a game of chicken with insolvency and blinks only when it must at the very last moment.
"I don't expect any changes to Social Security until we get very near the time in which solvency is an issue," Creel said. "The government, Congress especially, almost only ever operates by waiting until a hard deadline to act. We have seen, seemingly countless times, this sort of procrastination with the debt ceiling and budget showdowns. So we are very unlikely to see Congress move on Social Security in this decade."
How Will Congress Solve the Problem When Its Time Finally Runs Out?
When further delay is no longer possible, a solution will require bipartisan compromise, which has become harder to come by in recent years.
Are You Retirement Ready?
"Part of that will almost definitely see the payroll tax cap raised or eliminated," Creel said. "Right now, the top 5% or so of high earners effectively enjoy a tax break for all income above $160,000 that is not subject to the Social Security tax. Removing that cap entirely gives Social Security decades of further solvency. We will probably also see a slight raise in the retirement age, but it will most likely only affect younger folks who are still a few decades out from retirement."
As for the next five years, expect little more than Band-Aids and bickering.
"Social Security benefits have been at risk for future generations with little to no plans for improvements," Crossmier said. "The 2024 Biden-Harris budget provided the SSA with a 10% budget increase, but the increased funds are to be used for staffing, technology and accessibility — not addressing the looming issue of future reduced benefits."
More From GOBankingRates