Social Security Experts: What You Need To Know About Planning for the Future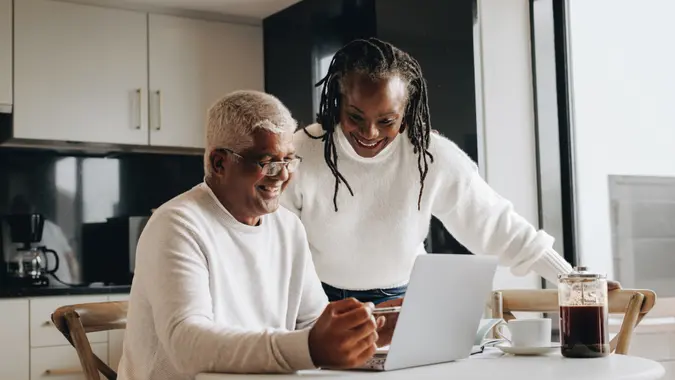 jacoblund / Getty Images/iStockphoto
Do you have questions about the future of Social Security? You aren't alone. Whether you're planning to retire relatively soon or just started contributing to your 401(k) plan, you might wonder about the role Social Security plays in retirement. 
Most people know certain truths about Social Security, such as understanding this benefit alone cannot fully fund a person's retirement. What else should be top of mind? Here's what Social Security experts said you need to know about planning for the future.
Consider Increasing Life Expectancy
If you're alive in 2030, Matthew Allen, co-founder and CEO of Social Security Advisors, said you'll likely live to age 100 — or beyond. 
Increased longevity means those planning for the future need to factor in a longer lifespan. As such, they will need the necessary retirement assets to ensure they lead a desirable quality of life. Allen recommends making sure your financial planning projections reflect the costs associated with longevity. 
Are You Retirement Ready?
Take Our Poll: Do You Think the US Should Raise the Medicare Tax on High Earners To Help Save the Program?
Carefully Decide When and How To Claim Social Security
According to the Social Security Administration (SSA), you may begin claiming Social Security benefits as early as age 62. However, just because you can start claiming benefits at age 62 does not mean you should do it because you're now eligible. This is especially true if you do not understand everything about Social Security and how it works yet.
"Everyone, whether they are single, married, divorced or a survivor should engage a professional Social Security advisor to help them determine when and how to claim their Social Security benefits," said Allen. "They can do the filing for you so you can receive professional answers and guidance to your questions with each step of the process. This helps ensure you get all the benefits you have worked for and deserve."
If you believe you have made a mistake about when you should claim Social Security, it is possible to change your mind and withdraw your application. The best approach, however, is to make the right decision the first time. 
Are You Retirement Ready?
Prepare To Owe Taxes in Retirement
Owing taxes in retirement often comes as a surprise to many retirees. Bryan M. Kuderna — CFP and host of The Kuderna Podcast — said retirees would owe when popular deductions like 401(k), mortgage interest and kids might be gone.
"I suggest having a nice mix of pre-tax (traditional IRA/401(k)), taxable (non-qualified investment accounts) and tax-free (Roth IRA/401(k) and cash value life insurance) vehicles to allow retirees to practice tax arbitrage in retirement," Kuderna recommends.
Create a Personal Retirement Plan
Kelli A. Hill — CFP and managing director, advice and planning at Wells Fargo Wealth & Investment Management — recommends creating a written retirement plan.
This written plan should include your financial priorities and establish a budget. You can also begin taking stock of your spending and saving behaviors over the past year to evaluate your financial habits. Conduct an exercise of writing a list of essentials which you cannot do without (like your mortgage, car payment and groceries). Then jot down a list of discretionary items which are nice to have, like dining out or going on vacation, to better understand how much you are spending in both columns. 
Are You Retirement Ready?
Get an Accountability Partner
You do not need to plan for the future alone. Set up regular financial meetings with an accountability partner. Hill uses the example of her husband as her accountability partner. Together, the couple has an annual financial meeting every January to assess where to cut discretionary spending and evaluate how they did in adhering to last year's financial goals. 
"When we make a commitment out loud to someone and ask them to help us be accountable to attaining goals, we are much more likely to do it," said Hill.
Automate Retirement Savings
Once you understand your goals for retirement saving and have opened and maxed out contributions to the accounts which put you closer to reaching your retirement goals, consider automating retirement savings. 
Edward Gottfried, director of product management at Betterment at Work, said this may be done through simple functions such as auto-contributions and auto-escalation within your retirement account. By automating retirement savings, Gottfried said, you can better prioritize your contributions to your retirement fund without giving in to the temptation of spending without planning ahead.
Are You Retirement Ready?
More From GOBankingRates
Jaime Catmull contributed to the reporting for this article.
Are You Retirement Ready?