Social Security Glossary: Every Term You Need To Know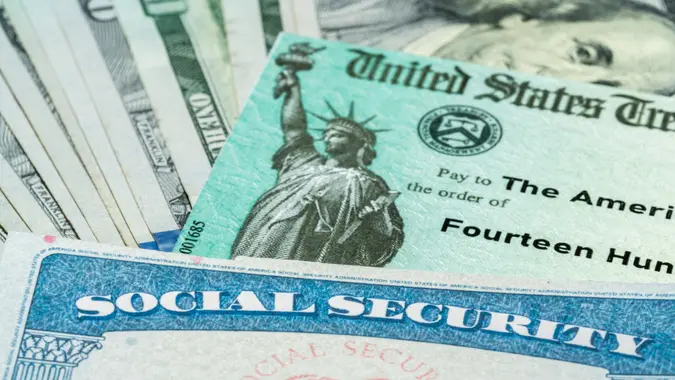 BackyardProduction / Getty Images/iStockphoto
Like any gigantic bureaucracy, the Social Security Administration (SSA) has its own language, its own acronyms and its own jargon. If you're applying for benefits, or even just searching for information, you'll have to learn the lingo if you want to successfully navigate the system.
See: Social Security Cost-of-Living Adjustments Aren't Enough To Pay Higher Costs for Seniors
Find Out: The Biggest Problems Facing Social Security
Social Security Speak: Learn These Terms To Maximize Benefits and Avoid Mistakes
Although the language of the SSA could fill volumes, GOBankingRates has distilled the most important terms down into a condensed glossary. Learning the following terms will be enough for most people to navigate their way through the SSA's bureaucratic red tape.
Beneficiary:

The person who receives Social Security payments.

Benefits:

The five kinds of benefits paid by the SSA are retirement, disability, Medicare, survivors and dependent children/spouses.
Check Out: How Long $500K Will Last in Retirement in Each State
Child:

For the purposes of Social Security, the term "child" could refer to not only a biological child, but children who were adopted, stepchildren and dependent grandchildren.

COLA:

In 2022, Social Security recipients will receive a 5.9% raise thanks to a cost of living adjustment (COLA). The SSA periodically increases payouts to keep up with inflation and the cost of living.

Credits:

In order to be eligible for benefits, applicants must first earn 40 Social Security credits. You receive one credit for every quarter that you earn at least $1,470 in income, for a maximum of four credits per year.

Death benefits:

Qualifying survivors get a one-time payment of $225, provided they apply for benefits within two years of the beneficiary's death.

DRC:

Recipients who wait until after their full retirement age to claim their benefits will receive extra payments in the form of delayed retirement credits (DRC). Increases stop after age 70.

Early retirement:

Applicants can file for Social Security as young as 62, but if they file before their full retirement age, they'll accept permanently reduced benefits.
Are You Retirement Ready?
Retirement: Jaw-Dropping Stats About the State of Retirement in America
Earnings record:

Over the course of your working career, the SSA maintains a chronology of all the income you earned each year. You can view your earnings record with a mySocialSecurity account.

FICA:

Federal Insurance Contributions Act (FICA) taxes, which are removed automatically from your paycheck, are used to fund Social Security and Medicare.

Full retirement age:

To get your full benefits, you have to wait until your full retirement age, which is tracked to your birthday. Currently, it's 66 years and two months for people born in 1955, and will gradually rise to 67 for those born in 1960.

Maximum earnings:

Maximum earnings represent the maximum amount of income the SSA can count in any calendar year when tabulating your Social Security benefits.

Minimum retirement age:

Those who choose can apply for Social Security years before their full retirement age, but by doing so, they're agreeing to receive reduced benefits for the rest of their lives. The minimum retirement age is 62.

OASDI:

Old Age Survivors and Disability Insurance (OASDI) are the programs that fall under the umbrella of "Social Security." They provide monthly cash payments to retired workers and their dependents or survivors, as well as those who become disabled.
Good Advice: 12 Essential Money Tips for Every Phase of Your Financial Life
PIA:

The primary insurance amount (PIA) is what retired workers are eligible to receive if they claim benefits at their full retirement age. PIA also refers to the amount that workers receive if they become disabled and have never received retirement payments that were reduced for age.

Retirement earnings test:

Also called the Social Security earnings test, this standard represents the maximum income a person can earn while receiving benefits before their full retirement age. If they earn too much money, their benefits will be temporarily reduced. Beneficiaries are never subject to the earnings test once they reach full retirement age.

Social Security:

The Social Security Act of 1935 created the Social Security program as part of a wave of reforms enacted under FDR during the Great Depression. Today, Social Security is the largest program in the United States, accounting for nearly one-quarter of the federal budget. It remains the bedrock of the social safety net.

Spouse:

The SSA considers you a spouse if you were married to the worker at the time you filed for benefits, if you would be considered the husband or wife of a worker who died without leaving a will, or if you married in "good faith," but some legal impediment rendered the marriage invalid.
Are You Retirement Ready?
Look: All You Need To Know About Collecting Social Security While Still Working
SSI:

Supplemental Security Insurance (SSI) is a program funded by general revenue taxes instead of by Social Security taxes. It supports the most vulnerable Americans — elderly, disabled and blind people with limited incomes — by providing cash payments to help them meet their basic needs.

Survivors benefits:

Upon death, a beneficiary's payments can go to a qualifying widow or widower, children, or parents. They must meet certain conditions. Children, for example, must be unmarried and younger than 18 or under 19 and still in school.

Wage earner:

Often simply called "workers," wage earners are the people who earn Social Security credits while laboring for income, either as wage earners or through self-employment.

Widow/widower:

The minimum age for widows and widowers to receive benefits is 60 years old — 50 if they are disabled.
More From GOBankingRates
Last updated: Oct. 27, 2021