How Big Is Bill Clinton's Social Security Check?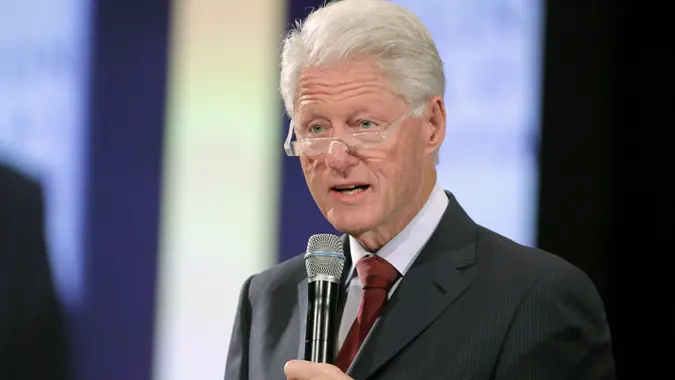 JStone / Shutterstock.com
A former President of the United States is never out of the news, regardless of how low a profile he would prefer to keep. Bill Clinton, who served as POTUS from January 1993 to January 2001, has remained in the spotlight since leaving office, making millions as a public speaker and commentator while also supporting his wife's 2016 U.S. presidential run.
More recently, Clinton has made the news for his views on changing New York City's "Right to Shelter Law" and identified for being one of the many influential people that former FTX CEO Sam Bankman-Fried met with before the collapse of his cryptocurrency exchange.
In 2015, when the right-leaning Washington Times was attacking Hillary Clinton for her "centrist persona" on the subject of Social Security, it also took the presidential candidate to task for failing to reveal whether she and her husband received Social Security benefits themselves. If the newspaper took the time to look, the information would've been right in front of its eyes the whole time.
How Big Is Bill Clinton's Social Security Check?
Pursuant to the Ethics in Government Act of 1978, Senate members, officers, certain employees and candidates are required to file public Financial Disclosure Reports, including assets, financial interests and investments, with the Secretary of the Senate. While the Office of Public Records monitors these disclosures for potential conflicts of interest, these records allow for a wide range of asset values don't require exact figures for many earnings types.
Are You Retirement Ready?
Included in her last financial disclosure, dated June 28, 2008, Hillary Clinton listed assets totaling millions of dollars representing a broad spectrum. No Social Security income is mentioned, but it's interesting to note that her spouse's income from speeches and book royalties is vast, to say the least.
As Reuters reported at the time, the Clintons released their 2015 tax return in August 2016. In the filing, the couple claimed about $10.75 million in income and paid more than $3.62 million — a rate of 34.2% — in federal taxes, according to Time.
Although Time claimed they had previously released returns for the years 2001 to 2014, Reuters noted that the Clintons' "tax returns have been made public, in some form, every year since 1977."
The 2015 return — when Bill was 69 and Hillary was 67 — has no figures filled out for the Social Security benefits and taxable amount spaces. Whether both waited after this to collect benefits is a matter of conjecture. According to the Los Angeles Times, if Hillary chose to start getting monthly checks five years ago at the age of 70, she would have collected 132% of her normal benefit, which would have paid her $3,343 a month, or $40,122 a year.
The maximum monthly Social Security retirement benefit for a married couple in 2023 is $9,110 if each spouse waits until age 70 to receive benefits and paid the maximum Social Security tax over 35 years of earnings.
For this year and beyond, the Clintons will be receiving close to or the highest possible monthly Social Security payment if they have chosen to receive it. Some ultra-high-net-worth individuals — including the Clintons, who have an estimated net worth of $120 million, according to Celebrity Net Worth — simply forego collecting Social Security altogether.
Are You Retirement Ready?
It's not like they'll be missing out. During his tenure as President, Clinton made $200,000 a year (the salary doubled to $400,000, plus $50,000 for expenses, a $100,000 non-taxable travel account and $19,000 for entertainment the year he left office, per CNBC). According to Business Insider, he received an annual pension of $205,700 in 2016.
But it's his post-presidential career that has earned Bill Clinton his fortune. "I've never had any money until I got out of the White House," Clinton told CNN's Wolf Blitzer in 2010. "But I've done reasonably well since then."
In 2015, The Wall Street Journal reported that former president Bill and Hillary Clinton had earned more than $30 million combined in the 16 months prior, with $25 million from paid speeches.
More From GOBankingRates