Social Security: How Much Money SSA Paid Out on Average in 2022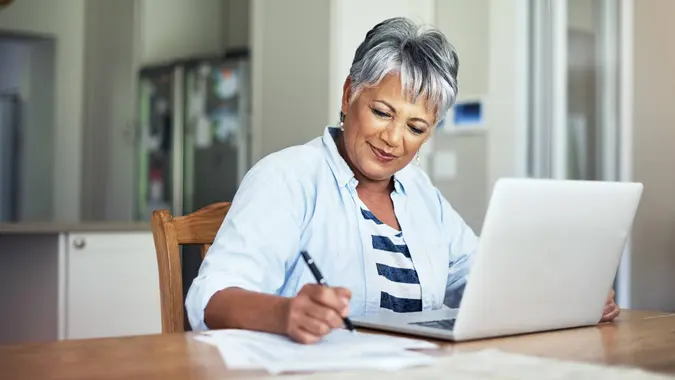 shapecharge / Getty Images
When it comes to federal government spending, Social Security is right near the top of the list. About one-fifth (21%) of the 2022 federal budget went to Social Security, according to the Center on Budget and Policy Priorities. The total outlay was $1.2 trillion — the second biggest expenditure of any U.S. government program.
Social Security: Women Get $354 Per Month Less Than Men — Here's Why
Discover: 5 Things You Must Do When Your Savings Reach $50,000
The biggest chunk of the budget — $1.4 trillion, or 25% — went to a quartet of health insurance programs: Medicare, Medicaid and the Children's Health Insurance Program and Affordable Care Act marketplace health insurance subsidies. About 13% of the budget, or $768 billion, went to defense spending.
Social Security Administration expenditures mainly went to monthly retirement benefits for 49 million retired workers, who averaged payments of $1,538 a month. But the SSA also provided benefits to about 3 million spouses and children of retired workers, 6 million surviving children and spouses of deceased workers and 9 million disabled workers and their eligible dependents.
Retirement benefits, officially called Old-Age and Survivors Insurance, accounted for about $1.07 trillion of total Social Security spending in 2022, The Motley Fool reported. This money goes to workers as well as their spouses and survivors.
Individual retirement benefits are based on how much money workers paid into Social Security during their careers, as well as when they decided to sign up for the program. You can apply as early as age 62, but your monthly payment will be reduced if you start collecting before full retirement age, which is age 66 or 67, depending on when you were born. For now, retirement benefits max out at age 70, so there's no advantage to waiting longer than that to apply.
About $68.5 billion of the SSA's 2022 expenditures went to Supplemental Security Income, which pays monthly benefits to adults and children with a disability or blindness who meet certain financial criteria. SSI payments are also available to people 65 and older who meet the financial qualifications even if they're not disabled.
The base amount for SSI in 2022 was $841 per month for single recipients and $1,261 for couples. However, many recipients don't get the full amount. About 7.6 million people received SSI benefits during the most recent month for which data are available, with an average monthly payment of about $624.
Social Security paid out another $145 billion in Social Security Disability Insurance. This program pays benefits to you and certain family members if you are "insured," meaning you worked long and recently enough and paid Social Security taxes on your earnings.
SSDI is available to workers of all ages, with eligibility beginning in as little as 18 months of work for people under age 24. Work requirements steadily rise as you get older. More than 8.9 million people received benefits under the disability insurance program in 2022, with average monthly benefits of $1,234.
Take Our Poll: Do You Think You Will Be Able To Retire at Age 65?
Explore: 5 Tips To Know To Retire Earlier
Social Security payments will go up substantially in 2023 thanks to an 8.7% cost-of-living adjustment (COLA) that kicks in at the beginning of the new year. The COLA will boost the average monthly retirement benefit by more than $140.
More From GOBankingRates