Social Security Reform Debate Continues: How Much Does It Contribute to National Debt?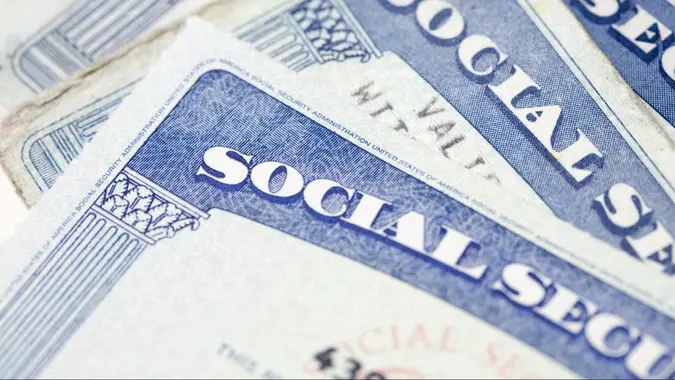 Kameleon007 / Getty Images
Social Security has come under increased scrutiny of late amid calls from certain lawmakers to reform the program. Now Social Security finds itself in the eye of another political storm, this one focused on whether it contributes to the national debt and deficit.
Social Security: Women Get $354 Per Month Less Than Men — Here's Why
Learn: With a Recession Looming, Make These 3 Retirement Moves To Stay On Track
The latter kerfuffle stems from a post last month on Facebook and Instagram that came from the pages of Occupy Democrats and Being Liberal. The post reads as follows:
"Dear Republican Party, If you take or cut OUR Social Security, I will bring a lawsuit against you for all the money taken from MY paychecks. Social Security has NOTHING to do with the deficit or the national debt. YOU created that fiction, and we're NOT falling for it."
A couple of media outlets decided to fact-check the claim, including USA Today and PolitiFact. Both judged the claim false, saying that Social Security, in its current incarnation, does indeed contribute to the national debt and deficit.
This wasn't always the case. From 1984 to 2009, Social Security operated at a surplus by collecting more money in payroll taxes than it paid out in benefits, according to a report from the Poynter Institute and PolitiFact. That surplus was transferred from Social Security to the federal government's general fund. In return, the U.S. Treasury issued bonds that the Social Security Administration could keep in its reserves and redeem to pay future benefits.
In 2010, however, Social Security began operating at a deficit because the amount of money it paid out in benefits exceeded the amount it took in from payroll taxes. This forced the SSA to start redeeming the bonds, plus interest, from the federal government. When the government repays those bonds, it must borrow from the public to obtain the funds to do so. This runs up the deficit and debt.
"Thus, if Social Security runs a tax deficit of $1 this year, it redeems $1 of trust fund bonds, and the federal government borrows $1 from the public to repay those bonds," Andrew Biggs, a senior fellow and Social Security expert at the American Enterprise Institute, told USA Today.
In case you need a refresher: The deficit represents the amount of money the U.S. government spends minus the amount of money it collects from taxes. The national debt is the cumulative amount of money the government has borrowed throughout its history.
None of the media reports have assigned an actual dollar figure to how much Social Security adds to the deficit and debt, probably because the figure changes from year to year. According to an SSA report from June 2022, the amount of income Social Security collected in fiscal year 2022 was listed at nearly $1.09 trillion. The outgoing amount — nearly all of which came from benefit payments – was over $1.14 trillion, creating a shortfall of about $56 billion.
While the media and think tanks pore over those figures, lawmakers are still trading verbal barbs over the future direction of Social Security.
During this week's State of the Union address, President Joe Biden accused some Republicans of trying to cut Social Security benefits and promised to stop any efforts to do so. He also made passing mention of GOP proposals to sunset the program, which brought jeers from Republicans in the audience. Biden's comment was in reference to recent proposals floated by U.S. Sen. Rick Scott (R-Fla.).
Scott's proposal was to sunset all federal government programs, meaning they should be reviewed every five years before being renewed. Because Social Security and Medicare are part of the federal government, they naturally would be included in such an initiative.
After Biden blasted the proposal, Scott responded by accusing the president of being a "hypocrite" because Biden himself proposed a similar sunset bill as a U.S. senator decades ago. As Fox News reported, Biden in 1975 put forward a bill requiring all federal programs to sunset after four years. At the time, Biden said his plan would require "every program to be looked at freshly at least once every four years."
Biden's 1975 comments caused a ruckus among Republicans, leading White House press secretary Karine Jean-Pierre to counter that "you have to listen to what the president said the last couple of years about protecting and fighting for Medicare and Social Security and that will remain the case. He was very clear when he spoke to millions of Americans at the State of the Union about that."
Meanwhile, defenders of Social Security suggest that this is not the time for anyone to start proposing cuts, reforms or changes to the program — mainly because so many seniors are having a hard enough time paying bills.
As The New York Times reported last fall, poverty rates among American seniors are increasing just as tens of millions of baby boomers are reaching retirement age. It cited U.S. Census Bureau data showing that 10.7% of the nation's elderly population lived in poverty in 2021, up from 9.5% the previous year. The COVID-19 pandemic played a big role in the increase.
Take Our Poll: Are You Concerned the U.S. Debt Ceiling Issue Will Endanger Social Security?
Read: With Social Security Still 3/4 Funded by 2095 As-Is, Why Are Cuts Even Being Discussed?
In 2022, Social Security recipients took another financial hit when an inflation rate that ran as high as 11.2% far outpaced the 5.9% cost-of-living adjustment recipients received during the year.
More From GOBankingRates