Social Security Reform Could Boil Down to Phrasing — What Two Senators Are Proposing To Delay Benefits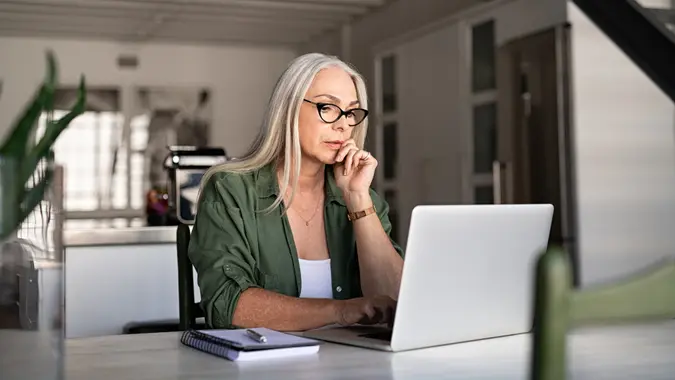 Ridofranz / Getty Images/iStockphoto
The financial advantages of waiting as long as possible to collect Social Security retirement benefits have been well documented, but a lot of Americans still claim them early. Some lawmakers believe one of the problems comes down to simple wording — if you change the way retirement milestones are phrased, you can change the thinking behind them.
Those lawmakers include a bipartisan group of senators made up of U.S. Sens. Bill Cassidy (R-La.), Chris Coons (D-Del.), Susan Collins (R-Maine) and Tim Kaine (D-Va). Among their proposals is to alter the language the Social Security Administration uses when people reach a certain age, CNBC reported.
For example, age 62 — the youngest age you can file for Social Security — is currently called the "early eligibility age." Under their proposals, the senators would change that to "minimum benefit age."
The "full retirement age," currently 66 or 67, would be changed to "standard benefit age." The age when you max out your benefits, currently 70 years old, would be changed to the "maximum benefit age."
If the legislation passes, the changes would be included in all of the SSA's educational and informational materials.
"When to claim Social Security benefits is a critical decision for older Americans planning their retirement," the senators wrote in a letter to the SSA. "Most people, however, do not claim benefits at the age that would maximize their income in retirement, usually because they claim too early."
Are You Retirement Ready?
As previously reported by GOBankingRates, delaying benefits to age 70 instead of 62 increases monthly benefits by 77% in inflation-adjusted terms, according to a paper in the "Journal of Financial Planning."
A separate study conducted by researchers at the Federal Reserve, Boston University and Opendoor Technologies found that waiting until age 70 to claim Social Security would boost recipients' lifetime discretionary spending by a median $182,370 in today's dollars.
Numerous reasons are cited by retirees as to why they claim Social Security benefits as early as age 62. These include an inability to work, financial pressures, liquidity constraints and a shortened life expectancy. But some might claim benefits early because they simply don't know about the advantages of waiting.
The bipartisan bill also includes a proposal to redesign and bring back paper statements to Americans, Yahoo Finance reported. Over the last decade the SSA has cut back on paper statements and now mainly sends them only to Americans who are over 60 and not receiving benefits.
If the legislation is enacted, all Americans in the workforce would get updates of where they stand in terms of their Social Security benefits. They would also get an explanation of their options at least every five years, with the frequency increasing to yearly statements after age 60.
Are You Retirement Ready?
"We believe that SSA should take more proactive measures to provide Americans with the tools and resources to determine how best to set themselves and their families up for financial security in retirement," the senators wrote in their letter.
More From GOBankingRates