Social Security: 3 Things To Know About Receiving a Lump Sum Payout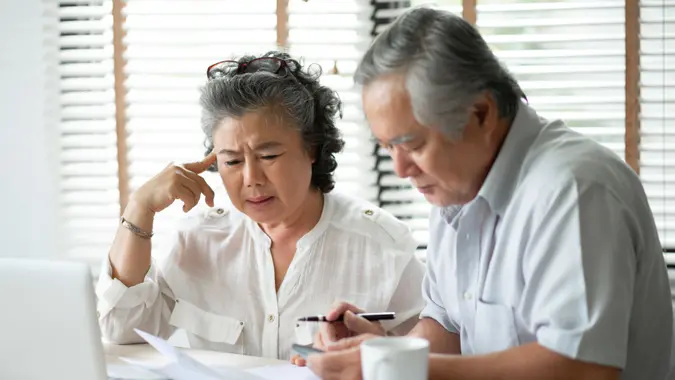 eggeeggjiew / Getty Images/iStockphoto
Many Americans think of Social Security as a retirement program that pays out monthly benefits. While this is true, there is a specific circumstance under which you may be entitled to a lump sum payout. This isn't the same as a pension buyout, in which some companies allow you to receive the current value of all your future payments upfront in a single lump sum payout. But there is a way you can get up to six months' worth of Social Security benefits at one time. Here's what you need to know about receiving a Social Security lump sum payout, including the consequences of making this choice. 
What Is a Social Security Lump Sum Payout?
Social Security retirement benefits are paid monthly. However, if you've passed your full retirement age and have not yet filed, you can claim retroactive benefits for up to six months. These benefits will be paid in a lump sum. An example can help make this clear.
Imagine your full retirement age is 67 but you don't file for benefits until you are 67 years and 4 months old. If you so desire, you can file for retroactive benefits dating back to when you turned 67. These benefits will be paid in a lump sum. So, if your monthly benefit starting at age 67 is $1,600, you can receive up to $6,400 in a lump sum. If you waited six months after you turned 67, you could receive as much as $9,600. 
Are You Retirement Ready?
After you receive your retroactive lump sum benefit, you'll begin receiving traditional monthly payments. Note that you can't claim a lump sum payout of retroactive benefits until you have passed your full retirement age.
What Are the Consequences of Taking a Social Security Lump Sum?
The most significant consequence of taking a lump sum Social Security benefit is that your future monthly benefits will be permanently reduced.
For every month that you delay claiming benefits after reaching full retirement age, your monthly benefit will increase by two-thirds of 1%, at least if you were born in 1943 or later. This means that if your full retirement age is 67 and you file for benefits at age 67 years 6 months, your benefit will be increased by 4%. Using the above example, this would bump up your monthly benefit from $1,600 to $1,664. 
But if you instead choose to get your retroactive benefits in a lump sum, your future benefits will be locked in as if you claimed them at your full retirement age of 67. This means that your future payments will be permanently reduced to $1,600 instead of $1,664 (subject to annual inflation adjustments). 
Does Receiving a Lump Sum Ever Make Sense?
Generally speaking, taking a retroactive lump sum doesn't make a lot of mathematical sense. While it might feel nice to get a lump sum worth $9,600 or more, you could have received that same amount if you filed at full retirement age instead. Using the above example, you could have claimed benefits at age 67 and taken your $1,600 check for six months rather than simply receiving the same amount as a $9,600 lump sum at age 67 and 6 months. You'll also be permanently reducing your future benefits.
Are You Retirement Ready?
However, there is one scenario in which claiming a lump sum may make a lot of sense. Imagine that you fully intend to wait until age 70 to file, in which case your monthly benefit would be increased by 24% over what you would have received by filing at age 67. However, at age 67 and 6 months, you realize that you have a significant health problem or encounter a major expense that you simply can't cover. In those scenarios, taking a lump sum may make more sense. For starters, you'll have a significant chunk of change to take care of your current liabilities. You'll also begin taking payments to cover your monthly living expenses instead of waiting an additional few years for them to kick in. 
As any type of Social Security strategy, from filing early (or late) to taking a lump sum, can have significant financial ramifications, it's always a good idea to speak with a financial and/or tax advisor before you make any major decisions.
The Bottom Line
You can choose to take a lump sum Social Security payment, but only after you reach full retirement age and only up to a maximum of six months' worth of benefits. Doing so will permanently reduce your future monthly payouts, however. In most cases, receiving a lump sum payout only makes sense in case of a financial emergency. 
More From GOBankingRates
Are You Retirement Ready?