Social Security COLA: According to an Expert, the Increase Won't Be Enough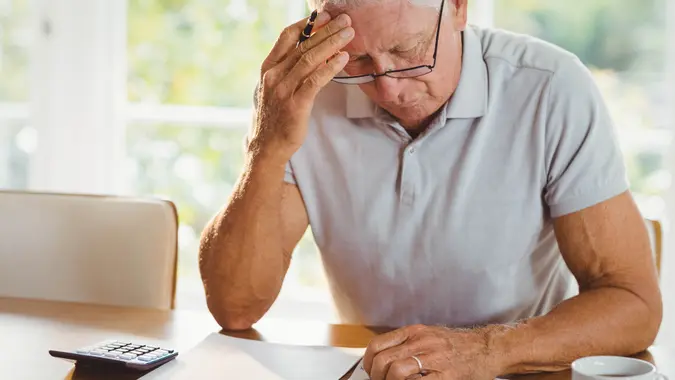 wavebreakmedia / Shutterstock.com
On Oct. 13, the Social Security Administration announced an 8.7% annual cost-of-living adjustment (COLA) for 2023 — the biggest annual increase in more than four decades. But, according to an expert, this historical pay boost likely won't be enough for most retirees to get by due to the high rates of inflation on everyday costs.
See: 6 Types of Retirement Income That Aren't Taxable
Discover: 5 Things You Must Do When Your Savings Reach $50,000
GOBankingRates spoke with Doug Ornstein, an investment advisor with TIAA, about why the COLA increase falls short of retirees' actual needs, the effect of inflation on retirees who depend on Social Security income, and what those nearing retirement should do to account for inflation.
Why the COLA Increase Isn't Enough
Although an 8.7% boost is a big one, Ornstein said it likely won't be enough to cover costs for retirees who depend on Social Security income.
"While the increase in Social Security is indexed to inflation, two of the biggest items on most retirees' budgets are healthcare and food," he said. "Healthcare and food costs, in particular, have risen faster than the cost-of-living adjustment to Social Security over the last few years, so the upcoming increase is not likely to undo the gap that's snowballed for years."
Retirees who depend on Social Security income to make ends meet are likely struggling right now due to inflation, and this likely will still be the case even after the COLA increase takes effect.
"Those retirees without another source of guaranteed lifetime income, especially those with only Social Security — about 2 out of 5 American retirees — are feeling the pain of inflation the most," Ornstein said. "They feel it at the grocery store and when they get bills for prescription drugs or other medical needs."
Ornstein notes that Social Security isn't meant to be a retirees' only source of income, even during non-inflationary times.
"Retirees should aim to replace at least 70% of pre-retirement income — unless downsizing expenses significantly — and Social Security usually covers somewhere between 30% to 50% of pre-retirement income," he said. "That leaves a meaningful gap, and lifetime income is the best option to bridge that gap."
Take Our Poll: Do You Believe in Quiet Quitting?
The Best Ways To Supplement Social Security Income in Retirement
Given that Social Security likely will cover just 30% to 50% of your income in retirement, it's important to have a plan for other sources of income during this life phase.
"We believe in starting with a two-thirds point of view," Ornstein said. "That means roughly two-thirds of what you need to live on each month should come from a source of income that's guaranteed for life."
While you can count on Social Security as one form of guaranteed income, you should have other forms of guaranteed income to supplement these payments.
"A lifetime income annuity with stable payments backed by a strong insurance company can close that gap," Ornstein said. "That remaining third of income needs can come from portfolio withdrawals from IRAs, 401(k) plans, 403(b) plans or other investments. This creates a stable three-legged stool of diverse income streams to rely on through the golden years."
How To Account for Inflation in Your Retirement Planning
If you're nearing retirement or just want to plan ahead, you may be wondering whether you should be making adjustments to your retirement plan due to high inflation.
"It depends," Ornstein said. "For folks who already have a diversified portfolio that includes strong inflation hedges — think stocks, real estate, commodities, floating rate bonds — they may not need big changes. But for those who haven't met with a financial advisor to review their portfolio or income plan in years — or ever — now is a good time to have that conversation.
"The starting point used to be the traditional 60/40 portfolio mix of stocks/bonds," he continued. "We find clients have much more successful financial plans when the portfolio looks like a big Thanksgiving dessert spread — i.e., 50% stocks, 20% bonds, 15% guaranteed, 10% real estate and 5% alternatives."
More From GOBankingRates