10 States That Would Be Impacted the Most by Social Security Cuts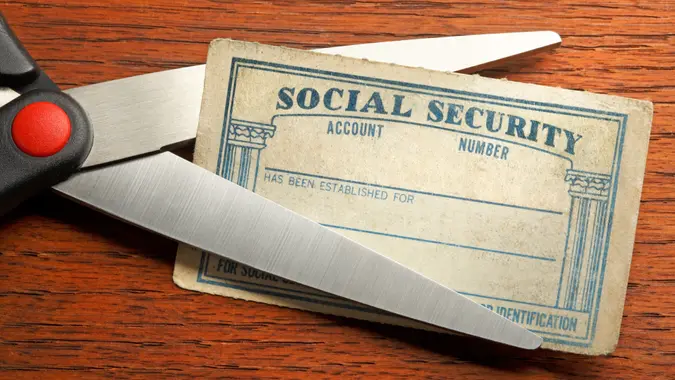 DNY59 / iStock.com
Rumors of Social Security cuts have swirled around the program for years. Changing demographics have created a situation in which the ratio between retirees and current workers has gotten unbalanced. As a result, the Social Security program has been forced to draw down its reserve Trust Fund, to the point that it will become depleted in 2033. At that point, taxes on current workers will fund only about 75% to 77% of promised benefits.
While many solutions have been floated, one of the options is simply to cut benefits. If that were allowed to happen, some states would be affected more than others, as the number of recipients and the amount of benefits paid out is not equal from state to state.
Currently, there are 10 states that have more than 200,000 Social Security recipients, making them the ones most impacted by any cuts to benefits. These states are listed below, ranked by the number of recipients.
California
Number of recipients: 1,146,493
California is far and away the state that would be most affected by any cuts to Social Security, with nearly twice as many Social Security recipients as any other state. California's Social Security recipients also receive far and away the largest dollar amount of benefits, which totaled more than $773 million as of Dec. 2021. This is also more than double the amount that beneficiaries in any other state in America received. 
Are You Retirement Ready?
Texas
Number of recipients: 607,873
Texas has the second-highest number of Social Security recipients, but it actually runs third in terms of total dollar payments to recipients, where it is slightly nosed out by New York. Still, more than $348 million in benefits could be subject to Social Security cuts in the state.
New York
Number of recipients: 583,442
New York receives more in Social Security in payments than Texas, even though it has roughly 24,000 fewer recipients. This is likely due to the fact that New Yorkers have higher average incomes than Texans, which results in higher benefits.
Florida
Number of recipients: 559,875
Florida has a reputation of being a state with a large number of seniors, and that's actually borne out by the numbers. With more than half a million Social Security beneficiaries in Florida, roughly $330 million in benefits is at risk if Social Security payments get cut.
Pennsylvania
Number of recipients: 335,583
Pennsylvania Social Security recipients are at risk of losing some of their $208 million in benefits if payments are to be cut. More than one-third of a million Social Security recipients could feel the pain.
Ohio
Number of recipients: 297,360
Ohio is the seventh-most populated state in America, but it has the sixth-most Social Security beneficiaries, at nearly 300,000. That means Ohio has more retirees in relation to its entire population than some other states, making it more susceptible to future cuts.
Michigan
Number of recipients: 256,662
Michigan is one of three states in the Midwest with a large number of Social Security beneficiaries. Up to $160 million in benefits could be in jeopardy if there are cuts to Social Security.
Are You Retirement Ready?
Georgia
Number of recipients: 252,364
Georgia and its nearly $152 million in Social Security benefits are at risk in the event of future program cuts. More than a quarter of a million recipients could be affected in the Peach state.
Illinois
Number of recipients: 251,667
Illinois is the sixth most-populated state in the nation, but it only ranks No. 9 when it comes to the number of its residents that are Social Security recipients. Still, roughly $155 million in benefits are at risk of Social Security cuts. 
North Carolina
Number of recipients: 221,382
North Carolina isn't often thought of as having a large population, but it actually ranks No. 9 in the U.S. This is part of the reason why the state has so many Social Security recipients, at over 200,000. Payments in the state top $130 million.
Other States
Although these are the top 10 states that would be the most impacted by Social Security cuts, there isn't a state across the board that would remain unaffected. Even Wyoming, which receives by far the smallest amount of Social Security benefits of any state, still has 6 million beneficiaries receiving nearly $4 million in benefits. Plenty of other states receive more than $50 million.
The bottom line is that potential Social Security cuts are a nationwide problem.
More From GOBankingRates
Are You Retirement Ready?