The Most Important Things You Need To Know About Social Security Spousal Benefits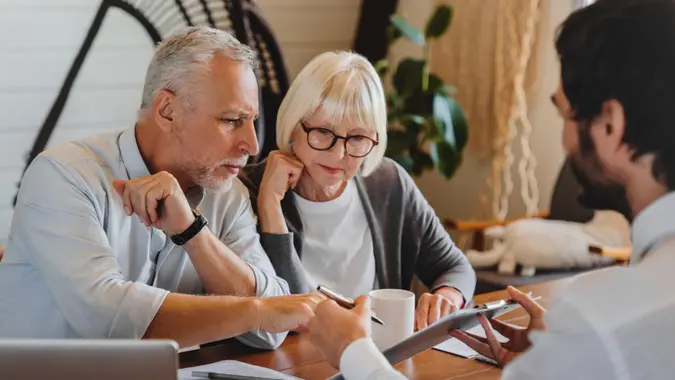 Inside Creative House / Getty Images/iStockphoto
You're just a few months from turning 62, and you spend your days dreaming of putting the 9-to-5 work world behind you and spending your days on the golf course, on a sandy beach or with the grandkids.
Check Out: $1M Is No Longer the Standard Nest Egg – Here's How Much Most Americans Think You Actually Need To RetireSee: Why Inflation's 6% Cost-of-Living Increase to Social Security Could Be a Double-Edged Sword
Who can blame you for dreaming about retirement? But if you will count on a monthly check from Social Security to fund your post-retirement lifestyle, slow down and gather lots of opinions before filling out the paperwork to start drawing your benefits at age 62 — the earliest that they are available.
The decision to take benefits before your full retirement age will have a ripple effect on your future Social Security earnings, as well as those of your spouse. That's why it's crucial for the two of you to sit down and have a chat with a financial advisor, who can review your portfolio with you to determine how well-poised you are for retirement, or with an estate planning attorney. A visit to the local Social Security Administration office and a meeting with a representative who can explain your options also would be beneficial. This is a complex topic that is too important to try to decipher yourself online.
Taking your benefits too soon could cost you thousands of dollars in benefits down the road. When you think about applying for Social Security, here are some of the things you will want to discuss with your advisor or choice.
Are You Retirement Ready?
Find Out: How Much Can the Average Senior Citizen Expect To Benefit From Social Security?Learn: 10 Reasons You Should Claim Social Security Early
What Is the Difference Between Drawing Social Security at Age 62 and Age 70?
Gathering your facts is the first step in deciding when to collect your benefits, and if you haven't already, you can sign up on the website of the Social Security Administration to receive a copy of your estimated benefits.
A 58-year-old woman shared her statement from the Social Security Administration with GOBankingRates that showed projections for her future benefits. Based on her career earnings, she would receive $1,109 per month if she retired at 62, $1,677 at her full retirement age of 67 and $2,142 if she worked a few more years.
"Your benefits will increase by 8% for every year that you delay claiming benefits after full retirement age, up until age 70. This is essentially a risk-free return of 8%," said Lexi Olian, the director of financial planning at The Humphreys Group, a wealth-management firm in San Francisco. "On the other hand, claiming before full retirement age will cause your benefits to be reduced by over 6% a year throughout your lifetime. The reduction will also apply to your benefit as a surviving spouse. The cumulative impact will be substantial."
Read: Majority of Americans Will Not Receive Their Maximum Social Security BenefitsDiscover: 5 Things Most Americans Don't Know About Social Security
What Bearing Does When I Apply for My Social Security Benefits Have on My Spouse?
A lot, actually. That's because of the spousal benefit allowed by the government. If both members of a couple apply for Social Security at full retirement age, the lower-earning spouse could be entitled to significant extra benefits based on the earnings of his or her partner. The timing of when both parties file is crucial.
Are You Retirement Ready?
Joseph Gutheinz, an attorney in Friendswood, Texas, shared his experience.
"My wife and I are presently filing for our Social Security retirement benefits, effective October 2021, when I turn 66 years old and 2 months," he said. "It would have been a financial mistake to file for retirement when I turned 62, as we both would have qualified for only a portion of our full retirement and that would be a lifelong limitation. Retiring at 70 sounds great, as my retirement would continue to grow by 8% per year until I reached 70, but after I qualified for full retirement, my wife's retirement will be frozen and limited to 50% of my retirement at that time. So, it was a no-brainer. We both filed for Social Security retirement when I first qualified for full retirement and come November 1, 2021, we will receive our first payments to our bank accounts."
More: Next Year's Social Security Checks Could Get Biggest COLA Bump in 13 YearsAdvice: You Should Check Your Social Security Balance Regularly — Here's Why
How Do Survivor Benefits and Spousal Benefits Differ?
While alive, both halves of a couple are eligible to receive their own Social Security benefits. When one of the partners die, the survivor is eligible to receive just one benefit, and that's the higher of the two. But if you don't have retirement accounts or other income, such as rental property, to fall back on, you might not be able to live on just one Social Security check.
"Life and death are the two most important things that married couples need to consider when understanding Social Security spousal benefits," said Lynn Toomey, the founder of Her Retirement. "During their lifetimes, they need to understand what their combined Social Security timing strategy should be. Most Americans who choose the wrong time strategy and don't create a retirement income projection to help determine when they need their benefit leave over $100,000 on the table. There's a number of factors to consider in these strategies, including: earnings, health, longevity projections and other sources of income.
Are You Retirement Ready?
Your Opinion: Are Social Security Benefits Big Enough? Weigh in on Our PollSee: 17 Tips To Live Comfortably Off Just a Social Security Check
"It's also important to understand Social Security benefits in death so that the surviving spouse has a plan. When a spouse passes away, the surviving spouse is entitled to collect one benefit. … That makes it so important for the highest-earning spouse to consider delaying until age 70, if possible, which locks in the highest possible benefit."
When to start collecting Social Security is a personal decision that depends on a variety of factors, most importantly your family's overall financial health moving forward. In some households, taking Social Security at 62 won't impact the financial future. In others, the decision could cost thousands of dollars in benefits.
More From GOBankingRates
Last updated: Sept. 8, 2021