4 Big Social Security Protections in the 2024 Budget Proposal – Are They Enough to Prevent Multi-Billion Dollar Shortfall?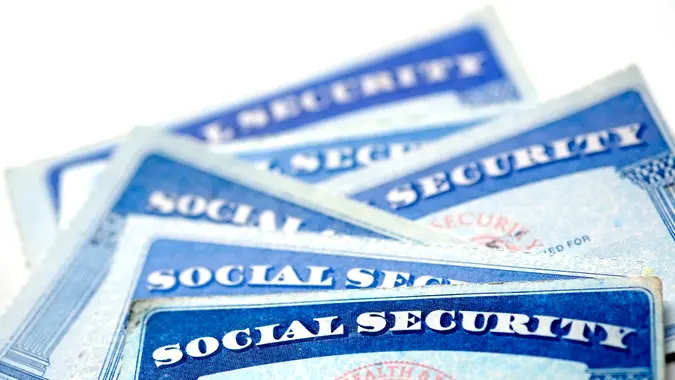 eric1513 / Getty Images/iStockphoto
The Biden administration rolled out its fiscal year 2024 budget on Thursday. It includes plans to "protect and strengthen" Medicare and Social Security while also reducing the deficit. What the budget didn't include was a plan to deal with the coming insolvency of Social Security's trust fund.
In a March 9 statement, Social Security Acting Commissioner Kilolo Kijakazi said the budget's key investments will focus on improving service at the Social Security Administration, modernizing the agency's information technology and improving the program's customer experience and equity.
The FY 2024 budget includes $15.5 billion in discretionary budget authority for the SSA. That's up slightly from the FY 2023 request of $14.8 billion made last year. Here are four ways the new budget aims to bolster the SSA:
Improve service delivery: The FY 2024 budget provides an increase of $1.4 billion, or 10%, from the FY 2023 budget to improve customer service at SSA field offices, state disability determination services and teleservice centers. Much of the money will go toward adding staff, with the aim of processing more cases and reducing wait times.
Advance equity and accessibility: The goal here is to invest in outreach so marginalized Americans have better access to SSA services. This includes collaborating with local government agencies and other third-party organizations to improve access and ensure members of the public are aware of benefit eligibility. Another goal is to build a more diverse workforce at the SSA.
Modernize information technology: The FY 2024 budget includes $50 million in funding for the SSA's benefits modernization efforts, which aim to provide employees with better technology tools to determine eligibility and process claims.
Provide national and comprehensive paid family and medical leave: As Kijakazi noted in her statement, up to one in five retirees leave the workforce earlier than planned to care for an ill family member, which "negatively impacts families as well as the nation's labor supply and productivity." The FY 2024 budget proposes to establish a national and comprehensive paid family and medical leave program administered by the SSA. Among other things, it would provide up to 12 weeks of leave to allow eligible workers to take time off to care for loved ones, heal from their own injuries or illnesses, care for a new child, address circumstances arising from military deployment or seek safety from domestic violence, sexual assault or stalking.  
Noticeably absent are any details on how the administration plans to deal with the upcoming Social Security shortfall. As previously reported by GOBankingRates, Social Security's Old-Age and Survivors Insurance (OASI) Trust Fund is expected to run out of money as early as 2032. When that happens, the program will be solely reliant on payroll taxes for funding, which might cover only about 75% of benefits.
Some critics have already pounced on the fiscal 2024 budget for failing to address upcoming funding challenges. One of the critics is Casey Mulligan, an economics professor at the University of Chicago and former chief economist at the White House Council of Economic Advisers under the Trump administration.
In a Thursday column for the Wall Street Journal, Mulligan said the Biden budget advances policies that "hinder the economic growth that drives prosperity," and that President Joe Biden and other Democrats "are the ones depriving Social Security and Medicare of the hundreds of billions of dollars" needed to remain solvent.
Are You Retirement Ready?
"In the near term, payroll-tax revenue shortfalls hasten the day when the Social Security and Medicare trust funds run out and both political parties will be forced to consider benefit cuts," Mulligan wrote. "By statute, less national labor income also means lower Social Security benefits for every worker entering retirement."
More From GOBankingRates