Why You Will Get Two Social Security Checks in December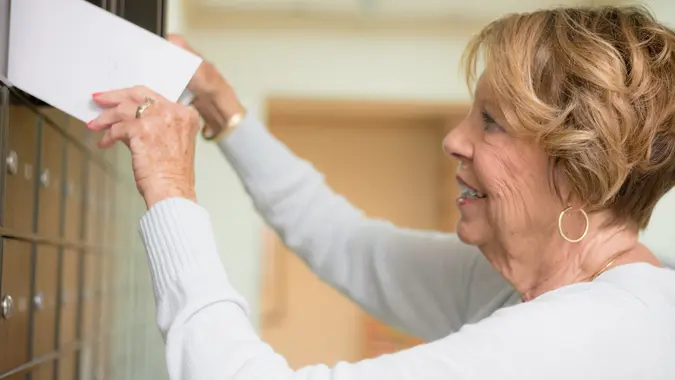 MonicaNinker / iStock.com
December is a month of giving, and in that spirit, the Social Security Administration will be sending out two checks for the month instead of one — as long as it's the right kind of check. Okay, the SSA has not taken on the role of Santa Claus. The agency sends out two checks in the same month once every quarter, and December just happens to be one of the months.
The two checks will be issued to people who qualify for Supplement Security Income (SSI) benefits. The first SSI check will be issued on Friday, Dec. 1, according to the SSA. The second will be issued four weeks later, on Friday, Dec. 29.
Because of a quirk in the payment schedule, SSI beneficiaries get two payments in March, June, September and December, while no payments are deposited in January, April, July and October. One check is issued during the remaining four months. The extra payment in December can be considered an advance for the next month.
If you don't receive your payment on the expected date, the SSA advises allowing three additional mailing days before contacting the agency. If you receive a direct deposit, you can expect to receive your payment on the scheduled date, but availability of the funds might depend on your bank.
SSI benefits are provided to low-income individuals with limited resources who are blind or age 65 or older, or who have a qualifying disability. A qualifying disability is one that keeps you from working and is expected to last one year or result in death
Are You Retirement Ready?
In 2023, the federal maximum SSI benefit rate is $914 for an individual and $1,371 for a couple. Those amounts will rise to $943 and $1,415, respectively, in 2024.
As for retirement benefits: The schedule in December 2023 follows the same pattern as every other month. Retirement benefits are paid on the second, third and fourth Wednesdays of every month as determined by your date of birth. Here's a look at the December payment schedule:
If your birthday falls on the 1st through the 10th, you'll receive your payment on the second Wednesday of the month, which is Dec. 13.
If your birthday falls on the 11th through the 20th, you'll be paid on the third Wednesday (Dec. 20).
Those with birthdays on the 21st through 31st will be paid on the fourth Wednesday (Dec. 27).
If you received Social Security before May 1997 or receive both Social Security and SSI benefits, then Social Security is paid on Dec. 3 You can see the full 2023 payment schedule here.
December will be the final month that Social Security recipients get payments with the 2023 cost-of-living adjustment of 8.7% — the highest in more than four decades. Beginning in January 2024, checks will reflect a COLA of 3.2%, which will boost the average retirement check by about $57 a month.
More From GOBankingRates