Will Social Security Checks Be Delayed Because of Presidents Day?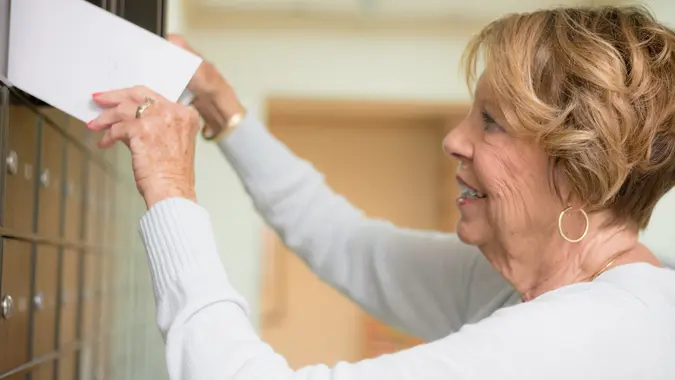 MonicaNinker / iStock.com
This year, Presidents Day is Monday, Feb. 21. Presidents Day is a federal holiday and all Social Security offices will be closed. Federal benefits are not paid on federal holidays.
Learn: Is Your Social Security Payment Late? Here's What To Do
Explore: 17 Tips To Live Comfortably Off Just a Social Security Check
Will Social Security checks be delayed due to Presidents Day? No. The next payment date is Wednesday Feb. 23, according to the 2022 schedule of Social Security benefit payments. Social Security is usually paid on Wednesdays. If a payment date falls on weekends or federal holidays, the payment is made the weekday immediately before.
When can you expect to receive Social Security payments each month?
If your birth date is on the 1st-10th: Second Wednesday of each month
If your birth date is on the 11th-20th: Third Wednesday of each month
If your birth date is on 21st-31st: Fourth Wednesday of each month
Related: Social Security Payment Schedule 2022: What Dates To Watch Out For
Here's a look ahead at March's 2022 Social Security payment benefits schedule:
Second Wednesday: March 9
Third Wednesday: March 16
Fourth Wednesday: March 23
Social Security Supplemental Income (SSI) is generally paid on the first of the month. The next payment for SSI will be on March 1. 
Learn: Social Security: How To Boost Your Benefit by $500
What if My Social Security Payment Is Late?
Generally, the Social Security Administration makes payments on time. Social Security checks are distributed through direct deposit or as paper checks received through mail delivery. 
It is possible for paper checks to arrive a little later. If your check is delayed, wait at least three business days to see if it arrives. Social Security and SSI payments in areas affected by severe weather may visit the SSA's website for outreach next steps and to receive the latest updates from the United States Postal Service. 
See: 11 Social Security Mistakes That Can Cost You a Fortune
If there is a substantive reason for your late payment, such as an address change or change to your personal banking details, call your local Social Security office, or the Social Security Administration office. You can reach the SSA via phone at 1-800-772-1213, Monday through Friday, between 8 a.m. through 7 p.m. Those who are deaf or hard of hearing may reach the SSA's TTY line at 1-800-325-0778.
Find the full schedule of 2022 Social Security payments here.
Are Financial Institutions Open on Presidents Day?
Presidents Day is a federal holiday, so Social Security offices and the U.S. Postal Service will be closed that day. 
Find: Are Banks Open on Presidents Day?
While the majority of major regional and national banks will be closed for Presidents Day, certain major banks have announced their U.S. branches will be open on Feb. 21. In addition to being a federal holiday, Presidents Day is a bank holiday. This means the Federal Reserve System will not open or make any transactions. However, you may still make transactions such as withdrawing cash or depositing money through an ATM or online banking using your bank's mobile app. If you need to call your bank, the bank will likely have representatives available to answer and take calls on its customer service line. 
Are you unsure of whether your bank or financial institution will be open on Presidents Day? Call your local branch ahead of Feb. 21 to inquire about their holiday hours.
More From GOBankingRates