What One Bank Executive Says You Should Never Do When Trying To Save For Retirement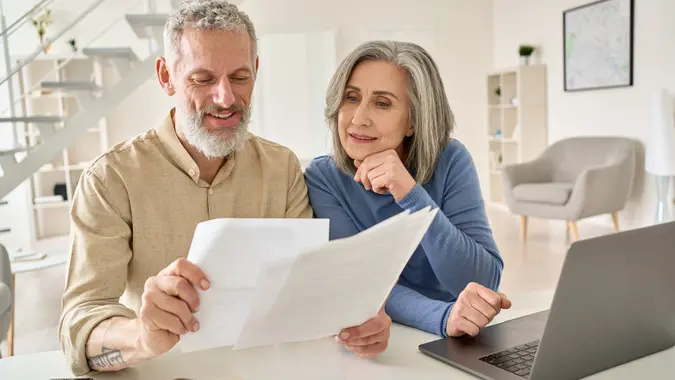 insta_photos / Getty Images/iStockphoto
I recently interviewed Samantha Melting, Senior Vice President and Head of Consumer Banking at Synchrony Bank. Samantha has over 27 years in the financial industry and is a sought-after expert in the space. With inflation high and many people living paycheck to paycheck, I asked her to share with me what mistakes she sees people making right now when trying to save for retirement or an emergency fund.
Not Setting a Goal
"You have got to set a goal," says Samantha. "I tell people to set two goals to start with. It could be, what is that longer-term goal? And the longer-term goal could be, 'In six months, I want to have $500 in an emergency fund.' Maybe it is someone who hasn't been saving at all, and so it starts with, 'I want $600 in an emergency fund in six months.' Great. Now let's set another goal that helps you prepare for how you achieve that goal in six months. It could be, 'You know what? The first month, I just need to save $50.' That can be your first goal."
Not Starting Small
"I tell people it is OK to start small when you are building that habit of savings," says Samantha. "For example, 'I'm going to save $25 in one month.' OK, then the next step could be, 'I'm going to save $25 in the second month.' Then, by the third month, you are starting to establish that behavior of saving, and I think you will find that you will be motivated and empowered to keep going. Then, once you achieve that $600 goal, you can create a second goal."
Not Setting a Budget
"You have to create a budget," says Samantha. "A budget is often where people fail. You need to plan for what you need to spend, what your utilities are, what your most critical expenses are, and then include savings in that budget. When you start with a budget, it is so important that you actually know where your money is going."
Are You Retirement Ready?
Not Tracking Where Your Money Goes
"Often the hardest part for people trying to save is understanding, 'Where am I spending my money today? How much am I spending on eating out? How much am I spending on shoes? How much am I paying for my car? Am I paying on expenses that are not that important?' Once you figure out where your money is going, then you can create your budget. In your budget, you must include savings. You should always pay yourself first. If you include saving in your budget, it becomes a part of your monthly plan," says Samantha.
Not Keeping Your Saving and Checking Separate
"Keeping your savings separate from your checking keeps it protected from everyday spending. In the case of retirement accounts, they may offer tax advantages and company matches. I think such a critical step in this journey is that you can separate that money, so you are less likely to spend it or be tempted to spend it," says Samantha.
"I also encourage people to keep their savings at a separate bank. The reason for doing so is that it is a little bit harder to get to, and it's a bit out of sight, out of mind. When I check my accounts every morning, I look at my checking account, and I pay attention to where I am spending out of my checking account. I'm not always thinking about the balances in my savings account. I have to go somewhere different to look at those balances, so when I'm spending using my debit card, I'm less tempted to go after those savings balances because they are truly separate from where my transaction accounts are.
Are You Retirement Ready?
"This can be an effective method for those who struggle to manage their money and stay on track with a budget because it's harder to move money from one bank to another. Moving that money can take a couple of days, giving you time to reconsider your choices."
Not Shopping Around When Looking For a Savings Account
"You really should shop around when you're looking to open a savings account," says Samantha. "One of the things that I like to look for in a savings account is no monthly fees or minimum balances. When you are just starting to save and starting with smaller balances, you don't want to have to maintain minimum balances. When you're starting small, you're not going to be able to reach those, and then you're going to be hit with monthly fees, taking away from your savings.
"At my bank, Synchrony, we have a great savings product. It's our high-yield savings product. It has no monthly fees. It has no minimum balances, and we offer some of the most competitive rates available, so it's a great way to get started."
Not Checking In On Your Progress Regularly
"You've got to check your progress regularly," says Samantha. "It's motivating, and it helps you avoid surprises. I actually do this every single morning over my first cup of coffee. I look at all of my financial accounts. It helps me keep track of my goals. What are my savings balances looking like? Oh, did I spend too much on my credit card? What is going into my checking account? What is coming out of my checking account? It keeps me on track with my budget, and it motivates me to continue saving toward my goals."
Are You Retirement Ready?
Not Giving Yourself Grace
Saving can be hard to start, but give yourself some grace when you do fall off track. It's OK to reset and start again. It is not a one-and-done type of thing. Just keep after it. Keep motivated, and you will find success because small changes can yield big results when it comes to saving.
More From GOBankingRates