Amazon Buy Now, Pay Later: What You Need To Know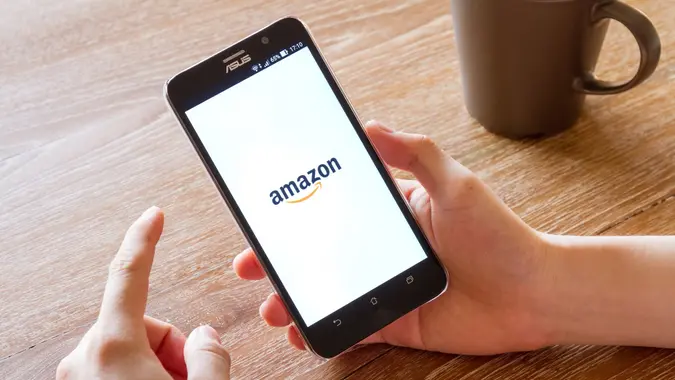 kasinv / iStock.com
Amazon, the leading ecommerce retailer in the U.S., has raked in $469.8 billion in 2021 — more than 22% more than it made in the previous year — and is now the sixth largest company in the world. 
It makes sense that one of the globe's most colossal brands would have its own credit cards, but the company doesn't stop there; it also allows shoppers to delay full payment on a purchase with its "buy now, pay later" service and to pay their bill over a number of installments. Let's take an in-depth dive into what you need to know about Amazon BNPL including how it works, how to use it and when it's a wise method of payment.
What Is Amazon's Buy Now, Pay Later and How Does It Work?
Amazon's BNPL service — also known as Amazon Monthly Payments — allows customers shopping on the site to pay for select products over the span of five payments total. Buyers are automatically charged an initial payment — generally 20% of the full order price on qualifying goods along with any additional fees such as tax and shipping — and can pay off the remaining balance in monthly installments over the following consecutive four months.
Only certain items are eligible for Amazon's BNPL service and shoppers must spend at least $50 per order to qualify.
What Products Can I Buy With Amazon's Buy Now, Pay Later?
There are a wide array of products that will qualify but here's a look of which products are noteligible for Amazon's BNPL service:
Digital products and content
Out of stock items — even if they're noted as "available soon"
Amazon.com gift cards
Amazon Prime subscriptions, Subscribe & Save and Recurring Delivery orders
Grocery items
Prescription medication
Vehicles
Coins
Collectibles
Items bought from a retailer other than Amazon
Who Qualifies for Amazon's Buy Now, Pay Later?
Whether you're eligible to use Amazon's Monthly Payments depends on your purchase history on the site, the price of the product and other details pertaining to your account. Amazon's site doesn't specify what those other account details are. Additionally, prospective Monthly Payment users need to sign off on the fact that they're not using Monthly Payments for business purposes. You can only use Monthly Payments for personal, family or household purposes.
Amazon does not use a credit report to determine one's eligibility to use its BNPL service.
Additionally, Amazon can turn down anyone it wants to.
Should I Use Amazon's Buy Now, Pay Later Monthly Payments?
Aside from having an active Amazon account and a working card on file, there's really nothing holding you back from using Monthly Payments.
But Monthly Payments does come with quite a lot of restrictions, namely the sizable list of products that are not eligible for the service and the fact that Amazon can limit how many open orders you have with it. Also, you need to spend at least $50 on eligible items to even qualify for the Monthly Payments feature. These are all issues that make the service less appealing.
But the question of whether you should be using Amazon Monthly Payments — or any BNPL program — is a separate matter that requires some personal financial review of your spending behaviors and, dare we say, a bit of self-reflection. If you know that you have a spending problem or carry significant consumer debt, like 30% of people in the U.S. do, then BNPL options in general may not be a great idea because it could be thought of as a method of procrastination, or a way of delaying a payment you don't actually have funds for in the bank.
All that said, Amazon doesn't charge APR, unlike credit cards, so if you're trying to stop using or limit usage of credit cards, Amazon Monthly Payments could be a smart choice as you can use it without the headache of interest.
The service also automatically deducts payment from your card on file, so you don't have to worry about remembering to pay the bill — but you do have to worry about paying the bill of whatever credit card that is on file with your account.
What Makes Amazon's Buy Now, Pay Later Special?
Amazon's BNPL Monthly Payments program stands out from other financing options that users can access like Amazon store cards and credit cards that are partnered with Amazon for perks. All those options are pretty run-of-the-mill credit cards that tout traditional repayment plans that may come with a hefty serving of interest or APR.
Additionally, Amazon Monthly Payments lets you pay the full amount over five installments, which is unique and you can pay your balance with an Amazon credit card and potentially get some extra benefits that way.
BNPL programs are seeing a major growth spurt, especially among younger consumers. If you want to get in on the action and are already an avid Amazon customer, Amazon's BNPL Monthly Payments financing plan could be a great place to start.
FAQ
Where is the Monthly Payment option on Amazon?

You can find the option to make monthly payments on the product detail page as well as in your options during checkout. Remember that quite a few items on Amazon do not qualify for this method of payment.

Are there spending limits?

There are no spending limits mentioned, but Amazon can limit the number of purchases you have open with Monthly Payments.

Does Amazon accept Afterpay or Klarna?
What happens if my card on file is declined?

If your card on file doesn't go through, Amazon can suspend or terminate your account. It may also deregister your Amazon device, which will block access to any Amazon content and services from that device. You'll likely also be charged with a late fee.

Does Amazon charge extra fees or interest for Buy Now, Pay Later?

Amazon does not charge interest or additional fees for consumers who leverage its BNPL service, but taxes may apply in some jurisdictions.
Information is accurate as of Aug. 15, 2022.
Editorial Note: This content is not provided by any entity covered in this article. Any opinions, analyses, reviews, ratings or recommendations expressed in this article are those of the author alone and have not been reviewed, approved or otherwise endorsed by any entity named in this article.
Our in-house research team and on-site financial experts work together to create content that's accurate, impartial, and up to date. We fact-check every single statistic, quote and fact using trusted primary resources to make sure the information we provide is correct. You can learn more about GOBankingRates' processes and standards in our editorial policy.