Chase Credit Journey Review: Build Your Credit For Free
5 min Read
Brought to you by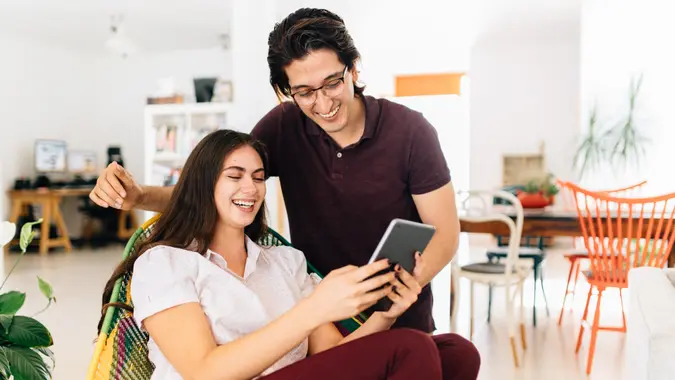 ferrantraite / Getty Images
In the world of personal finance, there is perhaps no number more important than your credit score. Just as the eyes are the window to the soul, a credit score is the window to your entire financial history and determines not only what type of loans and interest rates you can get, but also measures your candidacy for renting an apartment. If you don't have a good credit score, you may be be turned away by landlords and lenders alike.
Knowing just how much rides on this number — one that, by the way, can change for the worse with as little as just one missed student loan payment — can make even thinking about your credit score immensely stressful. To help alleviate that stress (and to stay completely in the know of what is going on), it's key to monitor your credit by having 24/7 access to your score. Providing this essential service, the tools to build your credit and so much more is Chase Credit Journey.
How Chase Credit Journey works
Chase Credit Journey is an online credit monitoring service, and you don't even have to bank with Chase to use it. It also offers identity monitoring and restoration services, customer support, and educational tools to help you build your credit by giving you a better understanding what goes into your credit score.
Check your credit score: Simply click to check your credit score anytime, day or night.
Fee to use: None. Chase Credit Journey is free to use.
Score updates: Provided on a weekly basis, but you can check your score whenever you want using the app or website.
Alerts: You can get an alert any time Chase detects new activity, around the following:
Charges
Credit inquiries
Account openings
Chase will also notify you when it spots any changes in
Credit usage
Credit limits
Balances
Personalized insights: You can get more in-depth information about your payment history, credit usage and other factors that go into making your credit score. These tools can help you build your credit.
Identity monitoring: Chase notifies you when there are changes or new activity tied to your identity:
Dark web surveillance: Users can learn if their information appears on any suspicious websites
Data breach monitoring: Users can be notified if their data is exposed in a data breach
Social Security Number activity tracking: Users can keep track of any changes connected to their Social Security number
Identity verification alerts: Whenever a lender verifies your identity, you can be alerted by Chase
Notifications: Chase alerts you any time it detects changes or new activity connected to your identity.
Insurance: Get peace of mind with up to $1 million in identity theft insurance. If you become the victim of identity theft, you may be covered for select expenses such as lost wages.
Customer support: Chase Credit Journey has a robust customer support offering that includes:
Concierge service: Chase is always available to work with you to restore your credit if your personal info is ever exposed.
Lost wallet services: If you lose your wallet Chase is available to assist you no matter your location.
24/7 support: You can connect with a customer service rep around the clock, every day of the year.
How to enroll: Enroll online for free and get your credit score immediately. To enroll in the program, you'll need to submit the following
Name
Date of birth
Address
Social Security Number
Contact info
The potential drawbacks
You really have nothing to lose by signing up for Chase Credit Journey. It's free and offers all the benefits that other free credit monitoring services tout, but with a cleaner, more professional feel — not to mention vigorous security services and customer support that goes above and beyond the norm.
Ideal candidate for this account
Everyone should be enrolled in a credit monitoring program of some kind, and Chase's offering is an especially shiny one. This is a dream service for those of us who've been using other "free" credit monitoring tools that end up being not so free once you look to learn more about your credit score or experience a crisis, such as a lost wallet or identity theft.
If you're looking for a credit and identity monitoring service without fees, Chase Credit Journey is an excellent choice. It's particularly valuable if you're in the market to buy a house, take out an auto loan, or rent an apartment. Young people who are new to credit can get a firm grasp on their financial health by using this service and can really get to know what makes or breaks their credit score in a nuanced way. And again, you don't need to be a Chase customer, which is a rather unexpected perk.
About Chase
Chase is the U.S. consumer and commercial banking business of JPMorgan Chase & Co., a leading financial services firm based in the United States with assets of $4 trillion and operations worldwide. Chase serves more than 66 million American households and 5 million small businesses with a broad range of financial services, including personal banking, credit cards, mortgages, auto financing, investment advice, small business loans and payment processing. It has more than 4,700 branches and 16,000 ATMs in 48 states and the District of Columbia.
The Bottom Line
Chase Credit Journey stands out as an ideal credit monitoring service because it's super easy to use, has world-class tools to protect your identity and manage your credit health, around-the-clock customer support, security alerts, weekly reports, and even theft insurance up to $1 million — along with some educational insights to help you build your credit. Best of all, it's totally free to use — regardless of whether you bank with Chase.
More From GOBankingRates
Editorial Note: This content is not provided by Chase. Any opinions, analyses, reviews, ratings or recommendations expressed in this article are those of the author alone and have not been reviewed, approved or otherwise endorsed by Chase.