GOBankingRates Score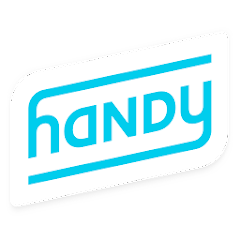 Quick Take: The Handy app serves as a brilliant option for home service professionals as well as homeowners who need help with cleaning, renovation, maintenance or installation services. For users who need work done at home, the Handy app is a reliable tool for finding a professional to do the job.
Earnings
Features
Plans
Fees
How did we calculate this?
Pros
Flexible work

Wide range of services

Solid app functionality
Cons
Aggressive fees in certain circumstances

Limited geographic availability in comparison to some competitors
Handy App Overview
Handy was created to address a pain point that its founders were experiencing — finding qualified professionals for home services quickly and easily. To address the issue, they developed an app that allows people to book professional home services in as little as 60 seconds.
Handy offers everything from cleaning, painting and plumbing to assembly, installation, electrical services and more. It is now available in three countries: the U.S., the U.K. and Canada. 
Make Your Money Work For You
Key Features
The Handy app has several notable features. Here's a closer look at each one.
Earnings
Perhaps the most important aspect of the app is how much professionals can expect to earn. Handy gives a rundown of figures for certain professions and how much money they can expect to make on the platform. The table below illustrates. 
| Type of Work | Hourly Rate |
| --- | --- |
| Cleaning services | $22 |
| Handyman services | $45 |
| Lawn care experts  | $62 |
Handy claims that its top professionals often earn as much as $1,000 per week. Its users can also take advantage of busy working hours for "Peak Pricing," which generally pays more.
Overall, the amount any service professional can earn will simply depend on how much work they decide to take on — the more they work, the more they earn. Handy doesn't assign work, so users can pick and choose from openings as they please. Some people use Handy as their full-time income, whereas others use it as a platform for side gigs to bring in some extra cash. 
Features
To sign up and get work from the Handy app, there are a few requirements. Workers must have paid experience in the role they apply for, and they must be authorized to work in the country in which they are applying. Additionally, excellent customer service is expected in any job taken.
Make Your Money Work For You
Once workers are set up on the platform, they get full flexibility with which jobs they choose to do. This benefit grants users the ability to work around their existing job schedules. The app uses an intuitive calendar feature to claim jobs, presents users with the details of the service and provides a chat function connected to the client. 
Shortly after the job is finished, users will receive their payment as a direct deposit in their bank account. Handy states that all work should be paid within a maximum of seven business days.
Plans
Handy has a membership program called Handy Select for customers employing service professionals. The cost is either $10 per month or $99 per year, and it gives a 20% discount on home cleanings. 
Fees
When looking at the money users can earn through Handy, it's important to take into account the fees that may arise. A booking fee is associated with each job, but the actual amount is job-dependent — there is no fixed structure. Some extra platform fees are charged for:
Late cancellation
Late arrival
Missing a job
Early departure
Key replacement
Damaged or missing items
Taking a job from a Handy customer off-platform (not applicable for California residents)
Make Your Money Work For You
The table below shows a full breakdown of fees for each penalty:
| Penalty Action | Fee |
| --- | --- |
| Not starting a job at the agreed time | $15 |
| Leaving before job completion | $15 |
| Cancellation or rescheduling less than 48 hours before a job | $10 |
| Cancellation or rescheduling on less than 24 hours' notice | $20 |
| Cancellation or rescheduling less than four hours before a job | $40 |
| Failure to show up for a job without notice | $50 |
| Payment requests ahead of schedule | $5 |
| Loss or damage to property | $5 |
| Keys not being returned | $100 |
| Off-platform jobs (not applicable for California residents) | $100 |
How Does the Handy App Stand Out?
The Handy app stands out for its diverse set of services that will likely satisfy the needs of any homeowner. Its subscription plan increases the affordability of services, and jobs can be booked within minutes.
Comparable Handy Options
Here's a closer look at how the Handy app stacks up against similar services. 
TaskRabbit
Although both apps have similar offerings, TaskRabbit has a more comprehensive list of solutions for both workers and customers. It's also available in more European countries, whereas Handy is only available in the U.S., Canada and the U.K. TaskRabbit also gives customers $10 off on the first job they hire for. 
Make Your Money Work For You
Helpling
Helpling differs from Handy as it only offers cleaning services. Conversely, Handy has a variety of home services available. However, Helpling also provides small office cleaning, whereas Handy only serves residential clients.
How To Apply
The process is relatively simple. Users interested in working through Handy can follow these steps to register:
Step #1: Download the Handy For Pros app from the App Store or Google Play.
Step #2: Fill in basic details and the primary service that will be provided.
Step #3: Get verified and start working.
Who the Handy App Is Best For
The Handy app is an excellent option for service professionals. Whether it's for full-time work, part-time roles or just as a side hustle, Handy has a wide variety of jobs for its users to claim. 
Final Take
For service professionals, the Handy app can be a relatively good method for earning more from their occupations. For prospective clients, the app's diverse set of options makes it one of the best for fulfilling household needs.
FAQ
Here are some questions people ask about the Handy app.
Is the Handy app legitimate?

Handy is a legitimate service that connects service professionals specializing in household needs with clients. It has retail partnerships with companies such as Wayfair, LG and BJ's Wholesale Club.

How much can you earn with Handy?

It varies, but cleaners can earn up to $22 per hour or job, the hourly rate for a handyman is as much as $45 and the same figure for lawn care professionals is $62.

Is Handy a good app to make money?

Handy's top users tend to earn at least $1,000 per week, which works out as more than $50,000 per year. Considering the median U.S. income is $44,225, the Handy app could potentially provide someone's entire income.

Is the Handy app just cleaning?

The range of Handy services stretches far beyond just cleaning. Painting, plumbing, electrical and moving services are just some of the other services the Handy app provides. A full list of services can be found here.
Make Your Money Work For You
Editorial Note: This content is not provided by Handy. Any opinions, analyses, reviews, ratings or recommendations expressed in this article are those of the author alone and have not been reviewed, approved or otherwise endorsed by Handy.