Lemonade vs. State Farm: Is One Better?
Brought to you by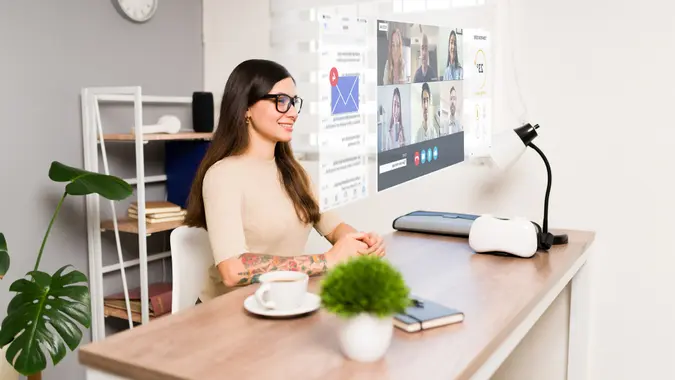 Antonio_Diaz / Getty Images/iStockphoto
Customers debating between purchasing Lemonade vs. State Farm face a stark choice — Lemonade is an innovative industry pioneer committed to a seamless digital experience and social impact, and State Farm is a long standing industry leader.
State Farm was established over 100 years ago and is the country's largest insurer with over $66 billion dollars written in insurance policies. The insurer provides service through State Farm agents and offices nationwide.
By contrast, Lemonade is a new kind of insurer, built on a completely digital substrate-which empowers the company to sell policies and handle claims fast.
This Lemonade vs. State Farm comparison looks closer at facts to help you choose the company that makes sense for you.
Lemonade vs. State Farm Fast Facts
Here are some facts on Lemonade vs. State Farm.
STATE FARM
LEMONADE
Founded
1922
2015
Headquarters
Bloomington, IL
New York, NY
NAIC Compliant Rating
2.58 – above average complaints
4.75 – above average complaints
Availability
Nationwide
Limited by insurance type:
– Car: IL, OH and TN
– Renters: 29 states
– Home: 25 states
– Life: 49 states
– Pet: 36 states
Lemonade vs. State Farm: Types of Insurance
The following comparison shows the types of coverage each carrier offers. If you're in need of more than one type of insurance, working with a carrier that offers a wide scope of insurance can help you save money on insurance through bundling discounts, as well as make it easier to manage your policies.
It's important to note that although Lemonade does provide many coverages, they are not live in all states. For example, car insurance from Lemonade is only available in Illinois, Tennessee and Ohio at the time of this publication.
| TYPE OF INSURANCE | STATE FARM | LEMONADE |
| --- | --- | --- |
| Car | X | X |
| Homeowners | X | X |
| Renters | X | X |
| Life | X | X |
| Motorcycle | X | |
| Business | X |   |
| Roadside | X | X |
| Pet | X | X |
| Landlord | X | Available to owners of condos and apartments in CA, NY, IL, TX, PA, DC, NJ |
| Boat | X | |
| Motorhome | X | |
| Manufactured homes | X | |
Car Insurance
State Farm offers car insurance nationwide, while Lemonade is still in the initial stages of offering it. Therefore, car insurance through Lemonade is only available in Tennessee, Ohio and Illinois at this time. Here is more on the types of coverage available by each carrier.
| TYPE OF COVERAGE | STATE FARM | LEMONADE |
| --- | --- | --- |
| Liability | X | X |
| Uninsured or underinsured motorist | X | X |
| Medical payments | X | X |
| Collision | X | X |
| Comprehensive | X | X |
| Rental | X | X |
| Rideshare | X | |
| Emergency roadside assistance | X | X |
| Glass damage | | X |
| Umbrella | X | |
Home and Renters Insurance
Both carriers offer homeowners and renters insurance. State Farm has more options than Lemonade, which sticks to basic coverage.
| TYPE OF COVERAGE | STATE FARM | LEMONADE |
| --- | --- | --- |
| Dwelling | X | X |
| Personal property | X | X |
| Liability protection | X | X |
| Guest medical protection | X | X |
| Manufactured/mobile home insurance | X |   |
| Flood | X | |
State Farm Optional Coverages and Riders
Umbrella
Scheduled personal property — personal articles
Lemonade Optional Coverages and Riders
Scheduled personal property
Water Backup
Equipment Breakdown
Buried Utilities
Extended Replacement Cost
Lemonade vs. State Farm Life Insurance
Life insurance breaks down into two types of coverage: term and permanent. Term insurance is the easier and cheaper type of coverage to purchase, limited to a certain period of time. Permanent insurance is more complex, available as a variety of types.
State Farm offers both types, selling term, whole or universal life insurance.
Lemonade only offers term life insurance.
Lemonade vs. State Farm Insurance Discounts
To save on your insurance premiums, taking advantage of carrier discounts is a good option. A couple of ways to save the most include opting for policy bundling and signing up for telematics that track your driving. Both Lemonade and State Farm offer programs that track your driving habits using your phone's GPS to lower your premiums, known as Steer Clear and Lemonade Car.
Here is more on the discounts from Lemonade vs. State Farm.
| STATE FARM AUTO DISCOUNTS | STATE FARM HOME/RENTERS DISCOUNTS | LEMONADE AUTO DISCOUNTS | LEMONADE HOME/RENTERS DISCOUNTS |
| --- | --- | --- | --- |
| Bundling or multi line | Roofing material | Bundling | Protective devices – smoke detectors, security alarms, etc. |
| Steer Clear® – telematics | Home security | Hybrid/EV | Claims history |
| Drive Safe & Save | | Advance signup | Gated community |
| Good driver discount | | Lemonade Car – telematics | Renovation credit |
| Defensive driving course discount | | | Loyalty credit |
| Accident-free and good driving savings | |   | Graduation discount |
| Vehicle safety | | | Bundling |
| Passive restraint | | | |
| Anti-theft | | | |
| Multi-auto | | | |
State Farm vs. Lemonade: Quotes
You can get quotes from State Farm or Lemonade through the website or app. Lemonade's rate tool makes the process simpler as it guides you through with simple questions. For further help, State Farm provides local agents as well as a customer support number.
Lemonade: Online quotes
State Farm: Online quotes | 1-800-782-8332
State Farm vs. Lemonade: Mobile Apps
Both insurance companies offer policyholders mobile apps to help you manage your insurance 24/7 at your convenience. The apps allow you to view your insurance ID cards and details about your policies, as well as providing the ability to pay bills and file claims. State Farm's app offers more features. Here's more:
State Farm Mobile App
The State Farm app allows you to make appointments with your local agent, upload photos into claims and find approved body shops near you. It also works with Siri for a hands-free experience.
Google Play: 4.8/5 stars, 99K reviews
Apple Store: 4.8/5 stars, 510K reviews
Lemonade Mobile App
The Lemonade insurance app enables you to sign up for coverage, review your policy, update your coverage amounts, and file claims.
Google Play: 4.6/5 stars, 12K reviews
Apple Store: 4.9/5 stars, 57K reviews
State Farm vs. Lemonade: Filing a Claim
Lemonade's claim process shines compared to State Farm's. The company's AI means some claims payments happen virtually instantly, while other cases are typically resolved within hours or days-not weeks or months-because AI enables Lemonade's claims experts to focus only on the most complex cases.
State Farm's claim process is also reliable, although the process can take longer since claims must be reviewed by an insurance adjuster.
Takeaway
When deciding between Lemonade and State Farm, you're weighing two of the top insurance carriers in the country. It's advisable to get quotes from several insurance carriers to compare and find the best rate.
Lemonade offers customers a sleek digital experience and a lot of social good. Leftover funds are donated to charities customers choose as part of its Giveback program, so Lemonade is an attractive choice for customers focused on social impact.
For a scalable, personal experience, State Farm offers access to licensed agents in your area who can help you with all your insurance needs. State Farm has more insurance options than Lemonade so if you're looking for motorcycle or umbrella insurance you may be able to bundle coverages to save money.
FAQ
Choosing an insurance company can be an overwhelming process, especially with the number of options. Here are the answers to some frequently asked questions about Lemonade
, a relative newcomer to the insurance industry
.
How is Lemonade Insurance different?

Lemonade is structured differently than a traditional carrier. There are no offices or agents – everything is handled online and often using artificial intelligence.
What's most different about Lemonade is the claims process: the premiums you pay are reserved in a fund for any losses you may claim. This means that claims are processed faster.

Why is Lemonade home insurance so cheap?

According to Lemonade, coverage starts

as low as

$25 per month for homeowners coverage and $5 per month for renters insurance. It's one of the

most affordable

carriers for insurance because the company only takes a flat fee from your premiums and doesn't have to pay for a big team of employees or physical locations.

Is Lemonade good at paying claims?

Lemonade's groundbreaking claims process, which often pays claims in a matter of seconds, is one of the insurer's best features. The carrier tops J.D. Power's annual renters insurance study based on customer responses regarding the insurer.
More From GOBankingRates