Monifi Feature Review: What Is Goal-Based Banking and Is It Right For You?
Brought to you by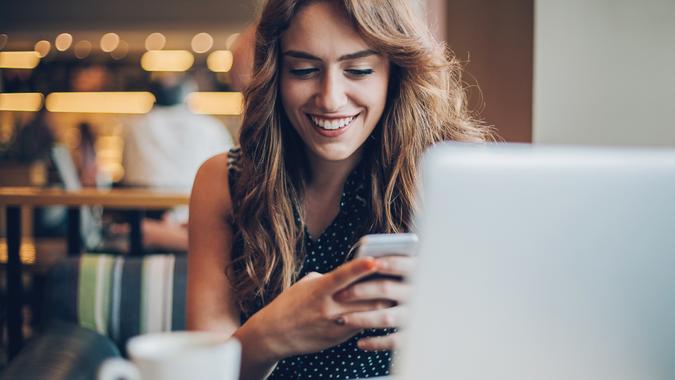 Petar Chernaev / Getty Images
Monifi is a unique consumer banking app offered by MidFirst Bank's Monifi division, which helps users track, monitor and enrich their savings and spending. The app allows users to track their Monifi Relationship, which is comprised of two checking accounts — the Spend Balance, a non-interest bearing account, and the Save Balance, an interest-bearing checking account. The user-friendly software behind the Monifi App helps users maintain a proper balance between the interest-earning Save Balance and the day-to-day Spend Balance. Here's a quick overview of the Monifi App, with a focus on its goal-based banking, transaction tracking and in-app help capabilities. Plus, read on for details of its current promotion — a $250 bonus after making two direct deposits of at least $1,000 each into the Spend Balance within 90 days of opening a Relationship.
Monifi Overview
The Monifi Save Balance is a high-yield, no-fee checking account that helps users reach their short- and long-term savings goals. The Monifi Spend Balance, as the name implies, can be used for day-to-day spending on things like dining out or online shopping.
The overall objectives of the Monifi App are to help users reach their savings goals and control their spending. Monifi offers numerous tools to help users achieve these objectives. Saving is driven by Monifi's goal-based banking, while spending is monitored through Monifi's transaction enrichment. Help is always just around the corner via the app's "Ask Monifi" feature.
What Is Goal-Based Banking?
Monifi is much more than a simple checking account. One of the most important features of the Monifi App is its goal-based banking capability. Rather than simply dumping money into a traditional savings account, with the Monifi App, users can establish specific savings goals. The functionality of the software allows users to optimize transfers between the Spend and Save accounts to help them reach their goals faster.
Users can choose any type of savings goal, large or small, with Monifi's goal-based banking. Common goals include college funding, a wedding or a vacation, but users can choose any goals they would like by following five simple steps to establish a goal-based savings program on the Monifi App:
Define a personalized goal

Upload a picture to customize the goal

Let Monifi know how much he or she wants to save

Choose a target goal completion date

Move money on one's own terms to reach the goal
In addition to its user-friendly interface, Monifi's goal-based banking is also fee-free and sports a high 0.60% APY on the Save Balance. Monifi is a division of MidFirst Bank, so Monifi deposits are insured by the FDIC. Users can either set up automated transfers into their Save Balance or make them manually at any time, with the assurance that all of the money in a Monifi account is protected by the same FDIC insurance as at any local bank.
Transaction Enrichment
Transaction enrichment is Monifi's way of simplifying banking transactions. Whereas some bank statements can be cluttered with abbreviated transaction names or codes, every transaction made with a Monifi Orange Debit Card is listed in plain English. For example, if using the Monifi Orange Debit card at a coffee shop, the transaction will be automatically categorized with the name of the business. Where possible, transactions also display the merchant's logo or category icon to make them even more recognizable.
This simple labeling and categorization process makes it easy for users to search for how much they've been spending on various products or services. Users can also tag transactions and add notes for further explanation or categorization of a purchase. This makes it easy to separate business and personal transactions, for example. It can also help users control their spending in certain categories if they get too high.
Check Out: 12 Expenses Successful People Don't Waste Time or Money On
Get Insights From Ask Monifi
Ask Monifi is a built-in help agent that can be accessed right from the Monifi App or online banking portal. The Ask Monifi feature allows users to use words or phrases to ask direct questions about their transactions. For example, if a user is wondering how much he has been spending on home improvement purchases, he can ask the Monifi App directly, and it will show the answer with simple totals and easy-to-read graphs. 
In addition to simply typing a request into the Monifi App, there is also voice functionality accessible by clicking the microphone icon in the Monifi App. Ask Monifi is automatically enabled in the Monifi App, so there's no need to figure out how to set it up. 
Commonly asked questions of the Ask Monifi feature include "How much did I spend last month?" or "Where does my money go?" Ask Monifi will respond to these types of questions with lists of transactions and/or pie charts that clearly outline the total amount spent in both absolute terms and percentages. Ask Monifi helps make banking simple and transparent by quickly providing easy-to-understand information that might normally take some time to locate on one's own.
How To Claim a $250 Bonus
In addition to all of its ongoing benefits, Monifi currently offers a lucrative sign-up bonus as well. After a user begins a Monifi Relationship, sets up direct deposit and receives two direct deposits of at least $1,000 each into the Spend Balance within 90 days of opening a Relationship, Monifi will make a $250 credit to the Spend Balance. Either spend that bonus money right away or transfer it to the Save Balance to help reach savings goals faster. 
Monifi makes it easy to set up direct deposit by providing account and routing numbers in the Monifi App under Account Details. Simply give those numbers to an employer or whoever else is making the direct deposit and be good to go.
More From GOBankingRates
Last updated: Sept. 29, 2021