PayPal Pay in 4 Review: What To Know About This 'Buy Now, Pay Later' Option
GOBankingRates Score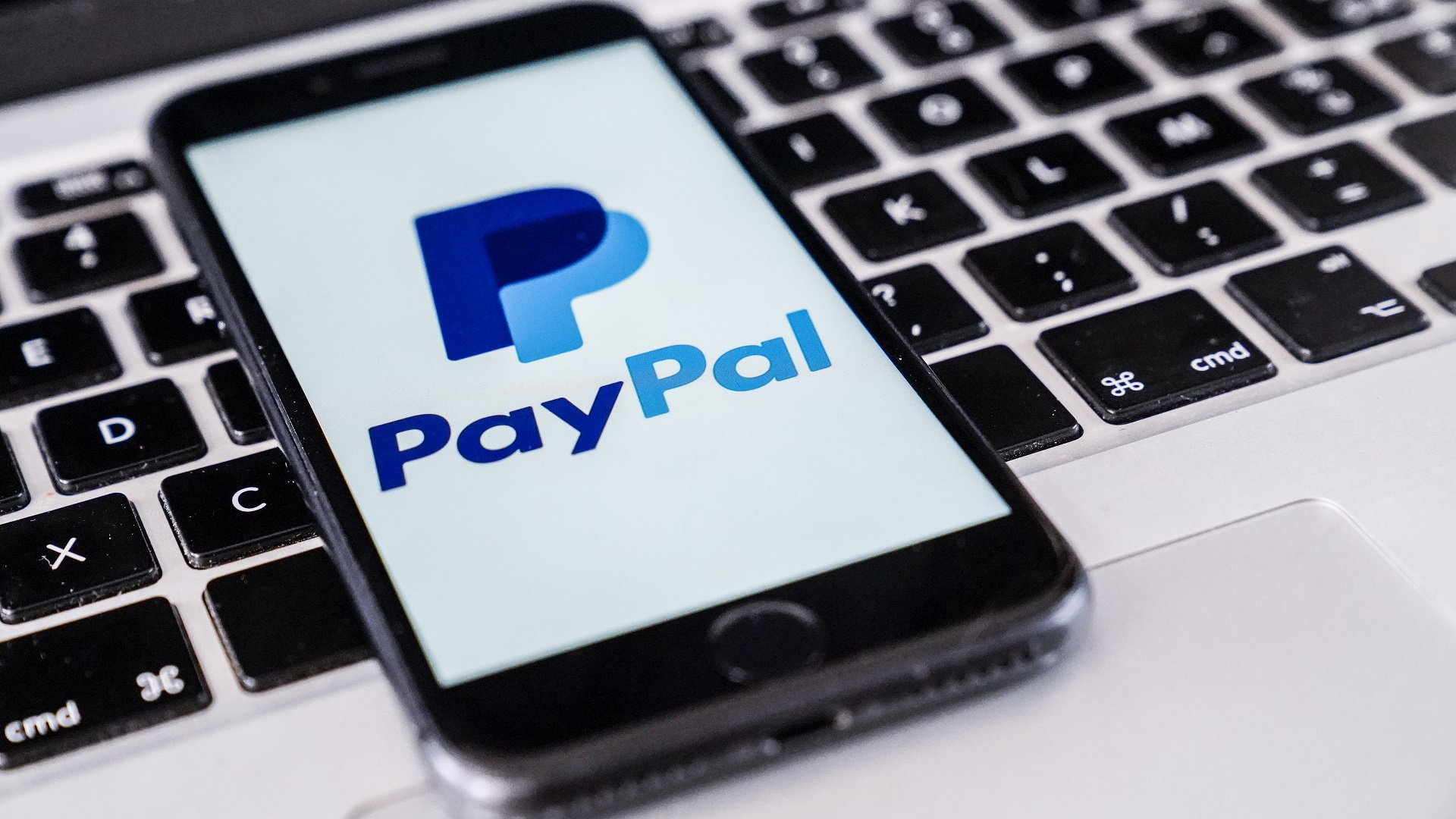 Quick Take:
Pay in 4 is PayPal's version of a
"buy now, pay later"
 plan that lets you split the purchase amount into four payments and pay over time. You can buy from millions of online stores that use PayPal and get an instant approval decision. All payments are interest-free, and the purchase is backed by the security and safety of PayPal.
Fees
Availability
Repayment Flexibility
Purchase Size
How did we calculate this?
Pros
You can split purchases into smaller payments and pay over time.
Millions of online stores accept PayPal payments.
You can get an instant approval decision.
There are no fees for paying with the service, and payments are interest-free.
Cons
Purchases are limited to $1,500.
Pay in 4 is only available at online merchants that accept PayPal.
PayPal offers fewer repayment options than competitors.
What Is PayPal Pay in 4?
PayPal Pay in 4 is a payment option that lets you split purchases you make at participating online stores into four payments. You pay a down payment at the time of sale and then one payment every two weeks for the next six weeks, for a total financing period of six weeks.
How Does Pay in 4 Work?
To use PayPal's Pay in 4 option, the seller must support PayPal payments. That means you can use this option at millions of online stores that support PayPal. Popular merchants include Best Buy, Target, Bed Bath & Beyond and Lands' End.
When you check out, choose PayPal and select the "Pay Later" option. That will let you pick the "Pay in 4" way to pay. You will be given a link to the loan agreement to review and agree to before submitting your application. You'll also get an email from PayPal with the details of your plan once the purchase is complete.
When you attempt to check out, PayPal will automatically make an approval decision in seconds so you can complete your purchase right away.
To complete your purchase, you'll have to pay the first payment as a down payment. The rest of the purchase amount is split into three interest-free payments, with one due every two weeks. You can manage and make payments either online or via the PayPal app, available on iOS and Android.
If you are declined for the plan, you can still use PayPal to pay; you'll just need to pick a different payment method from your wallet. PayPal will send you an email stating the reason you were declined.
Does Pay in 4 Charge Fees?
There are no fees to use Pay in 4. Payments are interest-free. Additionally, as of Aug. 18, 2021, PayPal no longer charges late fees for its buy now, pay later products.
Does Pay in 4 Affect Your Credit Score?
PayPal may perform a soft check on your credit when you apply for Pay in 4, but this will not affect your score.
A soft credit check gives the lender the ability to review your credit report and determine creditworthiness. While these soft checks don't affect your credit score, they are listed on your credit report.
Who Can Use Pay in 4 and What Purchases Are Eligible?
PayPal is offering the Pay in 4 plan to a growing number of U.S. customers. There are a few eligibility requirements:
Availability depends on your state.
You must be at least 18 years of age.
Your PayPal account must be open and in good standing.
Currently, PayPal offers Pay in 4 in all states except Missouri, New Mexico, Nevada, North Dakota, Wisconsin and the U.S. territories. However, not everyone gets approved. Approval depends on PayPal's internal checks and the soft check of your credit score.
You can use Pay in 4 at merchants that accept PayPal payments in any supported currency. PayPal will automatically convert the purchase amount into U.S. dollars during the checkout process.
There are also purchase amount limits for Pay in 4; you can only use this payment method for transaction amounts between $30 and $1,500.
PayPal might not allow Pay in 4 for certain recurring subscription services, according to the PayPal website, and availability depends on the merchant. 
Can You Pay Off a Pay in 4 Plan Early?
When you start a Pay in 4 plan, you pay the first payment at the time of purchase. To see your remaining payments, you can log in to the website or PayPal app to view your account summary. Your account summary shows your total purchases and their dates, how many payments you've made and your total payments to date, your remaining balance and the date and amount of your next payment due. 
From there, you can make an extra payment or pay off the entire plan early. There are no penalties or additional fees to pay it off early.
Any extra payments are applied and displayed in your plan activity immediately.
PayPal Pay in 4 vs. Competitors
More and more companies are offering buy now, pay later plans, so PayPal isn't the only option out there. Here are a few competitors to be aware of.
Klarna
Klarna was founded in 2005 in Sweden and also offers a Pay in 4 plan. Like PayPal, you can pay for your purchase with four interest-free payments over time. Klarna also has options for paying in 30 days and monthly financing.
Sezzle
Like the others, Sezzle offers a four-payment plan. As long as you make your payments on time, there are no fees, and payments are interest-free. Sezzle is currently accepted at more than 44,000 online stores. Unlike PayPal, Sezzle does not have fixed credit limits. Sezzle evaluates your limit with every purchase based on a soft credit check, order history with the service, how long you've been a customer and a few other factors.
Affirm
Affirm offers a buy now, pay later loan with an interest rate based on your loan term and your credit. Affirm is currently partnered with over 168,000 merchants. Your rate will be 0% to 36% APR. The purchase limit for Affirm is $17,500, and a down payment may be required.
Afterpay
Afterpay also offers a four-payment plan that pays off your purchases online or in certain stores in six weeks. To sign up, you'll need your email, phone number, physical address, date of birth and a debit or credit card. There's no interest, but you could be hit with late fees totaling 25% of your purchase if you fall behind on your payments.
Takeaways on PayPal Pay in 4
PayPal's Pay in 4 feature is an excellent option if you want to make a large purchase more affordable by paying it over time. It only works if the merchant accepts PayPal, but millions of online stores do. You'll enjoy interest-free payments every two weeks, and you can pay it off early if you choose.
Keep in Mind

Buy now, pay later plans are exploding in popularity. Still, analysts warn about increasing debt and credit card balances, especially for younger consumers. Always be sure that you can afford the payments before you purchase.
FAQ on PayPal Pay in 4
Buy now, pay later services are growing in popularity, but they're still unfamiliar to many consumers. These frequently asked questions will help you understand more about how PayPal Pay in 4 works.
What is PayPal Pay in 4?

PayPal Pay in 4 is a loan issued by PayPal that lets you make purchases today with a down payment and pay the rest over time.

How does PayPal Pay in 4 work?

When you select PayPal and then choose the "Pay Later" option at checkout, you'll fill out a brief application. Once PayPal approves it, you'll pay 25% of the purchase price as a down payment and make an additional payment once every two weeks over the next six weeks.

Does PayPal Pay in 4 check credit?

Yes. PayPal makes a soft inquiry, which will appear on your credit report but will not impact your credit score.

Can my request for PayPal Pay in 4 be denied?

Yes. PayPal states that it does not approve 100% of Pay in 4 applications.

Who accepts PayPal Pay in 4?

PayPal Pay in 4 is available at millions of online stores, including Coach, Samsonite, Target, Best Buy and Bed Bath & Beyond.

How can I get help with my PayPal Pay in 4 account?

PayPal has an FAQ page with answers to common customer service questions. If you don't find an answer there, you can message PayPal or call customer service. Calling is fastest if you log in to your account first, but you may call as a guest if you prefer. The number is 888-221-1161, and it's available Monday through Saturday, 6 a.m. to 6 p.m. Pacific time.
Cynthia Measom and Daria Uhlig contributed to the reporting for this article.
Information is accurate as of Aug. 22, 2022.
Editorial Note: This content is not provided by any entity covered in this article. Any opinions, analyses, reviews, ratings or recommendations expressed in this article are those of the author alone and have not been reviewed, approved or otherwise endorsed by any entity named in this article.