SoFi Personal Loans Review: What You Should Know
GOBankingRates Score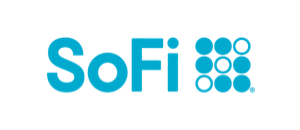 Quick Take:
SoFi personal loans come with flexible repayment terms, competitive rates, fast funding times and no hidden fees
, making them a good option for borrowers with good credit or better. Loan amounts start at $5,000, but go as high as $100,000 for qualified borrowers
. Not only that, but SoFi loans also have additional benefits like free financial planning, unemployment protection, member rate discounts and access to exclusive member events
. If you're interested in taking out a personal loan online, you can also check your interest rate before you apply without affecting your credit score.
APR
Loan Amounts
Repayment Terms
Fees
How did we calculate this?
Pros
Personal loans up to $100,000 for nearly any purpose
Flexible repayment terms ranging from two to seven years
No origination fees or prepayment penalties
Same-day funding available
Exclusive members-only perks
Joint loans available
Cons
Minimum loan amount may be higher than what you need
Must have good credit or better to qualify
No secured personal loans available
SoFi Personal Loans Overview
SoFi offers unsecured personal loans ranging from $5,000 to $100,000 with fast approval and funding times. Loans come with flexible repayment options, no hidden fees, and competitive rates for those with good to excellent credit. The application process is free, simple and entirely digital, meaning individuals can apply from the comfort of anywhere.
Loan funds can be used for an array of purposes, including home improvements, high-interest debt consolidation, and other big-ticket items or large purchases. As with most personal loans, the money cannot be used for things like real estate or higher education costs. For those things, borrowers may need to consider SoFi's mortgage or private student loans instead.
SoFi personal loans also come with additional membership perks, which come automatically with the loan. Some of the biggest benefits include member rewards, career coaching, financial advising, exclusive live and virtual events and a referral program.
Key Features
If you're considering taking out a SoFi loan, here are some of the key features that make this a great option for personal loans.
APR
An APR, or annual percentage rate, is the yearly interest rate plus any extra fees — like origination fees — that come with a loan. SoFi personal loans have a fixed APR of 8.99% to 25.81%. Borrowers who agree to set up automatic payments through either a checking or savings account also benefit from a rate discount of 0.25%.
As with most lenders, SoFi's rates are subject to change. However, once you take out a loan, your rate will remain the same for the life of that loan.
Rates may vary based on your credit score, income, debt-to-income ratio and other factors. Generally, the better your credit score, the more likely you are to qualify for the lowest rates and highest loan amounts. Your rate is also based on the loan amount and repayment term you choose. If you don't qualify for the best rates on your own, consider applying with a co-signer or for a different loan amount or term.
Loan Amounts
SoFi personal loans come in amounts ranging from $5,000 to $100,000, though you'll have to have good credit or better to qualify for the highest amounts. If eligible, you can use the funds for almost anything you need. This could be things like a major home renovation project, family planning, travel or a wedding. You can also use the money to help pay off high-interest credit card debt, which could save you money over time.
What's great about SoFi loans is that they also come with fast funding times — potentially even the same day you apply and are approved. In most cases, however, you'll receive the money within a few business days.
Repayment Terms
As for repayment terms, SoFi personal loans come with flexible options ranging from 24 to 84 months. Additionally, this lender lets you pay off your loan early without charging a prepayment penalty.
Keep in mind that a longer term typically means smaller monthly payments but higher overall interest charges. A shorter-term loan, meanwhile, may come with larger monthly payments, but you could save money on interest over time.
Fees
SoFi claims not to charge any fees on its loans. This means there are no origination fees or prepayment charges. The lender also doesn't charge late fees on loans originated after April 18, 2018. SoFi will still report payments that are at least 30 days past due to the credit bureaus.
How SoFi Personal Loans Stand Out
One key way SoFi stands out is with its streamlined online application process and fast approval and funding times. Along with this, once you take out a loan product, you automatically qualify for members-only benefits and features like free financial advising and referral bonuses.
Not only that, but SoFi lets you check your eligibility and rates in minutes. This process does not require a formal loan application, nor does it impact your credit score.
Comparable Personal Loan Options
Although SoFi is a great option for people who need an unsecured personal loan, it's not the only lender on the market. Here are a few other options to consider.
Discover
Like SoFi, Discover also offers unsecured personal loans. Loan amounts are smaller — capping out at $40,000 — but they can still be used for the same reasons. These loans also don't come with prepayment penalties or origination fees.
LightStream
LightStream also lets you take out anywhere from $5,000 to $100,000, based on your creditworthiness. You can use the funds for almost anything, aside from higher education or real estate. Plus, the application process is easy and comes with the potential for same-day funding.
How To Apply
SoFi personal loans come with a simple online application process, which looks a little something like this:
Check your rate. Click the "View Your Rate" button to see what you might qualify for without affecting your credit score. This takes no more than two minutes.
Select your preferred term. You can choose between two- and seven-year repayment terms.
Wait for the decision. SoFi typically makes its decision within a few hours or days of receiving your application. If approved, review and sign the loan documents.
Receive your funds and start making payments. SoFi will wire the funds to your bank account. You can then start using them as intended. If you're using the money for credit card debt consolidation, the lender can pay off your debt directly.
If you have any questions about SoFi loans or other products, you can contact its customer support team at 855-456-7634. Assistance is available Monday through Friday from 5 a.m. to 7 p.m. PT or Friday through Sunday from 5 a.m. to 5 p.m. PT.
Who SoFi Personal Loans Are Best For
SoFi personal loans are best for borrowers with good credit or better who qualify for the lowest rates and need a large amount of money for things like debt consolidation, home improvements or other big-ticket items. This lender may also be good for those who want to take advantage of the exclusive perks that are available to current members.
Final Take
With SoFi, you can apply for either an individual or co-signed loan ranging from $5,000 to $100,000. All personal loans through this lender are unsecured, meaning they don't require collateral in exchange for funds. Once you do have the money in your account, you can use it for nearly anything you need — aside from things like education or property.
These loans also come with flexible repayment terms and competitive rates for borrowers with the highest credit scores and income. This makes them convenient enough to fit into many people's budgets.  Before applying, though, calculate exactly how much you need and make sure you can realistically afford repayment.
FAQ
What is the minimum income for a SoFi loan?

SoFi doesn't disclose the minimum income requirements for its personal loans. However, the lender will review your income and debt-to-income ratio to determine your ability to pay back what you owe. The higher your income, the better your chances of getting approved for funds.

How easy is it to get approved for a SoFi personal loan?

It's relatively easy to get approved for a SoFi loan, provided you meet certain criteria. Before you apply, check your credit score, debt and income situation.

What credit score do I need for a SoFi personal loan?

Although SoFi doesn't specifically state its credit score requirements, you'll have better odds of approval with good credit or better — that is, a FICO credit score of 670 or higher.

What's the maximum loan amount from SoFi?

SoFi offers personal loans up to $100,000 for eligible borrowers.
Information is accurate as of June 20, 2023.
Editorial Note: This content is not provided by any entity covered in this article. Any opinions, analyses, reviews, ratings or recommendations expressed in this article are those of the author alone and have not been reviewed, approved or otherwise endorsed by any entity named in this article.