Star One Credit Union Review: No Monthly Maintenance Fees and a Great Digital Experience
GOBankingRates Score
Star One Credit Union
Quick Take:
Star
One Credit Union offers the best of both worlds
:
a nationwide network of branch locations and ATMs, plus excellent online banking options. And
,
as a
credit union
, Star
One keeps its rates competitive and its fees low.
Mobile & Digital Experience
Monthly Maintenance Fees
Minimum Opening Deposits
Rates
How did we calculate this?
Pros
Competitive rates
Excellent digital services
Minimal account fees
Cons
No youth savings accounts

High minimum opening deposits for CDs

 
About Star One Credit Union
Star One Credit Union is one of the largest credit unions in Silicon Valley, with assets of more than $11 billion and more than 116,000 members worldwide. It has seven branches in California. 
One way credit unions differ from banks is that you must join a credit union to bank there. You might want to consider joining Star One — GOBankingRates ranked it as one of the Top 100 Banks in its annual Best Banks rankings.  
Star One Credit Union memberships are open to residents of Santa Clara County, California, as well as those who live, work or regularly attend school in select other counties. Employees of Lockheed Martin Corp. and other corporate partners also qualify, as do immediate family members of Star One members.  
Checking Accounts
Star One Credit Union offers three checking accounts. Here are the details.
Free Checking Account
Free Checking is just what it says — a no-fees, no-frills account that provides all the basics, such as check-writing, 20 free in-network ATM withdrawals per month, a free box of exclusive design checks and $0 overdraft coverage with a linked Star One Visa card. The account requires a $25 minimum opening deposit and pays 0.10% APY.
Rewards Checking Account
Free Checking automatically upgrades to Rewards Checking when you make 10 Star One credit or debit purchases per month, enroll at least one account in eStatements and eNotices and have at least $300 in monthly direct deposits or $5,000 in deposit or loan account balances. Additionally, once you qualify for Rewards Checking, you'll receive up to $20 per month in refunded ATM surcharge fees, get a free box of 40 duplicate exclusive design checks per order and earn a 0.50% APY on your checking balance.
Student Checking Account
Student Checking offers the same perks as the Free Checking account plus up to $10 in ATM surcharge refunds per month. It requires a $25 minimum opening deposit. Additionally, like the Free Checking account, this account will upgrade to a Rewards Checking account once you meet the qualifications.
Money Market Account
A savings account is an important part of sound financial management, and Star One Credit Union's version is a money market account. You can have multiple sub-accounts to better budget your savings.
Star One's Money Market Savings account is the account that will establish your membership at the credit union. It requires a $50 minimum opening deposit and pays a 0.50% APY. Your membership will remain active as long as you keep at least $50 in this account. Plus, you can open multiple sub-savings accounts with just $5 each and name each one in Online Banking, which is helpful if you want to keep savings goals separate.
CD Rates
Certificate accounts — the credit union equivalent of certificates of deposit — earn Star One Credit Union's highest rates. However, they require a $2,500 minimum opening deposit, which is steeper than what you might find elsewhere. Plus, Star One offers just three terms. Here are the details:
0.50% APY for six-month terms 
0.60% APY for 12-month terms 
0.75% APY for 24-month terms 
Banking Experience
GOBanking Rates gave Star One Credit Union a 4.6 overall rating for the following features.
Mobile and Digital Experience
Star One Credit Union has a robust digital platform that includes online banking via computer, mobile banking via the credit union's app and voice banking through your Amazon or Google smart device. 
Voice Banking lets you get account information, transfer funds and find locations and hours. With Mobile Banking, you can send and receive money via Zelle, check loan information, pay bills and more. The app is available for iOS and Android. It's rated 4.7 out of five stars in both the App Store and on Google Play. 
Online Banking options are even more expansive, allowing you to open new accounts, for example.
In the event you find yourself without internet access, Touchtone Teller — Star One's bank-by-phone system — is available. Phone services include withdrawals and transfers, loan payments and card activations. [6b]  
Monthly Maintenance Fees
Monthly maintenance fees are nonexistent at Star One. None of the accounts — checking, Money Market Savings or certificates of deposit — have them. Fees are a factor to consider when deciding where to bank, especially if you open more than one account. Monthly maintenance fees can add up over the year. For example, if you have two accounts, and they each have a $5 fee, that's $10 per month or $120 per year.  
Minimum Opening Deposits
Star One's minimum opening deposits are affordable, for the most part. Checking accounts require a $25 minimum opening deposit and the credit union's Money Market Savings account requires a $50 deposit to open. When it comes to CDs, however, the minimum opening deposits are less affordable than you might find at banks or credit unions that require just $250, $500 or $1,000. 
Rates
Star One's rates are competitive, with its best rates offered on its certificates of deposit, which range from 0.50% to 0.75% APY. The Free Checking account has the added bonus of a 0.10% APY and the Rewards Checking has a much higher 0.50% APY. The Money Market Savings account pays 0.50% APY.  
Editor's Favorite

Digital services are the big standout at Star One Credit Union. In addition to a comprehensive online banking experience, the credit union's apps have earned high ratings, plus members can bank by voice through their smart speakers.
Star One Credit Union vs. Competitors
The best credit union for your needs is the one that offers the most value in terms of rates, fees and services in addition to the accounts offered. Here's a look at Star One Credit Union against some of its competitors.
Star One Credit Union vs. First Tech Federal Credit Union
It's hard to beat First Tech's soup-to-nuts financial offerings, including its four checking accounts, four savings accounts and a variety of certificate of deposit types with a larger range of terms. However, Star One Credit Union provides a far superior digital experience.  
Star One Credit Union vs. Tech Credit Union
If you're looking for a credit union that offers discounts on various forms of insurance coverage through leading insurance companies, Tech Credit Union has you covered. But, for everyday banking, Star One provides better value, with no-fee accounts paying higher rates.
Star One Credit Union vs. Stanford Federal Credit Union
Anyone who is interested in joining Stanford Federal Credit Union but doesn't qualify can become eligible by joining the Friends of the Palo Alto Library or Museum of American Heritage. Star One Credit Union doesn't offer alternative eligibility options, but it does offer lower minimum opening deposits and better rates on money market accounts.
Final Take
Star One Credit Union is a solid all-around financial institution for eligible individuals who want a robust digital platform but who also want to bank in person. Monthly maintenance fees are nonexistent, opening deposits are minimal (for the most part) and rates are competitive.
Star One Credit Union FAQ
Here are the answers to some commonly asked questions about Star One Credit Union.
Is Star One Credit Union safe?

 

Star One Credit Union accounts are insured up to at least $250,000 by the National Credit Union Administration, which is the credit union equivalent of the Federal Deposit Insurance Corp.

How much is the Star One Credit Union membership fee?

Star One doesn't charge a fee for membership, but the money market account that establishes the membership requires a $50 minimum initial deposit

.

When are deposited funds available?

Deposits usually are available the same day Star One Credit Union receives them, except for those received on Sundays, holidays or at night deposit facilities.

Those

will be credited on the next business day or when the credit union removes and processes them.
Cynthia Measom contributed to the reporting for this article.
Rates are subject to change. Information on accounts is accurate as of Jan. 14, 2022.
This content is not provided by Star One Credit Union. Any opinions, analyses, reviews or recommendations expressed in this article are those of the author alone and have not been reviewed, approved or otherwise endorsed by Star One Credit Union.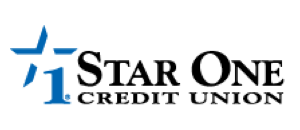 Take Advantage of our Best Offer(s)