Upromise Review: Is This College Savings Rewards Program Right for You?
GOBankingRates Score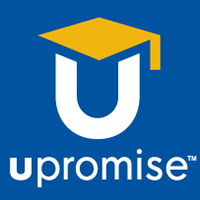 Quick Take: Upromise is a rewards platform designed to help parents save for their child's college education. As you earn rewards, these will be automatically sent to a linked 529, checking or savings account to help you save for your child's future. 
Rewards
Ease of Use
Customer Satisfaction
Savings Options
How did we calculate this?
Pros
Free way to earn rewards
Earn rewards for your child's education
Scholarship opportunities available
Cons
Must link a 529, checking or savings account
Might earn more cash back through a cash-back credit card
Upromise Overview
Originally launched in 2000, Upromise has a self-stated mission of helping families save for college. In the last 22 years, the platform has awarded over $1 billion in rewards to parents saving for their child's college education.
The premise is simple and starts with signing up for a Upromise account. From there, you have the option to link debit cards and credit cards. As you use these linked cards or shop online through your Upromise account, you'll earn cash-back rewards. Each month, these rewards are deposited into a linked account that you've designated as your child's college savings.
Make Your Money Work For You
Key Features
Rising college costs make any new opportunity to save especially enticing. Here's a closer look at the key features of Upromise.
Rewards
When you work with Upromise, you can turn most expenses into an opportunity to build college savings. You'll earn cash back for shopping online, buying groceries, dining out, and making any purchases with a Upromise Mastercard. Importantly, you won't need a Upromise Mastercard to work with this program. Instead, you can tap into the rewards by linking your debit card or credit card to the program.
For example, you can earn 2.5% cash back dining at over 10,000 restaurant locations. If you opt to open and use a Upromise Mastercard, you'll get 5% cash back on purchases in this category. In either case, it's clear that the rewards tied to this program can stack up quickly.
Ease of Use
The main feature of Upromise is a seamless opportunity to boost your child's college savings. You won't have to pull any funds out of your paycheck. Instead, these funds accumulate based on the rewards tied to your spending. It offers a worthwhile way to give your child's education fund the boost it might need.
Make Your Money Work For You
Customer Satisfaction
Not all rewards programs live up to your expectations. But when it comes to Upromise, many are finding a positive experience as they boost their child's college savings. The program has earned 4.4 out of 5 stars and a rating of "excellent" on Trustpilot. With over 1,100 reviewers, it seems likely that you'll have an excellent experience.
Plus, the entire experience is free.
Savings Options
Upromise makes it very easy to link your rewards account to the savings vehicle of your choice. You can link a 529, checking or savings account to your Upromise rewards account. But there's an incentive to link a 529 account in the form of bonus funds. When you sign up, you'll receive a $5.29 bonus. Plus, you'll earn $25 in welcome rewards for linking your 529 account.
Good To Know

Eligible Upromise members are entered into a monthly scholarship giveaway. Although you aren't guaranteed to win, this perk gives lucky families a helping hand in paying for college.
How Upromise Stands Out
Upromise provides a unique twist on the typical cash-back rewards program. Although there are plenty of cash-back opportunities out there, the specific focus on college savings is exciting. As a parent, opting in to this program can give you extra peace of mind knowing that you are helping your child avoid the sky-high cost of college.
Make Your Money Work For You
Comparable Options
Upromise is a relatively unique offering. But here's a closer look at how this program stacks up in the marketplace.
Cash-Back Credit Cards
It's not a secret that cash-back credit cards can offer a top-notch rewards experience. As a parent saving for college, taking advantage of a cash-back credit card might help you stretch your dollars further. This won't directly put funds into your child's college savings account. But you always have the option to set aside all of your earned rewards in an account designated for your child's future.
Cash-Back Shopping Rewards
When shopping online, you don't need a special credit card to tap into cash-back rewards. As a savvy shopper, all you need is an account with one of the top cash-back websites. Like cash-back credit cards, this opportunity won't automatically deposit funds into your child's 529 account. But if you want to save for college, you can choose to set aside those rewards.
How To Sign Up for Upromise
Ready to make a Upromise account? It's as simple as adding your email address and creating a password on the program's homepage. After that, you'll have the option to link your college savings account, apply for a Upromise Mastercard, or download the Upromise Extension.
Make Your Money Work For You
Who Upromise Is Best For
If you are looking for a seamless way to start saving for college on a regular basis, Upromise offers the ability to turn cash-back spending into savings. However, you might find more attractive cash-back opportunities through a traditional cash-back credit card or shopping rewards program. With that, this opportunity is best for those who want an easier way to save. But if you already stick to a college savings plan and have a credit card rewards strategy, this might not be the right fit for you.
Final Take
Upromise offers a painless way to start saving for your child's college costs. Although the rewards might seem small at first, every little bit counts. If you are intrigued by the opportunity, it's free to open an account.
FAQ
Is Upromise a legitimate program?

Yes, Upromise is a legitimate rewards program designed to help families save for college.




How do I claim Upromise money?

Instead of manually claiming Upromise money, you'll have the option to link a 529, checking or savings account. Each month, Upromise will transfer your earned rewards to the linked account. Typically, this process happens during the first week of the month. 




Is Upromise still around?

Yes, Upromise is still an option to help you save for college costs.
Information is accurate as of Nov. 17, 2022.
Editorial Note: This content is not provided by any entity covered in this article. Any opinions, analyses, reviews, ratings or recommendations expressed in this article are those of the author alone and have not been reviewed, approved or otherwise endorsed by any entity named in this article.
Make Your Money Work For You