Will the Biden Administration Require Airlines To Pay You for Delays?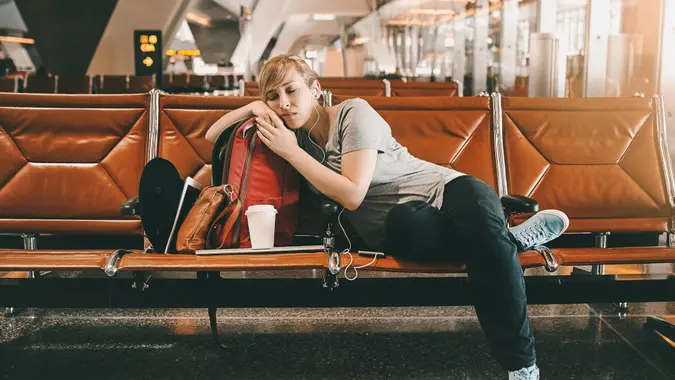 PeopleImages / Getty Images
As the summer travel season heats up, airlines that are already struggling with lack of staff, aircraft shortages and outdated software may not be able to keep up with customer demand.
There is little customers can do in the short-term, other than planning ahead and leaving extra time to arrive for special events in other states or abroad. But the Biden Administration is looking to take legislative action that would give airlines great financial incentive to avoid cancellations.
New Regulations Propose Compensation to Passengers for Delayed or Canceled Flights
The Transportation Department of the Biden Administration has proposed regulations that would mandate airlines to cover expenses, including meals and hotels, if flights are canceled or delayed for more than three hours, Reuters recently reported.
"When an airline causes a flight cancellation or delay, passengers should not foot the bill," U.S. Transportation Secretary Pete Buttigieg wrote in the proposal presented on the DOT website in May 2023. "This rule would, for the first time in U.S. history, propose to require airlines to compensate passengers and cover expenses such as meals, hotels, and rebooking in cases where the airline has caused a cancellation or significant delay."
Slow Steps Toward Change
However, the proposed legislation isn't likely to pass in time to help travelers during the big, upcoming summer travel season. Legislation proposed in 2021 that would refund customers for baggage delays or reimburse for services not provided still has not passed. Under that legislation, airlines would be responsible to reimburse passengers if onboard Wi-Fi service that was advertised failed to work, as an example.  
Make Your Money Work for You
Last year, the U.S Department of Transportation (DOT) asked carriers if they would agree to pay at least $300 if a flight was delayed more than three hours at the fault of the airline. The DOT made it clear that, so far, no U.S. airlines have agreed to offer cash compensation for delays or cancellations.
Do Airlines Have to Compensate You For Delays?
Currently, airlines are not required by U.S. law to compensate customers for delays or cancellations. However, since the DOT introduced the Airline Customer Service Dashboard, positive changes have taken place, the DOT reported.
The 10 largest U.S. carriers now guarantee meals and free re-booking on the same airline. Nine of the top carriers also guarantee compensation for a hotel room near the airport. You can find the compensation and benefits U.S. airlines offer by visiting FlightRights.gov.
Currently, only two U.S. airlines offer some compensation if a flight is delayed or canceled due to mechanical issues or another problem within the airline's control, according to the DOT's FlightRights.gov website. The DOT calls these "controllable delays or cancellations."
Alaska Airlines offers a credit/travel voucher plus frequent flyer miles if a flight delay or cancellation leads to a travel delay of three or more hours. JetBlue offers a credit/travel voucher for this situation.
Why Are Flights Getting Delayed So Much?
Flights get delayed for any number of reasons, from weather to mechanical problems on the plane. While it's typically easy for meteorologists to predict storms — and for airlines to rearrange flights to avoid them — additional problems have arisen since 2020.
Make Your Money Work for You
1. Pilot Shortage
First, a pilot shortage means fewer planes in the air to make up for delays. Analysts found a gap of 17,000 between pilots needed and pilots currently in the workforce for 2023, with that number projected to stay the same in 2024. By 2026, there could be a shortfall of 24,000 pilots.
2. Air Traffic Control Staffing Issues
At the same time, airlines blame the Federal Aviation Administration for a lack of air traffic controllers. However, in summer 2022, Buttigieg told CNBC that "air traffic control staffing issues do not explain the majority of delays and cancellations we've been seeing."
During the July 4, 2022, weekend, more than 1,100 flights were canceled, Reuters reported. Of those, 25% were United Airlines flights. But United isn't the only airline that has faced challenges.
3. Weather Meets Operational Challenges
During the December holiday weekend in 2022, Southwest Airlines canceled roughly 16,700 flights following a winter storm. While the weather impacted other airlines, leading to fewer than 70% of all U.S. domestic flights departing on time in December, Southwest failed to recover as swiftly as competitors.
In a Senate hearing, Southwest COO Andrew Watterson revealed plans to upgrade the airline's de-icing systems, upgrade crew rescheduling software and update other technology to bring the airline, its processes and its technology up to date.
Southwest reimbursed nearly 300,000 customers, and the debacle cost the airline $800 million in lost revenue, reimbursements and employee pay.
4. Computer Glitches
During the April 2023 spring break season, Southwest saw another failure due to what the airline revealed in a tweet as "intermittent technology issues."
Make Your Money Work for You
Southwest later reported that a vendor-supplied firewall had crashed and connection to some operational data had been lost. Roughly 1,700 flights were delayed or canceled, representing 41% of the airline's total flights scheduled for that day.
Why Are Flights Being Canceled by Airlines?
Often, when too many delays occur in a short time span, an airline simply can't keep up with the backlog and must cancel flights. Fortunately, most airlines will try to rebook passengers on the same airline in a timely manner.
Flights are being canceled by airlines for the same reasons they are experiencing delays:
Lack of pilots
Lack of aircraft
Weather delays 
Operational challenges
What To Do If Your Flight Is Canceled or Delayed
If your flight is canceled or delayed, reach out to a customer service representative — either on the phone or at the airport — immediately to try to re-book. Visit the Airline Cancellation and Delay Dashboard managed by the DOT to find out your rights as a passenger and what compensation you might be owed.
Sometimes, it helps to take to social media, such as Twitter, to voice a complaint. After all, the squeaky wheel just may get the oil.
If you have to pay for food, a hotel room or ground transportation back to the airport, save all your receipts. If the airline does not provide a voucher or reimburse you for your costs, you can file a complaint with the DOT.
Our in-house research team and on-site financial experts work together to create content that's accurate, impartial, and up to date. We fact-check every single statistic, quote and fact using trusted primary resources to make sure the information we provide is correct. You can learn more about GOBankingRates' processes and standards in our editorial policy.