From Expedia to Kayak: The Best Cheap Flight Booking Sites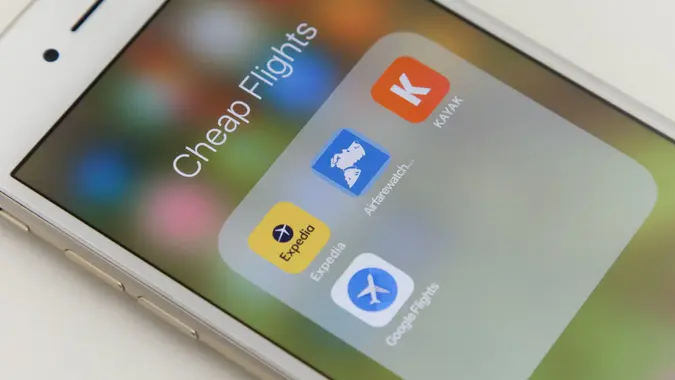 Many travel websites advertise cheap tickets, but too many options can be overwhelming. GOBankingRates reviewed some of the top travel deals sites to learn what sets them apart — and explored how to use them to get the best deals. Check out the results and pick the best site to help you save money on travel.
Find Out: Explore the Cost of Education in the United States
Follow Along: 31 Days of Living Richer
Airfare Deals From Travel Websites
Deciding which is the best site for flights is often a matter of personal preference, so it makes sense to conduct some research. Check out these sites and decide if any might work for you when you're ready to book a vacation.
You can also employ some tricks to maximize savings: Use your web browser's privacy mode (like Google Chrome's Incognito) to prevent the site's algorithm from recording your interest and raising prices. Many of the best travel sites also have social media accounts; following them can enable you to access special offers and flight deals.
Be sure to read the fine print from wherever you book — there's always some little detail in there you might easily overlook. 
Related: How To Budget and Plan For a Vacation in 2021
Kayak
Key feature: Explore feature lets you search trips by budget
Kayak Explore lets you set your travel budget and your departure city and view available destinations that come in at or under budget, thanks to cheap flights. Kayak enables you to learn about affordable, fascinating places to visit that you might never have considered otherwise.
Find: The Best and Worst Airlines for Cheap Flights
SkyScanner
Key feature: Ability to scan entire month to find the best fares
If you want to use the best website for flights within a specific month, check out SkyScanner. Pick your month, designate your departure city and you'll see a map that shows you available destinations — and available cheap tickets. The online map alone is enough to provide inspiration and the deals are often excellent if you can adjust your dates accordingly.
Priceline
Key features: Option to name your own price, package deals
It's hard to decide which is the best site for cheap flights because they're all so different — and some are so new. Priceline, however, has been around since 1997, and you can still find great travel deals through it. You can still "name your price" and bid on hotel rooms, or you can check out "Express Deals" for straightforward discounts on accommodations. You can also search for cars, flights, cruises, hotels and package deals.
Vacay: Cheap Place To Travel On $100 a Day Or Less
CheapFlights
Key feature: Search travel products from multiple sites, airlines and travel providers
You'll find listings from most of the major travel discount sites as well those operated by travel vendors, like airlines. The listings enable you to compare prices and make your choice, and the site also offers an app so you can check out offers while you're on the go. Launched in 2003, CheapFlights sees upwards of 120 million people around the globe visit its sites and apps.
SmartFares
Key feature: Its flexible ticket service enables consumers to rebook flights up to 24 hours before scheduled takeoff
If you prefer to book travel by phone, SmartFares offers live support 24/7. In fact, its reservation agents are privy to unpublished fares, so it might make sense to call even after you've searched the site.
Important: 40 Pandemic Airport Secrets Only Insiders Know
Expedia
Key features: Multiple destinations search, bundle deals, loyalty program
You can search Expedia flights for multiple destinations, and you can also get information about baggage fees, which can be fierce these days. The company's loyalty program allows patrons to earn two Expedia Rewards points for every $1 spent on hotels, cars, packages and things to do, and one point per every $5 spent on flights.
AirfareWatchdog
Key feature: Unpublished fare information, travel credit card analysis, personal touch
AirfareWatchdog is different from many discount travel sites because it has human analysts reviewing travel deals and providing information about things like an unpublished flight sale, the best credit card for earning miles and travel-related issues. Although this is definitely an e-commerce site, it also has the feel of a personal website or blog.
Freebies: 35 Things Your Hotel Will Give You for Free
Google Flights
Key feature: Allows users to search and track flights, embedded price tracker
Google Flights isn't a traditional travel deals site: Google doesn't sell travel, but you can book your flight through one of its travel partners directly through the Google Flights interface. You can also research and track flights so you can monitor costs and book accordingly. Google will send you emails or text messages when a flight price changes, and if/when a fare is about to expire or a fare might go up. Google Flights also touts a map search feature, which can reveal the cheapest fares to a number of destinations.
Scott's Cheap Flights
Key Feature: The site emails you whenever there's a good deal for your destinations
Know where you want to go, but only willing to pay when the price is right? That's when Scott's Cheap Flights comes in handy. The site sends out deal alerts from actual flight experts, who also provide insight on how long the deal may last.
Take a Look: Why You Should Consider a Travel Agent To Book Post-Pandemic Travel
ITA Matrix
Key Feature: It's the powerful software that Google Flights uses 
Google acquired ITA Matrix in 2011 and has since used the software to assemble data for Google Flights. If consumers are looking to bypass Google Flights and get straight to the source, they can book flights directly on ITA Matrix.  The site doesn't have the most glamorous interface — and seems downright janky compared to Google Flights — but don't let appearances fool you. The site is super powerful and allows users to search for split fares and search for flights going to a specific region rather than a specific airport.
Momondo
Key Feature: Price tracker and filtering options 
Momondo's slick and colorful website is more than just easy on the eyes, it's also a great destination for cheap flights. Similar to Kayak, the homepage asks users to plug in their travel details and voila: It finds the best deals on airfare. The site touts a price tracker and an abundance of clear filtering options so that users can hone in on exactly what they're looking for.
Find Out: Flying vs. Driving: Which Is More Cost-Effective for Travel This Year?
Orbitz
Key Feature: Excellent rewards program and 24-hour cancellation policy 
Launched in 2001, Orbitz stands out as a titan metasearch engine — but is also great for users who are up for joining their rewards program (which is free, so why not?). Through Orbitz Rewards, travelers can rack up "Orbucks" when booking flights, hotels and vacation bundles. The catch is you can only redeem the points when booking hotels through Orbitz. You can also cancel your flight in-app up to 24 hours in advance.  
Travelocity
Key Feature: Price match guarantee
The longstanding site Travelocity has a stellar Under the Price Match Guarantee, and will refund users the difference in price if they find a cheaper flight through another platform. They'll also throw in a $50 coupon to use on future airfare, hotel or hotel bundle booked on the site.
More From GOBankingRates
Nicole Spector contributed to the reporting for this article.
Last updated: Sept. 20, 2021