Are Delta Skymiles Worth It?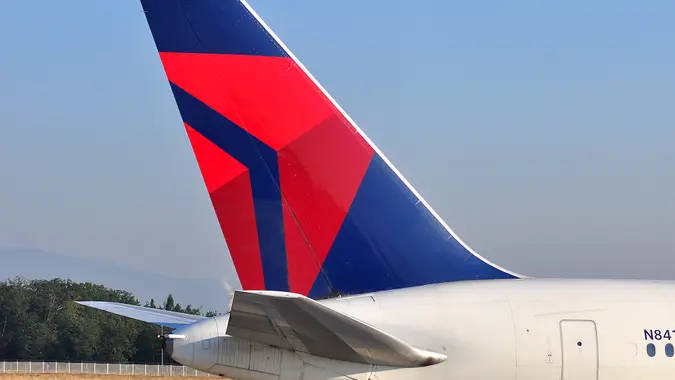 Vytautas Kielaitis / Shutterstock.com
When you frequently fly with the same airline, it makes sense to be rewarded for your loyalty, and the Delta SkyMiles reward program delivers. The program allows you to earn points, which you can redeem for airline miles or other options.
Anyone can join the program and becoming a Delta SkyMiles credit card member can help you earn miles even faster. Here's a closer look at how the Delta frequent-flyer program and Delta points system work to help you decide if this is one of the best airline loyalty club deals available.
How the SkyMiles Program Works
Members of the free Delta SkyMiles program earn non-expiring points whenever they fly Delta Air Lines. SkyMiles members earn five miles for every dollar spent on Delta flights, excluding government-imposed taxes and fees. All members can work towards different tier levels to earn up to 11 miles for every $1 spent.
Once you reach Medallion Status, you'll earn perks such as:
Unlimited complimentary flight upgrades
Waived baggage fees
Front-of-the-line access at the airport
Earning Rewards With a Delta SkyMiles Credit Card
As a Delta SkyMiles cardholder, you're eligible to earn 2 additional miles for every eligible dollar spent on Delta purchases and 1 additional mile for each eligible dollar spent on everyday purchases — which can help your rewards balance increase more quickly. Your ability to earn miles is unlimited, and you can redeem them for standard and private jet travel.
In addition to Delta's Blue, Gold, Platinum and Reserve SkyMiles personal credit cards issued by American Express, you can also apply for business credit cards, international credit cards and a debit card to earn miles for travel and other purchases.
Make Your Money Work for You
Earning Delta SkyMiles Through Partners
As a Delta SkyMiles member, you can earn miles for purchases made with SkyMiles partners. Partners include more than 20 airlines, car rental companies, restaurants and shopping destinations.
Additionally, you can earn miles for online shopping through the SkyMiles Shopping portal. The shopping portal provides access to hundreds of popular retailers, including Macy's, Apple and Nike — many of which offer special rewards.
Another convenient way to earn miles is through the Delta's exclusive Airbnb site where you earn 1 mile for every dollar spent on qualifying Airbnb stays and 25,000 miles for hosting an Airbnb.
Delta SkyMiles partners also include popular hotel brands, including Hilton, Starwood, Marriott and IHG.  And you can convert points you've earned from a partner's loyalty plan to SkyMiles to take full advantage of your rewards.
Find Out: How to Travel the World for Practically Free
Redeeming Your Delta Points and Miles
Redeem your miles toward any trip on any Delta Air Lines flight. No blackout dates or restrictions apply, and you can use your rewards to enhance your travel experience, such as opting for premium drinks at Delta Sky Club.
Not only can use your rewards for flights and premium drinks, you can also use them for:
Seat upgrades
Delta Sky Club membership
Delta Vacations package
SkyMiles Experiences, such as backstage passes to celebrity events
SkyMiles Marketplace purchases, including Delta gift cards, hotel stays and car rentals
Donations to a cause through the SkyWish program
The SkyMiles program gives you the flexibility to use your miles and points toward vacations, experiences and gift cards, so you're not limited to just flights. And to earn bonus miles and extra perks, you can choose to become a Delta credit card holder.
Make Your Money Work for You
Overall, the SkyMiles program might be a great choice for you if you enjoy saving money on airline travel and earning rewards for spending in all categories.
Find Out: Insider Secrets to Get a Free Flight