11 Free Perks To Ask For When You Fly Economy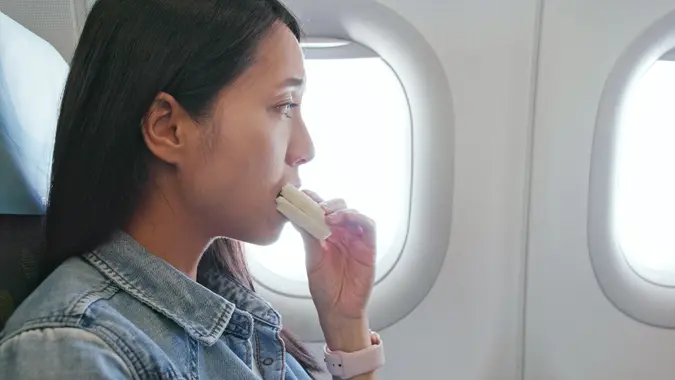 ©Shutterstock.com
Some of the givens of flying by air have disappeared in the 2000s. Meals, free checked baggage, comfortable leg room and cozy blankets and pillows on every seat mostly have disappeared for coach-fare travelers.
Discover: 10 Best Countries To Live on Just a Social Security Check
More: In Less Than a Decade, You Won't Be Able To Afford a Home in These Cities
But that doesn't mean you have to pay extra for everything when you fly on an economy ticket. In fact, airlines have some freebies and extra niceties available — and they could be yours simply by asking. While some of these perks have little to no monetary value, some could be worth big money.
Upgrades
"Most travelers never think to ask but it is 100% worth requesting an upgrade, particularly on international flights," said Jason Kraemer, the co-founder of travel website Flashpacker Co. "Premium seats typically get filled up by business travelers on domestic flights, but … all it takes is an agent or crew member in a good mood to bump you up to first class or business class."
That upgrade could be worth hundreds of dollars or more, depending on the length of your flight.
POLL: Do You Have a Side Gig or Other Hustle?
Cockpit Tour
If you're an aviation nerd or have a child intrigued by the airplane experience, ask whether you can take a look at the cockpit — after the plane has landed, of course.
"Ask for a cockpit tour and a wings pin if you're flying with young children," said Charlotte Stiles of Jeffsetter Travel. "It's an exciting experience for the kids and a chance for the pilots to show off. It's always best to ask once the flight has landed. There's a chance the pilot needs to run to another flight, but most pilots are as excited as your kids are for this opportunity."
Snacks and Drinks
Without meal service included on domestic coach flights anymore, travelers can get hungry.
"Some of the things that passengers didn't know they could ask for are second helpings. Most airlines offer free peanuts, pretzels or other snacks," said Barbie Mission, a travel research analyst at Trip101. "And the staff are willing to provide seconds as long as they're not running really low on supplies."
On long-haul flights, the snack options served after a meal are more plentiful.
"I have often popped my head into the crew area and been given chocolate bars, hot pies and sandwiches," said Kate Slater, a travel blogger Kate Abroad who is based in Sydney.
Also, if the flight attendant is pouring soda or juice into a cup full of ice, ask for the whole can. Your request typically will be honored.
Water Refills
Since you can't pass through the security checkpoint with a backpack filled with plastic water bottles for your trip, travel with your own refillable container. It sure beats buying a few bottles in the airport shop for $3 or so.
"This will work much better if you're asking flight attendants to refill your reusable water bottle instead of just refilling a plastic disposable bottle that you bought at the airport," Stiles said.
Over-the-Counter Medications
Stiles said airplanes often are stocked with medical and first-aid items.
"Many over-the-counter essentials like anti-nausea medications, Advil, ice packs, bandages and just about anything else you'd find in a basic first-aid kit are available for free, if you ask," she said. "Each airline has guidelines on what medication they can give to passengers without medical guidance, but general over-the-counter medication is allowed. They want you to be comfortable during the flight as much as you do."
These days, this kit will include masks and sanitizers, too.
Ear Plugs
Sleeping on an airplane isn't easy, and ear plugs could help.
"Want to tune out the noise around you and enjoy a nap? Flight attendants can usually offer free earplugs, if you ask," said Jenn Lloyd, a blogger at Sick Girl Travels, which aims to help disabled travelers enjoy accessible travel.
Playing Cards
"Want to escape staring at a screen and take a break from the digital world? Many airlines carry actual playing cards for passengers to borrow," Lloyd said. "This is a great way to pass the time with your travel partner or entertain the kids."
Pillows and Blankets
While a pillow and blanket probably won't be waiting for you on your seat, the flight attendant usually can locate them for you.
Other Personal Items
"Most airlines have a general welcome kit, which can include socks, toothbrush and toothpaste. Some even have eye masks," said Abigail Dalton, who blogs at I'm Going on an Adventure.
Extra Storage Space
"If you're worried about creases in your suit jacket before that big meeting, request special storage. Many larger planes have additional storage areas for fragile items such as suit jackets, heirlooms or expensive musical instruments," Stiles said. "This is free, but you do need to request it — and not every plane has it. Strategic use of this can sometimes prevent you from having to add another checked item, which could save you a bundle."
Help With the Kids
If you're traveling alone with a child and need to use the restroom, flight attendants can briefly assist with your little one while you're away from your seat, several frequent travelers said.
More From GOBankingRates