7 Tips for Saving on International Flights in 2022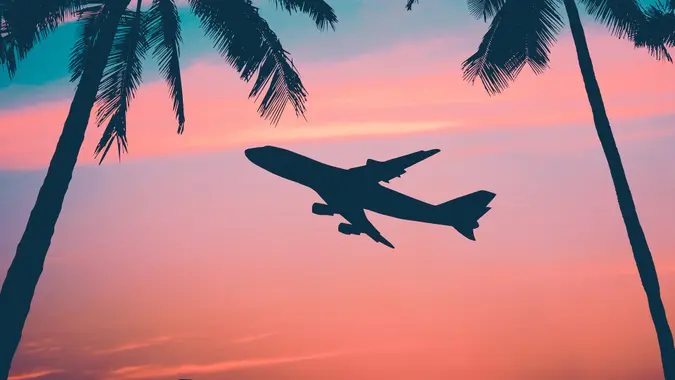 mrdoomits / Getty Images/iStockphoto
If international travel is on your agenda in 2022, don't fret that rising fuel prices and increased post-pandemic travel will boost airfares out of your price range. Deals still abound — if you know where to look for them.
Check Out: 7 Best Scenic Train Trips for Travelers on Budgets
Good To Know: See the 5 Most Popular Affordable Domestic and International Travel Destinations of 2022
GOBankingRates asked frequent travelers — the experts — just how to save money on international travel this year, and they responded with some tips that could save you some real cash.
Look At Alternate Departure Airports
Smaller airports typically aren't the best value for international travel, said David Angotti, the CEO of travel site HawaiianIslands.com. Instead, he recommends pricing your trip from a larger airport for departure.
"If you live in a smaller city, or your closest airport isn't a major international hub – think of LAX, JFK, ATL, etc. – starting off your flight path from your home airport can end up being really expensive," he said. "You can actually often save money by booking international flights with the starting point from the closest major international airport, and then booking an individual flight from your airport to that one. Or, if you are able to drive to the major airport, that'll save you even more money."
Look At Alternate Arrival Airports
If you're headed to Europe, you probably have a destination planned. But what if a plane ticket to that location is super expensive? Scott Keyes, the founder of Scott's Cheap Flights, suggests checking out the airfares to other major airports in other international cities.
"Focus on getting across the ocean as cheaply as possible," Keyes said. "You're probably wondering why you'd be flexible on where you're going. If you want to go to Amsterdam, you want to go to Amsterdam. But what if it was $200 cheaper to fly to Paris, which is just a few hours from Amsterdam by train?
"When you're flying long haul internationally, take a look at options near your final destination. It may be cheaper to fly there and then connect to where you want to end up."
Also Find: 6 of the Best Cruise Itineraries for Travelers on a Budget
Check the Websites — and Act Fast
Adam Marland, a travel blogger at We Dream of Travel and the "Chief Exploration Officer for Michelob Ultra," said taking time to explore a variety of websites is key to finding great fares. Then the next most important part, he said, is being ready to act quickly in some cases.
"There are a bevy of tools and websites available, with these three that should be bookmarked in every traveler's browser," he said. They are:
Skyscanner: "This is the best site for broad searches as it allows the most flexibility in its search boxes," Marland said. "You can search by days, months, or even just click find the cheapest month. On top of that, you can search both departure and arrival by country, continent, or just click to search the entire globe for the cheapest flights. This is why flexibility is key."
Airfarewatchdog: "This is another great tool, but this one requires you to be ready and impulsive. It alerts you to flash fares that may last only minutes, but can be insanely priced. I flew from San Francisco to Iceland for only $99."
The Flight Deal: "Another site that posts flash fares daily, but these deals can literally come and go in seconds. I set up an alert to receive an email whenever new content is published so I can jump on it right away."
Wes Kolste, the owner of Road Trip Daily, added two more to the list, sites that he said have helped him to score great deals, like his recent $220 trip from Salt Lake City to Puerto Rico. His recommendations: Scott's Cheap Flights and Flights From Home.
Be Flexible
Mahogany Albritton, the "Deal Duchess," reiterated flexibility is the key with whatever site you use.
"Everywhere is on my list, so there is no need to chase a destination," she said. "Instead search for the place that is cheapest to travel to for your desired dates."
Check Stopover Deals
"Many international airlines offer stopover programs that allow you to visit two destinations for the price of one," said Gabe Saglie, senior editor at Travelzoo. "When you book a flight to one city, you can tack on a stopover in one of the airline's hub cities for several days at no extra cost. The stopover option can be done on the way there or back, and, often, there are extra incentives that'll sweeten the deal, like restaurant and hotel discounts.
"Flying TAP Air Portugal to Morocco? Spend a few days in Porto on your way there without paying extra fees. Taking Icelandair to Amsterdam? Explore Reykjavik on the way back for a few days. And if you're flying Aer Lingus back home from Paris, add a few days in Dublin for free; the added perk here is that Ireland's the only country in Europe where you go through U.S. customs there, rather than in the U.S. — once you land back home, you are, for all intents and purposes, a domestic passenger."
Several other carriers, including Finnair, Turkish Airlines and Emirates Airlines, have stopover programs, he said.
Learn: 13 Insider Secrets From Travel Agents That Will Save You Money
Use Reward Credit Cards
Kolste said he uses an airline-specific credit card that results in free travel and other perks, such as companion fares.
"We travel with Alaska Airlines at least once a year, and my wife's ticket is only $121 before taxes — normally it's $800-plus — and we both get a checked bag for free."
Travel Offseason
Also, consider traveling offseason, said Geoffrey Lenart, owner of Seven Seas Travel in the Detroit area.
"Avoid traveling in high travel season whenever possible," he said. "Most international locations have a low, mid and high travel season. Check out each destination for these times in an online search or consult your travel agent."
More From GOBankingRates