Traveling With Children? New United Airlines Seating Policy Allows You To Sit Together at No Cost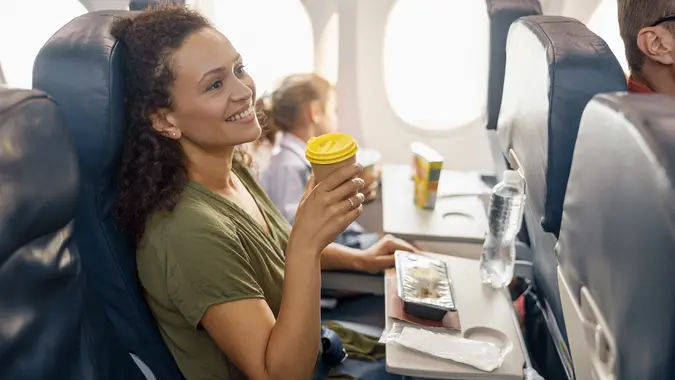 Yaroslav Astakhov / iStock.com
Airline passengers with kids in tow will soon get a little financial stress relief thanks to a new family seating policy by United Airlines. The policy is designed to make it easier for children under 12 to sit next to an adult in their party with no additional fees.
In a Feb. 20 announcement, United said the new policy was made possible through a series of investments in a new seat map feature that finds available adjacent seats at the time of booking. The online feature first reviews all available free Economy seats, and then opens complimentary upgrades to available Preferred Seats, if necessary.
Customers traveling with children under 12 will start to see more adjacent seat options immediately. The complete policy change will go into effect in early March.
When adjacent seats are not available prior to travel — due to last-minute bookings, full flights or unscheduled changes — United's new policy lets customers switch for free to a flight to the same destination with adjacent seat availability in the same cabin. Customers also won't be charged if there's a difference in fare price between the original and new flight.
"We're focused on delivering a great experience for our younger passengers and their parents and know it often starts with the right seat," United Chief Customer Linda Jojo said in a press release. "We look forward to rolling out more family-friendly features this year."
Make Your Money Work for You
United's move comes amid a recent trend among airlines to charge travelers for booking preferred seats on flights, CNBC reported. These are often in the front of the plane.
The Biden administration wants to ban family seating fees while also ensuring that travelers under age 13 are seated next to an accompanying adult without additional charges. "Baggage fees are bad enough," President Joe Biden said during his State of the Union speech on Feb. 8. "Airlines can't treat your child like a piece of baggage."
Delta Air Lines said in a statement this week that it "does not charge family seating fees and regardless of the ticket class purchased, will always work with customers on a case-by-case basis to ensure their family seating needs are met."
A spokesperson for American Airlines told CNBC that its booking platform will automatically search for available seats together at the time of booking for main cabin and basic economy passengers. The airline's preferred seats and extra legroom section open up the day of departure if needed.
More From GOBankingRates
Make Your Money Work for You