TSA PreCheck: How Do You Get It and Is It Worth It?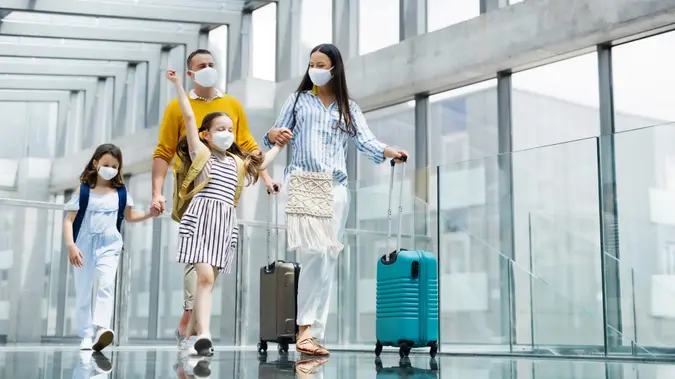 Halfpoint / Getty Images/iStockphoto
The pandemic slowed travel down to a halt, but as the world returns back to normal, travel will likely reach previous levels. While many travelers are excited about flying again, one aspect can be a drag — the security screening. Having to remove your shoes, belt and jacket, as well as unpack part of your carry-on is the last thing most people want to worry about before catching a flight.
Fortunately, there is a solution: TSA PreCheck. But is TSA PreCheck worth it? If you're ready to cash in your frequent flyer points and go somewhere, you'll want to check this out.
What Is TSA PreCheck?
TSA PreCheck is a government program from the Department of Homeland Security that's meant to streamline the screening process for airline passengers. As you probably know, security lines bottleneck — especially with all the hoops you have to jump through — just to walk through the metal detectors to get to your flight.
The government set up TSA PreCheck to allow certain travelers who have passed the Transportation Security Administration's rigorous screening to use expedited security screening lines instead. TSA PreCheck screenings are much faster — passengers enrolled in TSA PreCheck typically take less than five minutes to get through security.
How Does TSA PreCheck Work?
TSA PreCheck is only available in U.S. airports for domestic departing flights as well as for members who are returning from abroad and need to catch a domestic connection. There is a similar program for international flyers called Global Entry. TSA PreCheck isn't available at all airports yet, but that's changing quickly. At last check, over 200 airports and 80 airlines have TSA PreCheck points.
Make Your Money Work for You
If you're a U.S. citizen, permanent resident or national, you can apply. There's an $85 fee for a five-year membership. Once you're approved, you can use special, shorter lines at security checkpoints. You won't need to remove your shoes or clothing and can leave liquids and laptops in your carry-on baggage. As you can imagine, you could save a lot of time and hassle using TSA PreCheck.
How To Apply for TSA PreCheck
Anyone over the age of 12 will need to apply for TSA PreCheck before getting special access to the faster security checkpoints. Children 12 and under can use PreCheck with an eligible parent. Here is how to apply for TSA PreCheck:
Apply online: The application takes roughly five minutes to complete. You'll need to pay an $85 nonrefundable application fee.
Schedule an appointment: The second phase of the application must be done in person. There are over 380 enrollment centers available to choose from.
Find out what you need to bring: At the appointment, the TSA will verify you by fingerprinting you. You'll need to bring your government-issued photo ID. In some cases, you may have to show proof of citizenship, such as a passport. Use the online tool on the Required Documents page at the Universal Enroll website to find out what documents you need to bring.
Wait for approval: Most applicants receive their Known Traveler Number in three to five days after the appointment. Once you're approved, you'll receive a KTN. Save the number — you'll need it when you book flights. If you lose it, you can look it up online.
Check your boarding pass: When you check in at the airport or print your boarding pass, you should see a TSA PreCheck indicator. You can skip the long lines and go straight to TSA PreCheck points.
How To Get TSA PreCheck for Free
Some travel rewards credit cards will provide you with a credit to reimburse your TSA PreCheck application. Some of the most popular participating cards are:
Citi Prestige Card
Marriott Bonvoy Brilliant American Express Card
Southwest Rapid Rewards Performance Business Credit Card
United Explorer Card
Is TSA PreCheck Worth It?
For anyone who has flown before, the $85 fee to save yourself from five years of removing your shoes, belt and jacket and unpacking at a security screening is well worth the cost. Families, especially, could really benefit from TSA PreCheck. Best of all, some travel rewards and business credit cards will reimburse the application fee, making speedier security checkpoints free.
Make Your Money Work for You
Advice

Give yourself time to apply for TSA PreCheck before a trip. You'll need to make an appointment to visit a center, which could be a couple of weeks out or longer. Plus, most applicants can receive approval in three to five days, but the TSA can take up to 60 days to process an application.
TSA PreCheck FAQ
Here are the answers to some commonly asked questions about TSA PreCheck.
How much is TSA PreCheck renewal?

You'll need to pay either $70 for online renewals or $85 for in-person renewals. Each option comes with another five years of membership.

Do kids need to apply for TSA PreCheck separately?

Kids 12 and under do not need to apply if they will be traveling with a TSA PreCheck-eligible guardian or parent. All others should apply for their own Known Traveler Number.