5 Pandemic Expenses To Cut Now That States Are Reopened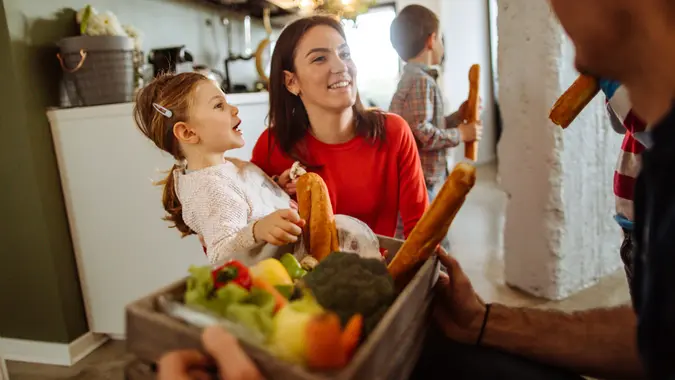 AleksandarNakic / Getty Images
When shelter-in-place orders due to the pandemic got serious in 2020, we changed the way we lived, shopped, ate and more. Contactless services, streaming entertainment, food delivery and more became the new way of doing things. Now that so many states have reopened, things like dining and entertainment are available again thanks to vaccine rollouts, and it may be time to rethink your expenditures. Do you really need everything you've been paying for to get through the lockdowns? Take a look at these areas to pare back your budget so you can finish out the year in the green.
Follow Along: 31 Days of Living Richer
See: 57 Items That Have Been Getting Cheaper Over the Last Year

Extra Streaming Services
To survive lockdown, everybody started streaming movies and TV shows. Some people purchased multiple subscriptions, such as Netflix, HBO and Hulu. Now that you can return to movie theaters, gather with your friends and engage in other forms of entertainment such as museums and amusement parks, it's a good time to look at your subscriptions and ask if you really need all of them. Be honest with yourself about how much time you really spend watching any given channel and cut accordingly. You can always resubscribe later if you really miss something.
Make Your Money Work for You
Read: America's Favorite Lockdown Hobbies and How Much They Cost
Take a Look: 8 Major Ways We've Had To Adjust Financially Due to the Pandemic
Grocery Delivery
Online grocery services, such as Instacart and Uber Eats, grew massively in popularity during the pandemic, from 3%-4% to 10%-15%, according to CNBC. And who could blame people for the convenience and ease of having food delivered for keeping the risk of the virus low and frankly just being easier than doing your own shopping? But grocery stores are operating more like normal now, and many have even dropped mask mandates. For vaccinated people, especially, shopping in a store is a much safer experience. Plus, Instacart and other delivery services tack on service fees that you won't pay if you drop the home delivery.
Check Out: The 11 Most Popular Pandemic Home Improvement Projects – Plus, How Much They Cost
Takeout
With restaurants closed to indoor dining for most of 2020 and even part of 2021, people turned to takeout to get their favorite meals. According to MarketWatch, DoorDash, Grubhub, Postmates and Uber Eats saw a combined revenue increase of around $3 billion as a result of pandemic-related ordering. But now restaurants are opening again, and it's a good time to assess your takeout expenditures. Instead of taking food to go frequently, consider saving up for a couple of times per month outing to a restaurant with friends or a date. Not only will you save money, but you'll have an experience, too.
Make Your Money Work for You
Be Prepared for Extra Costs: 5 Ways Your Vacation Will Cost More Because of the Pandemic
Online Ordering
Before COVID-19, online ordering was definitely on the rise, but the pandemic sent it skyrocketing, according to Digital Commerce 360. It reports that during the pandemic, U.S. consumers helped online retailers earn an additional $105 billion in 2020. This persisted even into the first quarter of 2021. Online shopping is certainly convenient, but the ease of it, particularly with one-click shopping at sites like Amazon, can also lead to overspending and putting purchases on a credit card. Instead of shopping online, consider going to stores and taking cash with you, so that you can only purchase as much as you have physical money to pay for.
Find Out: Are You Missing Out on Free Money? 80% of Americans Aren't Taking Advantage of COVID Relief
Unnecessary Subscriptions
During the pandemic, you might have signed up for all kinds of subscriptions to help you pass the time, work more efficiently or replace in-person activities. Not just entertainment, but banking, scanning apps, services to read or listen to books and more. Now, these services are still charging you money, even if you're not using them much or at all. Take some time to go through your account and see what money is going out, and which of those services you don't need any longer. Additionally, you can download some apps that will help you streamline your subscriptions, according to Wired, such as Trim, Clarity Money and Bobby.
Make Your Money Work for You
More From GOBankingRates
Last updated: July 7, 2021
Make Your Money Work for You