59% of Americans Say They Will Use Their Stimulus Money for This Necessity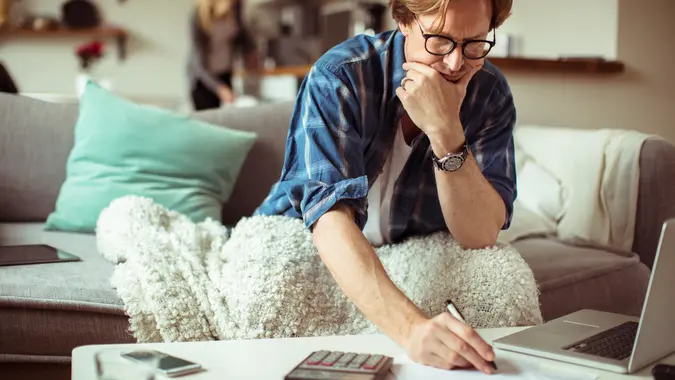 Geber86 / Getty Images
If you made less than $75,000 gross based on your 2019 tax returns ($150,000 in households with a couple filing jointly) you may have already received your $600 stimulus check as part of the second coronavirus aid package issued by the Trump administration. That's the good news.
See: Didn't Get Your Stimulus Check? You Might Want to Blame TurboTax or H&R Block
Find: Will Your $600 Stimulus Check Come on a Debit Card?
The bad news is that $600 won't go very far in covering everyday expenses for most Americans. That's a shame because 59% of the people polled by doxo, a web and mobile bill pay service, say they plan to use the money immediately to pay household bills. 
Another 11% who said they will be spending it right away said they will buy food for their family, while 10% said they will pay off credit card bills. Only 11% of Americans polled plan to put the money in a savings account. The survey did not indicate how many, if any, Americans would use the cash to splurge on a non-necessity. 
Of those who are using the money for household bills, 78% will use the money for utilities, while 35% will use it to pay for cable/internet services. Thirty-three percent will use it to pay rent. 
See: Second Stimulus Check — Should You Spend or Save Your $600?
Find: Third Stimulus Check Likely Coming Under Biden — How Much Could You Get?
Make Your Money Work for You
Fourth place saw a tie between mortgage, mobile phone payments and auto insurance, with 32% of those polled saying they will use the money for one of these purposes. Respondents were allowed to select multiple categories — but it's unlikely a single $600 check would cover more than one or two bills. 
For instance, $600 will barely cover half of an average monthly mortgage payment of $1268, and it also won't cover the average person's rent of $1,023 per month. You may be able to squeak out one or two car payments with the check if your car payment is slightly less than the national average of $374 per month. On the other hand, you can get ahead, or catch up, on utility payments if your bills are around the national average of $290 per month. 
See: What a $600 Stimulus Check Can Actually Buy You in AmericaFind: 26 Smartest Ways to Invest Your Money During the Pandemic 
You may be able to stretch your stimulus money further by paying smaller bills, as follows, based on national average monthly payments: 
Three months of auto insurance at $181/month

Five months of cable & internet service at $110/month

Six months of health insurance at $94/month

Six months of mobile phone payments at $88/month

Seven months of life insurance or an alarm & security subscription at $76/month

24 months of dental insurance at $25/month
See: How to Protect Your Retirement Savings During the Coronavirus PandemicFind: 11 of the Smartest Money Resolutions to Make in 2021
Overall, doxo found a silver lining in the study. "The vast majority (90%) do believe that these $600 stimulus checks will help improve their own financial health in the coming year," stated Jim Kreyenhagen,  VP of Marketing and Consumer Services at doxo. He called the findings "encouraging to see" in a press release. 
Make Your Money Work for You
"Our research tells us that consumers are being pragmatic with their spending. In this same study, we asked how consumers spent the money they received from the first round of stimulus checks. Seventy percent said they used it to pay bills vs. 59% this time around, which might suggest that consumer optimism has improved over the past 6+ months," he told GOBankingRates in an email. 
The study also revealed that 61% of consumers believe it will take 10 months or more for the economy to recover, while 5% believe it may not ever recover from the effects of the 2020 pandemic and shutdown.
As for their personal finances, 88% of consumers polled believe it will take seven months or more for their financial health to return to pre-pandemic levels, while 68% believe it will take more than a year and another 7% say they will never recover.
More From GOBankingRates: