8 Ways Gen Zers Can Creatively Budget To Fight Inflation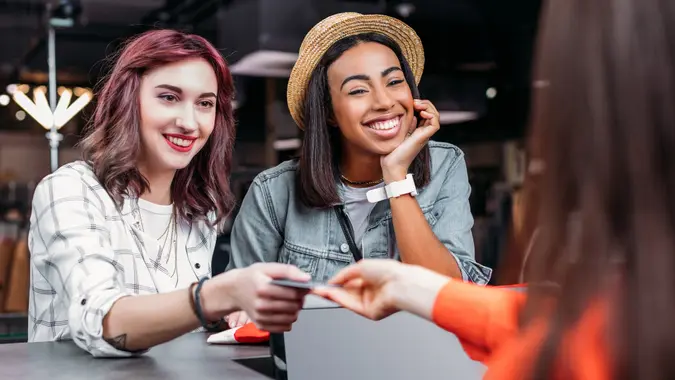 LightFieldStudios / iStock.com
One in five Americans are citing the high cost of living and inflation as the most important problem facing the United States today, according to recent findings from Gallup. Gen Zers, who may not have some of the resources available to previous generations, may struggle with the effects of inflation on their wallets and bank accounts. Luckily, there are creative ways that allow this generation to adjust their budgets and lifestyles to fight inflation.
Hit Reset on Previous Spending Habits
Returning to the office? Eva Stukenberg, CLTC and financial consultant at Thrivent, said to consider resetting your previous money spending habits associated with office life. 
Some habits to consider resetting include going out for lunch every day or buying a morning coffee. You can limit these expenses by bringing meals from home and brewing coffee at home or using supplies available in the office kitchen. If you have a gym membership and your office has a fitness center, consider canceling the membership and trade in workout locations.
If you aren't returning to the office, it's still a good idea to review and adjust your budget to fight inflation. Stukenberg said that while many were likely following a budget before the pandemic, the price points have probably changed over the last two years. 
"When you go through this exercise, be sure to factor in the higher cost of goods and services," said Stukenberg. "And if you haven't yet created a budget, consider using a budgeting tool or program that can reduce the overall effort."
Make Your Money Work for You
Use 'Found' Money
What is found money? Stukenberg said this is money received through the workplace like a recent pay raise or a promotion. Put this money towards building an emergency fund.
A tax return is also considered found money. Rather than spend it, Gen Zers can put the return towards building up their savings for other important needs. 
Break Up With Convenience Apps
It's not you, it's me (and my bank account). Lauren Anastasio, director of financial advice at Stash, recommends Gen Zers delete convenience apps — like Instacart and DoorDash — off your smartphones. Pick up your own takeout and groceries and embrace the cost savings.
Hit Unsubscribe
If you're on the subscription list for emails from clothing stores or shops where you may feel the urge to spend on things you don't need, Anastasio said to unsubscribe from all promotional emails that come into your inbox. Try to avoid clicking on sales ads on social media, too. 
"A lot of money winds up going towards unplanned purchases when we see a sale," said Anastasio. "70% off a new pair of shoes is still more than not buying them at all, and a BOGO half off sale on something you only need one of is not going to save you money."
Start Small When Tweaking Your Wardrobe
Gen Zers planning to head back to the office may feel pressure to buy a whole new wardrobe to mark their return. Stukenberg recommends starting small when it comes to things like tweaking your wardrobe.
Make Your Money Work for You
Begin by buying key pieces gradually. Don't feel the need to be pressured into shopping at department stores either. Stukenberg said many individuals have good luck with buying and selling professional clothes, especially those that don't fit anymore, online or through a local consignment store.
Price Shop Around
Before making a purchase, check and see if the same, or similar, offering is available somewhere else. Compare prices and consider switching cable, cell phone or insurance providers if you're able to get a less expensive rate with another company. Anastasio said that you can also call your service providers and ask for lower rates or costs.
Join the Sharing Economy
Gen Zers don't have to go it alone when it comes to fighting inflation. Anastasio recommends looking into becoming part of the gift or sharing economy. 
Consider joining a local buy-nothing group. Anastasio said you can receive gifts from neighbors on items they may no longer be using, or even obtain services others are willing to give. For example, someone in the group may be willing to gift their time and help sew or mend clothes. This allows you to save money on a tailor or buying new clothes. 
"You can also pool resources as participants in these groups will often lend out tools, kitchenware and items for entertaining, so you can skip the expense of buying something you'll only need to use once," said Anastasio.
Ask For Financial Help
Personal finances can be tricky and there's no one-size-fits-all solution for every Gen Zer. If you have questions about fighting inflation or want to know more about potential resources that may be available to you, reach out to a trusted financial professional. They'll be able to offer guidance and help develop a financial plan tailored for your needs.
Make Your Money Work for You
"Financial professionals are here to help you align your values, goals and finances to come up with a money management strategy that works for you," said Stukenberg.
More From GOBankingRates