The Best Turkey Cooking Method for Your Budget — and Your Sanity
Add a twist to Thanksgiving by cooking a turkey in a novel way.
Every year as the holidays grow closer, nervous cooks flood the internet with searches for "how to cook a turkey." It's not that there aren't plenty of options for prepping the main component of your Thanksgiving feast. If anything, there might be too many.
Each method of cooking a turkey has its own pros and cons, and some require a heavy investment in additional equipment. Here is how several common options compare in cost and convenience, and how they impact your stress levels.
Just in Case: 23 Restaurants Open on Thanksgiving Day 2016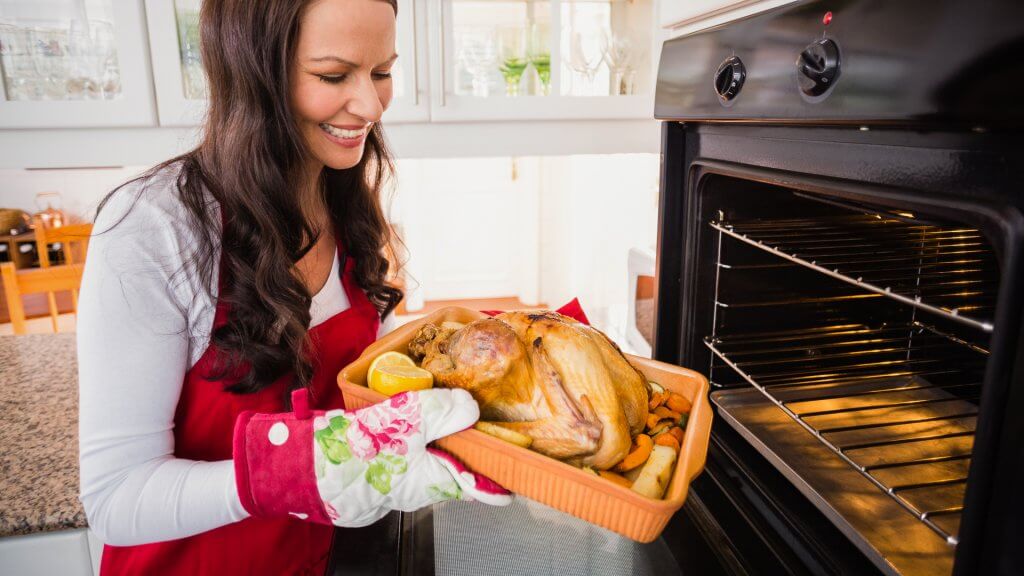 1. Traditional Oven Roasting
This isn't necessarily the best way to cook a turkey, but it's the most familiar. More importantly you already have an oven, so at most you'll need to invest in a roasting pan. The finished bird will be golden and beautiful, ideal for bringing it whole to the table.
Method
The National Turkey Federation suggests roasting your bird uncovered at 325º F. For a 15-pound bird, cooking time will be approximately four hours.
Pros
Crisp, golden-brown skin
Concentrated drippings for gravy
Cons
Turkey can be dry if overcooked
Smaller quantity of drippings than with other methods
Occupies your oven, limiting possible side dishes
Potential Costs
Disposable foil roaster: $2.33
Traditional oval roaster: $11.99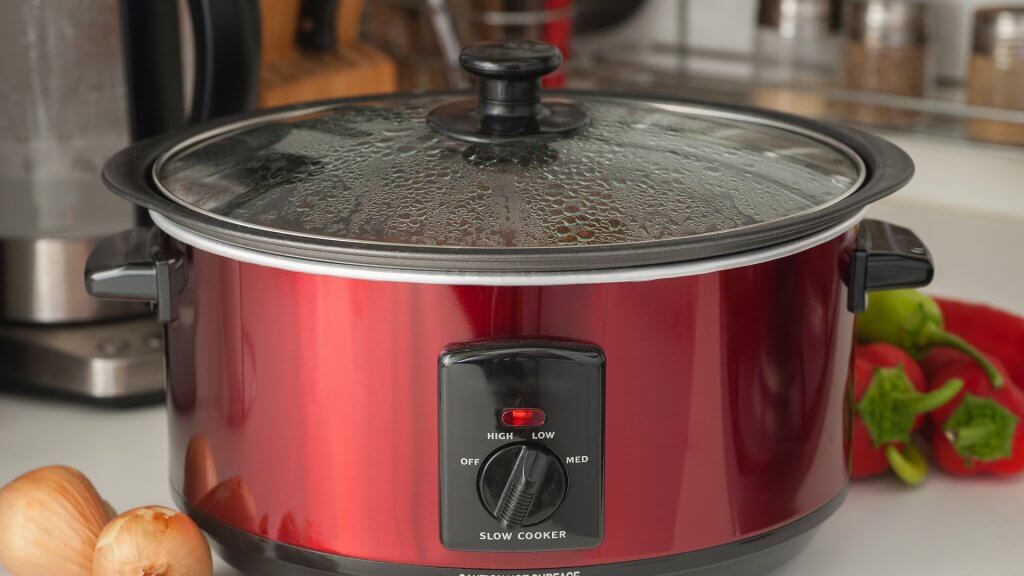 2. Slow Cooker
"Roasting" your turkey in a slow cooker can remove stress from your day. The finished bird will be tender and juicy, although the texture will be a bit softer than you would get with an oven-roasted bird. However, you will need to cut up the turkey so it cooks quickly enough to stay safe for consumption.
Method
Heat your slow cooker on high for at least 20 minutes. Cut an 8-to-10-pound bird into leg and breast quarters — for a larger bird, you'll need two cookers. Layer the quarters into the cooker with the thighs underneath the breasts. Cook on high for five to six and one-half hours.
Pros
Oven stays free for other dishes
Finished bird is tender and juicy
More drippings for gravy, because of limited evaporation
Cons
Texture may not appeal to all diners
Skin will not crisp and brown, except where it's in contact with the cooker's insert
No whole bird to carve at table
Potential Costs
Slow cooker: $29.99 and up
Related: 34 Stores Open on Thanksgiving Day and Black Friday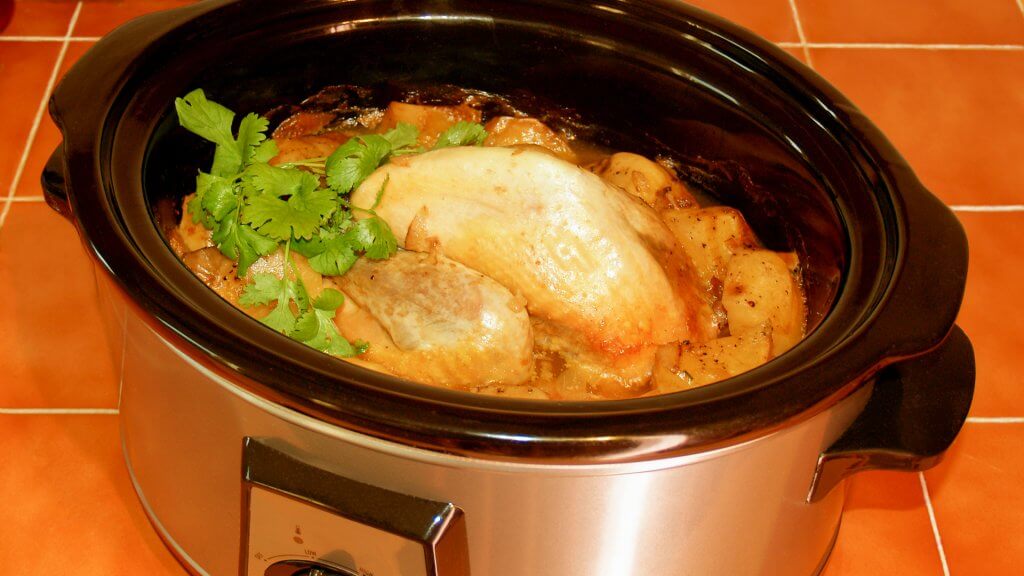 3. Countertop Roaster
A turkey cooked in a countertop roaster is similar to one roasted in the oven, although you'll lose less moisture because of the relatively small air space within the roaster. An 18-quart roaster will hold a turkey of up to 22 pounds, and roast the bird in about the same time as a conventional oven.
Method
Roaster manufacturer Nesco recommends preheating to 400º F, then starting the bird at that temperature for the first hour. Reduce the temperature to 350º F for the remainder of your cooking time, 15 to 20 minutes per pound.
Pros
Oven stays free for other dishes
Lots of drippings for gravy
Bird stays moist unless badly overcooked
Cons
Less browning than oven roasting
Roasters are bulky, and can cut into your countertop prep space
Potential Costs
Countertop roaster: $49.95 and up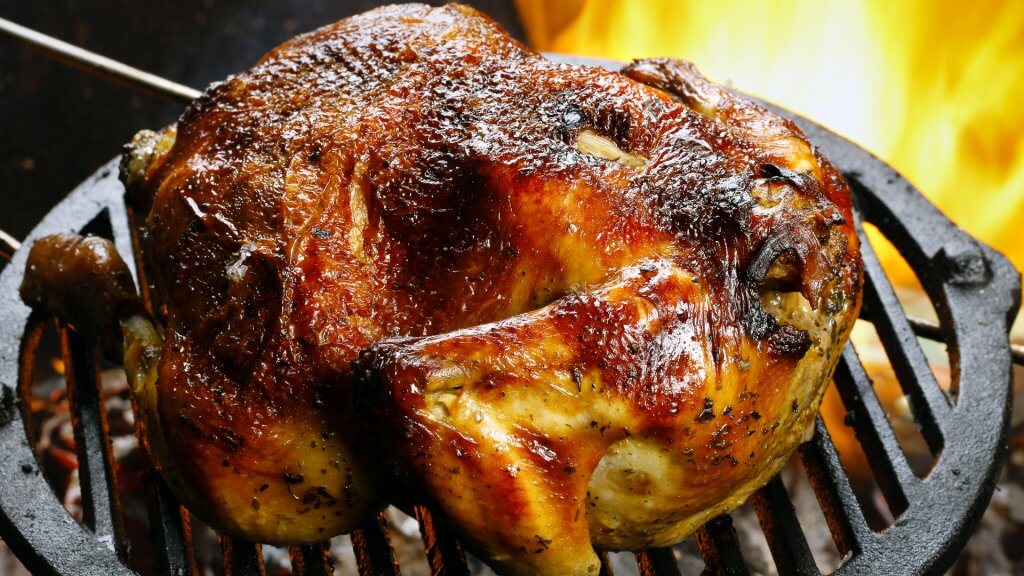 4. Grilling
Oven-roasting and countertop appliances have one thing in common: They keep the turkey in your kitchen, where everything else is also under assembly. Grilling your bird means it's completely out of the way.
Method
Set up your grill for indirect heat. On a gas grill, that means lighting one side but not the other. On a charcoal grill, you'll rake the coals to the sides. Put a shallow pan of water under the unheated portion of the grill.
Position the bird over the pan, then close the lid and adjust the gas — or for charcoal, the vents — until the temperature stabilizes at 325º F. Roast for 15 to 20 minutes per pound, or roughly four hours for a 15-pound bird.
Pros
Frees up your kitchen and oven to prepare other dishes
Rich, roasted flavor with a pleasant hint of smoke, especially if you cook over charcoal
Cooking time is similar to roasting
Cons
Dividing your attention between kitchen and grill can be a distraction
Maintaining a steady temperature can be difficult if the weather is cold or windy
Potential Costs
Propane: $3.99
Charcoal: $11.60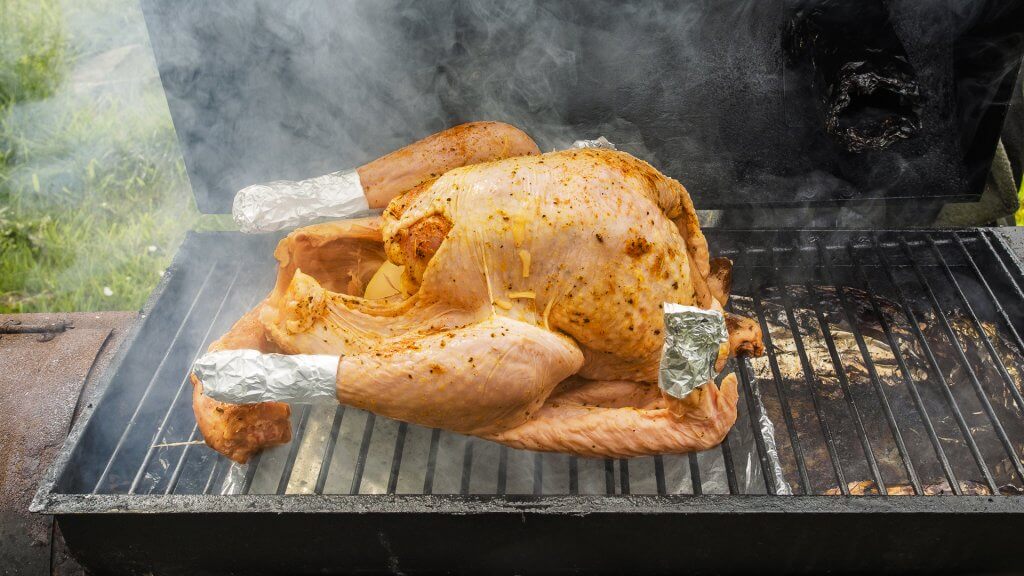 5. Smoker
Smoking your turkey takes you into enthusiast territory. Grilling is still just another way to roast the bird, while a smoked turkey makes for a very different meal. This isn't for the faint of heart: It takes some significant preparation time, and the end result won't be the traditional turkey your invited guests might expect.
Method
Brine your turkey, using either the wet or dry technique. Dry the bird thoroughly if you use a wet brine. Fill your smoker's water pan and smoke box, and bring it up to a temperature of between 225º F and 300º F. The lower the temperature, the smokier the bird. Cook for approximately 30 minutes per pound, or seven and one-half to eight hours for a 15-pound turkey.
Pros
Frees up your kitchen for preparing other dishes
Makes a moist turkey with lots of flavor
Cons
No crispy skin
No gravy, unless you make it separately from turkey broth
Additional preparation required
Cooking times extended by cold or windy conditions
Potential Costs
Kosher salt: 96 cents
Hardwood for smoking: 24 cents or more
Unless you have an electric smoker, you'll also need to budget for charcoal or propane.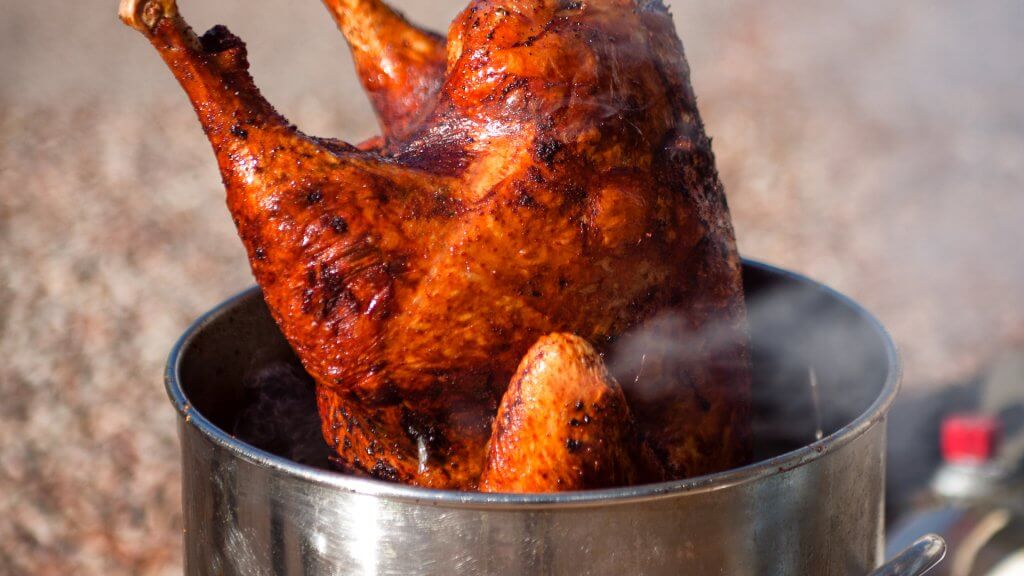 6. Turkey Fryer
Deep-frying the turkey is another outdoor technique — you really don't want to do this on a stovetop. You'll need a propane burner, a very large pot, a stable surface for the cooker to rest on and some way to lower the bird into the oil. The payoff? A juicy, beautifully golden bird that's ready in a hurry.
Method
Put your turkey in a large pot, and add water until it's covered to a depth of 2 inches. Measure the water — that's how much oil you'll need. Fill the pot with oil and bring it to 350º F over your burner. Dry the turkey thoroughly and lower it into the oil.
Cook for three to five minutes per pound, or roughly 36 to 60 minutes for a 12-pound turkey, the largest-sized bird the U.S. Department of Agriculture recommends for this method.
Pros
Very fast cooking
The finished turkey is crisp and golden outside, moist and juicy inside
It's kind of fun
Cons
Requires a lot of equipment and setup
Potentially very dangerous if the cooker tips, or the oil ignites
No gravy unless you prepare it separately from turkey stock
Potential Costs
Turkey-fryer kit: Approximately $100
Propane: $4.79
High-temperature oil: Approximately $49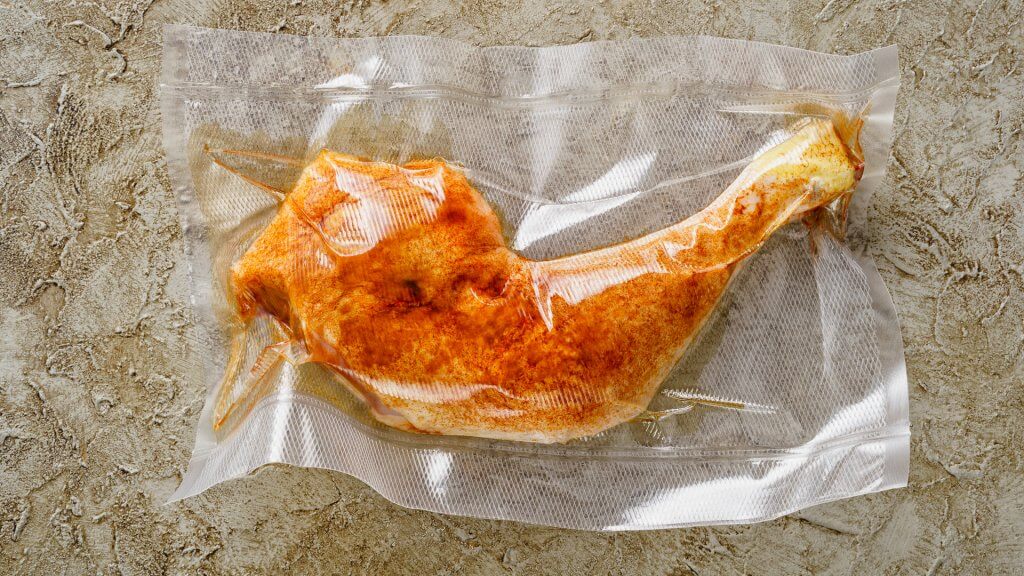 7. Sous Vide
If you've always secretly wanted to try a state-of-the-art cooking technique, this is it. Cooking sous vide — in a vacuum — is a technique used by numerous top chefs, and it can give you a uniquely tender, moist turkey.
Method
Cut the leg quarters, wings and breasts from the turkey. Separate the drumsticks and thighs, and seal them in a vacuum bag with the wings. Seal the breasts in a separate bag. Cook the legs and wings for four hours with your circulator set at 150º F, adding the breasts after the first hour.
To serve, broil or deep-fry the turkey pieces just long enough to make them golden and crisp the skin. Alternatively, tie two breasts together to make a "roast" and cook them for two and one-half to three hours.
Pros
Frees your oven for preparing other dishes
The finished turkey is unusually moist
The vacuum bag retains richly flavored cooking juices for gravy
Cons
Lacks the traditional "roasted" flavor
No whole bird to carve at the table
Requires a substantial investment in equipment
Potential Costs
Vacuum sealer: $119.95 and up
Sous vide sealer bags: $1.28
Sous vide circulator unit: $149 and up
Quick Tips
The USDA recommends cooking a turkey to an internal temperature of 165º F. Use a meat thermometer or instant-read thermometer to check, rather than simply cooking for the recommended time and hoping for the best.
If you cook a turkey in a countertop roaster or slow cooker, you can brown and crisp the skin by transferring it to an oven set at 450º F for the final five to 10 minutes of cooking time.
Related: Best Restaurants to Dine for Your Thanksgiving Meal