How To Prepare a Go Bag for Emergencies on a Budget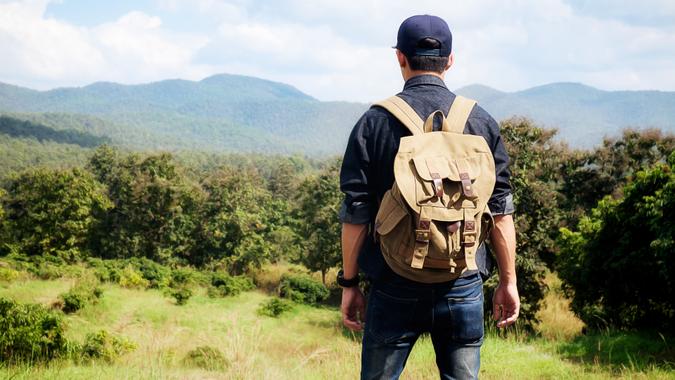 MIND AND I / Shutterstock.com
Everyone should have a go bag for emergencies. Sure no one wants to think about the worst-case scenario happening to them, but being prepared can go a long way when you and your loved ones end up in the middle of a natural disaster or any other kind of emergency. Granted, being prepared can cost money, but if done right, you can manage your expenses and cut down significantly on costs.
To find out how, here's a look at a few ways you can save money and prepare a go bag for emergencies on a budget.
Related: 20 Ways To Save Money Fast
Check Out: 16 Ways To Save on Groceries Now That Prices Are Rising
Plan Your Go Bag
The first thing you'll need to do is get a list together of the items you'll need. The best resource for this is ready.gov, but the way to think about this is that you'll be planning for a 72-hour situation. That means basics like a gallon of water a day for each person, three days' worth of food, batteries, flashlights, a hand-powered radio, and more.
Make Your Money Work for You
You'll want to remember that everything you bring will have to serve some kind of practical purpose, but it'll need to be portable enough to fit in that bag which you might have to travel with. As far as anyone who tends to over- or under-pack, simply stick to the list to avoid cramming too much (or too little) should the situation arise when your go bag becomes critical.
Use What You Have
Dig around in your closet and the chances are good you'll find an old backpack or piece of luggage you can repurpose as your new go bag. You'll want something that's both spacious and durable, especially given there's a chance you may have to travel with it. That means a comfortable (and ergonomically supportive) backpack or a piece of luggage with rollers that make it easy to lug behind you.
Make Your Money Work for You
While you're rooting around the closet, pick out some comfortable clothes that you don't wear very often. Remember to make sure they're weather-appropriate and update regularly based on the season. Likewise, if you have any batteries, either new or fully charged, a radio, a flashlight, or any other essentials laying around in a drawer somewhere, gather them together and put them in your bag to cut down on as many costs as possible.
Find Cheap Essentials
When planning for food, you'll want items that are shelf-stable and portable. Find nutrient-rich snack bars and consider buying them in bulk. You can set a few aside for the go bag depending on the amount you purchased.
You may also consider buying normal household items in bulk to give you that extra tube of toothpaste or deodorant for emergencies. Alternately, you can look for travel-sized alternatives, as they'll take up less space. If you happen to take a lot of trips anyway, chances are you've got a small collection of miniature soaps and toothpaste tubes, which are the perfect size for packing.
Make Your Money Work for You
Bargain Hunt for What You Don't Have
Once you've gathered what you have on hand and checked them off, figure out the best place to buy what's left on the list. You can start saving money by looking for what's left on the list online, particularly places like Craigslist or Facebook Marketplace that might be selling used items for pennies on the dollar.
As far as real-world shopping, discount markets and big box stores are likely to have the best prices for essential items, so do a little research and find the best way to stretch your emergency dollar. The key word is essential, so you're not bargain hunting for name brands, but something to help keep you sustained during a bad situation.
Don't Forget Your Comfort
It's important to remember you'll need things to help pass the time and keep you sane, whether you're sheltering in place or have to evacuate and shelter elsewhere. This includes a spare phone charger and a fully charged portable battery, along with any sort of engaging material that'll help keep you or those you're with growing restless.
This can mean packing things that are actually comforting, too, like a familiar blanket or a comfortable type of sock. Even a tablet with some movies or TV shows loaded up can go a long way in keeping everyone entertained. Just so long as you remember these things need to remain portable. Make sure to keep that in mind when deciding what to pack.
More From GOBankingRates
Last updated: Oct. 22, 2021