I Fell Off Track With My Budget: Now What?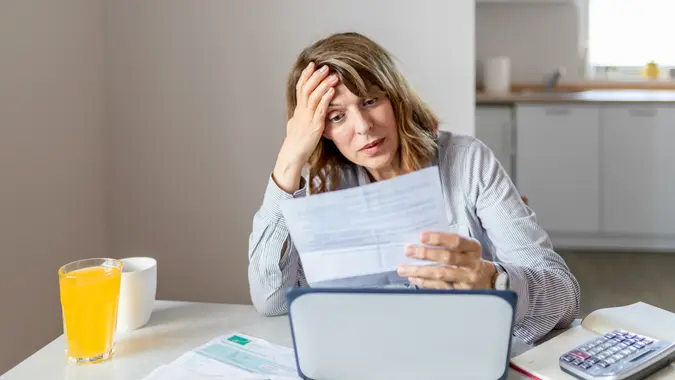 PredragImages / Getty Images
Falling off track with your budget doesn't always involve some catastrophic event. You might plug along all year, only to realize that your savings have dwindled and there's now a big credit card balance looming.
It can be frustrating to find that your financial situation is not where you wanted or expected it to be. However, there are some steps you can take to correct the situation. Here are a few tips for getting your budget back on track. 
Stop Blaming Yourself 
It's normal to feel shame, guilt or anger over poor money decisions. But it's not helpful. "The first step is to get out of the blame cycle," said Tatiana Tsoir, a CPA, author and finance coach. "Instead, commit to moving forward without guilt, but rather with action and a plan." This will allow you to focus and feel more motivated.
Update Your Budget 
Sixty percent of Americans vowed to stick to a budget in 2023, according to a recent Bank of America survey. "But in order for this to be an achievable goal, our budgets need to change to reflect our current financial situation," said Mary Hines Droesch, head of consumer and small business products at Bank of America.
"If you're already off track, take another look at your budget and make adjustments based on factors like rising everyday prices and realistic spending categories," Droesch added. She suggested breaking down your budget into a weekly view, which can make it easier to track your spending and hold yourself accountable to shorter milestones.
Make Your Money Work for You
Consider a 'No-Spend' Strategy
Droesch explained that sometimes the best way to get back on track is to start with a cleanse. "When it comes to your finances, a no-spend period can serve as a spending elimination diet with any non-essentials cut for a specified length of time," she said. "This can help balance out previous overspending and serve as a mental reset."
Whether it's for a week, a month or even longer, take a break from shopping, commit to using up what's in your pantry and freezer, and see how long you can go without spending money. 
Set SMART Goals
Getting back on track is easier if you have a certain goal to aim for — but a vague goal is like a moving target. To be successful, Tsoir said your goal needs to be specific, measurable, actionable, realistic and timely — aka a SMART goal. 
For example, instead of saying you want to "save more money," set a goal to save $50 per week until you've grown a $1,000 emergency fund.
"If you have a structured plan…you are more likely to make smart and informed purchasing choices and avoid making the mistakes over and over again," Tsoir explained.
Learn From Past Mistakes
Finally, it's important to use your budget misstep as a learning opportunity, according to Tsoir. Look back at what specific mistakes led to getting off track with your budget so you can avoid them in the future.
That might mean planning and saving for a big purchase instead of putting it on a credit card, or weighing the benefits of buying something vs. the true cost. "If something sweet takes you years to pay off, it becomes really bitter in the long run," Tsoir said.
Make Your Money Work for You
More From GOBankingRates